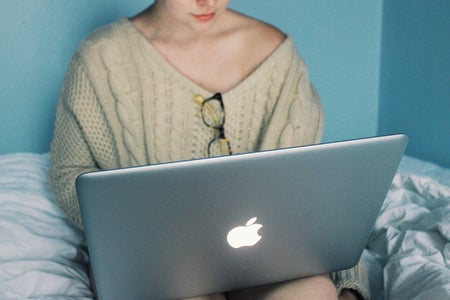 Anna Schultz / Her Campus
Six Things You Need to Know Before Enrollment
The halfway point of this semester has just passed! You are probably counting down how many weeks are left until winter break and all you want is to get through the rest of the semester.
If this is your final semester of college—finish strong, you got this! On the other hand, if you plan to take classes next semester, do not forget about building your class schedule AND enrolling in those classes!
This process can be daunting but here are some tips to hopefully make it easier for you:
1.

Look at your degree works audit

Required courses that have not been completed will stand out. For example, they might be in red font. Start a list of these courses so you don't have to scroll through your degree works audit over and over again.

2.

Use the course search to find options for classes

Be proactive. Review the list of courses you must take and narrow it down to 3-5 courses (if you're going to be a full-time student). Utilize the university's course search and its filters to see if or when the courses will be offered in the upcoming semester. Write down the days, times, lengths and methods that align with what you desire. For instance, you may prefer to take morning classes, you may want only to take 16-week classes, or you may want the flexibility of online classes. Try to figure out how these courses fit together. If you take the time to do this, you will have a head start. 

3.

Meet with an academic advisor

This is not required but it's typically very helpful! They can guide you in the right direction and answer any questions or concerns you may have. Some academic departments have walk-in advising and others have scheduled appointments. Some may have both. To schedule an appointment, you can usually call, email, or visit the office.

4.

Check if you have any holds on your account

If there is a hold on your student account, this will prevent you from enrolling in classes. Check to ensure that you do not have any holds, so you can enroll without any issues. If you do have a hold, follow the steps to clear it.

5.

Pay attention to emails and announcements

You will most likely receive different emails and announcements in BlackBoard from the advising center. Read them. They could apply to you, or they could not. It doesn't hurt to read them to be sure. For example, those who are close to graduation might receive information about certain paperwork that needs to be completed, i.e. an application for degree.

6.

Know when enrollment opens for you

Enrollment time usually depends on your class standing. Keep in mind there are a couple exceptions for groups like athletes, honors students, etc.

Monday, November 11 - 7:00 AM: Seniors with 90+ completed credit hours, student athletes, and students in the Honors College

Tuesday, November 12 - Midnight: Juniors with 60-89 credit hours completed

Wednesday, November 13 - Midnight: Sophomores with 30-59 credit hours completed

Thursday, November 14 - Midnight: Freshmen with 0-29 credit hours completed

Friday, November 15: Non-degree students

Remember what day and time the enrollment portal opens for you. Write it in your planner or set a reminder on your phone.

It's important to know which classes you're going to enroll in ahead of time. This way, you can enroll in them right when the portal opens. You won't have to worry about not being able to take the class because it's filled to capacity. *This is especially crucial when you are trying to enroll in higher-level classes because spots tend to be very limited.*
Sending good vibes your way for the rest of your semester!