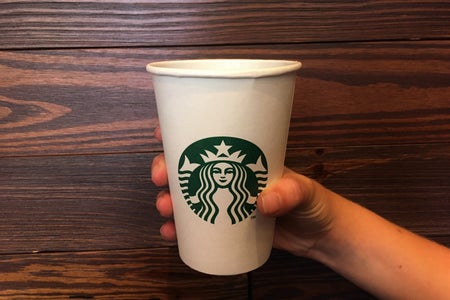 Best Fall-Themed Starbucks' Secret Menu Drinks
If you're like me, the Pumpkin Spice Latte (also lovingly referred to as the PSL) returning to Starbucks is the ultimate indication that fall is here (or, with the early release this year, that it's just around the corner). I love trying out new Starbucks' drinks, and that includes the delightful secret menu items. For those who don't know, secret menu items are—predominantly—drinks that are not officially advertised on the Starbucks menu, but drinks you can craft using existing menu items for a unique taste! 
I've collected some of my favourite fall-themed secret menu drinks you can enjoy if you want something a little more special than the traditional PSL. For your convenience, I've also listed whether each drink is caffeinated, and what these unique drinks will set you back! Note: While I'm sharing recipes with customizations specifically for a Grande, they can easily be adapted for the different sizes offered at Starbucks.
Apple Pie Beverage: (caffeine-free) $3.49
Start with a Steamed Apple Juice

Add two pumps of caramel syrup

Add two pumps of cinnamon dolce syrup
Add whipped cream on top
Some might think that ordering the Caramel Apple Spice from the official Starbucks' menu is the easiest way to enjoy an apple-themed beverage. However, I promise that this little bit of extra effort is well worth it. The Caramel Apple Spice actually doesn't incorporate the caramel flavour into the drink itself, whereas the above Apple Pie Beverage does. Not only that, but the Apple Pie Beverage is less expensive (comparable to the Caramel Apple Spice at 3.95 before tax), and it is the absolute perfect warm, desert-style treat on an autumnal day!
Pumpkin Cheesecake Frappuccino: (caffeine-free) $6.55
Start with a Pumpkin Spice Crème Frappuccino

Add one pump of cinnamon dolce syrup

Add one pump of white mocha syrup
This drink is a dessert in a cup if I've ever had one! I'm not completely sure if the flavour matches a cheesecake, but it's delicious nonetheless. The single pumps of white mocha and cinnamon give it just enough variety of flavours to set this drink apart from a classic Pumpkin Spice Crème Frappuccino, without it being overly sweet!
Caramel Pumpkin Macchiato: (caffeinated) $6.25 
Start with a Caramel Macchiato 

Substitute the vanilla syrup for the pumpkin sauce (or get both if you have a sweet tooth!)

Top with pumpkin spice topping
This fall-themed drink has all the notes of the season we love (pumpkin chief amongst them) but with a subtler flavour than some other beverages on this list. This drink is especially fabulous if you like the PSL's flavour pairings but don't necessarily want a latte. One of the added benefits of this drink is that it can be enjoyed both hot and cold, truly making it the ideal fall-themed beverage for those warmer fall days.
Pumpkin Hot Chocolate: (caffeine-free) $4.65
Start with a Hot Chocolate

Add two pumps of pumpkin sauce 
A Pumpkin Hot Chocolate is the drink to get if you want some of those fall flavours without committing to some of the more overwhelming fall-drinks (such as the PSL). For the most part, this drink is the typical delicious Hot Chocolate we all know and love from Starbucks, but with two pumps of pumpkin, you can be sure to enjoy a subtle fall flavour with every sip. Adding more pumps will give you more of the flavour, but I personally think the beauty of this drink is that it doesn't try to be overwhelming. Instead, this drink gives you the extra warmth of pumpkin without that being the only thing you taste!
Pumpkin Spice Choco-Chai: (caffeine-free) 5.85
Start with a Chai Latte

Add two pumps of mocha sauce

Add two pumps of pumpkin sauce
Add whipped topping
This is my go-to treat if I'm looking for a warm beverage with all the same notes of fall (spicy chai, sweet chocolate and, of course, warm pumpkin) but don't want coffee. This drink truly does combine all the best flavours of the season and isn't overwhelmingly sweet like some secret menu drinks! If you have trouble choosing between a Chai Latte, a PSL and a Hot Chocolate to get your cold-weather drink fix, this drink is honestly the best solution and hits all the nails on the head!
Butterbeer: (caffeine-free) $3.55
Start with Steamed Milk

Add two pumps of caramel syrup

Add two pumps of toffee nut syrup
Add two pumps of cinnamon dolce syrup
Add whipped cream
For a caffeinated option, order a Caffè Latte with the same customizations as above for $4.95.
For those of us that can't think of autumn without immediately thinking of back to school (or back to Hogwarts), this Harry Potter-themed beverage is the perfect combination of magical fall flavours and cozy aesthetics. This drink is perfect for those who love a drink that tastes like dessert, so if you have a sweet tooth like me, it is absolutely to die for! 
One of the wonderful things about being able to customize beverages at Starbucks is that the possibilities are endless! This list is just some of the fall-themed secret menu drinks I have been and will continue to enjoy this autumn, but this list is definitely not exhaustive! However, I won't fault you for sticking to a classic PSL because while fall-themed drinks let you indulge in some of the other flavours of the season, there is something so right about the PSL that kicks the season into gear.  
*Note: All beverages are priced for a Grande before applicable taxes in Canadian dollars, and are correct as of the time of publication.  
Related Articles
Want more HCW? Check us out on social media!
Facebook, Twitter, Instagram, Pinterest
Subscribe to our newsletter!