When you walk into a busy student lounge to knock out some homework, chances are that you will see a sea of people with numerous stickers plastered on their belongings. Water bottles, laptops, phone cases, notebooks, and planners… they are almost consumed by the tons of stickers stuck to them. Stickers are the new trend, especially for Internet famed VSCO girls, but they are more than an accessory to people's belongings. While they may be just an accessory with no real meaning behind them, the stickers we see filling our college peers' belongings may hold a much deeper, more significant meaning than we initially think.
The stickers that someone chooses to display typically reflect their personality and interests. Take my stickers for example. I tend to purchase stickers of my favorite artists, lyrics, flowers, and quotes and make sense of my items because it matches perfectly with who I am as a person. For the most part, stickers are chosen strategically with meaning and reason behind them. However, some tend to pick their stickers based on what is trendy and will get them the most attention. It is also common for individuals to place random stickers on their belongings just for fun. In this case, the connection would be skewed because they would not be an accurate representation of their individuality.
Do stickers allow you to express your individuality? I would absolutely, 100% say yes. From my own personal experience, as said before, I usually pick stickers that mirror my interests and what appeals to me, but I do this because it allows me to express who I am in situations that I might not be able to be completely myself. I have also met quite a few people because we shared a mutual interest that was showcased through my stickers. This proves that they are not just a decoration to one's belongings; they are a tool to connect with others and enable people to learn more about you in a simple manner. For a large number of people, they are shy and find it difficult to talk to others and voicing who they are and what they like. So, stickers act as a way to commutate with others without having to step out of their comfort zone. While stickers allow others to know more about you, they do not necessarily tell people everything about you. I do not have stickers that tell where I am from or relating to my family or pets, but my interests and hobbies take up the bulk of my sticker-covered laptop because those things are what I am comfortable sharing with the world around me with a simple glance at my belongings.
I also believe that stickers allow an easy route in expressing your individuality, but I certainly do not believe that they entirely represent a person. However, they are a good start in letting us get a preview of who a person is. I do not put my personal information or anything about my family on display for everyone to see because I do not want strangers walking by me in the library knowing the more intimate details of my life. The next time that you are sitting next to or across from someone with their electronics or school supplies decked in stickers, ask them about it. Who knows? Maybe you will have something in common and spark up a new friendship.
If you are interested in looking for stickers to buy, a great website to start looking at would be Redbubble. The website gives independent artists a meaningful new way to sell their creations and has stickers that range from food, animals, celebrities, lyrics, quotes, and anything and everything. You name it, they have it. This is where I mainly purchase my stickers because of the wide variety to choose from and they have a ton of unique designs that you cannot find anywhere else. They tend to have discounts that run continuously, such as if you add 10 stickers to your cart, they are all discounted by 50%. This site is a great option if you are looking for specific illustrations on a college student budget.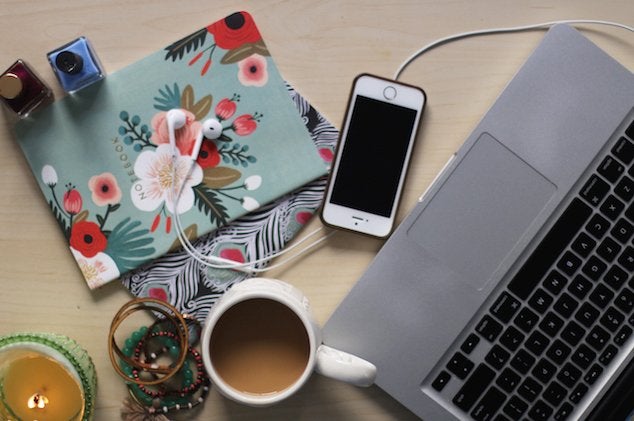 Another site that has a great selection of stickers is Etsy. As stated on their website, "Etsy connects people looking for unique goods with independent sellers around the world. When you shop on Etsy, you can choose from millions of handmade, vintage, and craft supply items created and curated by millions of independent sellers". There are thousands of different shops on Etsy that all offer something different and unique. I typically shop for stickers on here when I want a specific aesthetic and designs to have matching colors. Still cannot find a sticker? Do not fret! In some cases, you can request to have custom stickers made just for you.
Stickers are a great way to express parts of yourself to the world that will allow you to connect with new people and in 2020, it does not cost much to create your aesthetic on the tops of your laptops and phone cases. Do not be afraid of being judged based on your stickers. Regardless of what others might think, choose ones that make you happy or mean something special to you because no one's opinion matters more than your own. Be proud of who you are, what you like, and what is special to you. Everyone is different – so now's the time to showcase your individuality. Get creative. Be different. Be you. Happy sticker hunting!