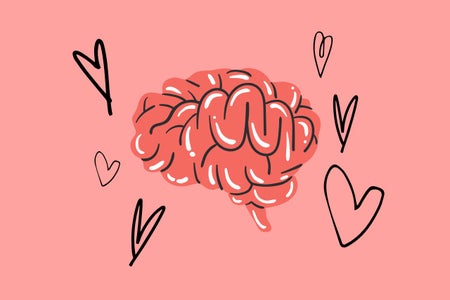 Original Illustration by Gina Escandon for Her Campus Media
In the Season of Thanks, Find Ways to Thank Yourself
The Thanksgiving season is one of my favorite seasons of the year. It is a time where everyone sits down, during the chaotic season of jobs, school, and their personal lives, and appreciates each other's company. It is a time to express to our friends, family, and loved ones how grateful we are to have them in our lives. No presents or money are needed. We just enjoy each other's company, and I think that is something exceptional.
"Self-love is not limited to yoga & green tea. It is not an aesthetic. It is not a commodity. It is tedious work, only your hands can make." -Donte Collins
During this time of loving one another, we should also express love towards ourselves. It can be so easy to love others, but it can be so tough to look within ourselves and find different traits we love about ourselves. However, with little practice day by day, it is a goal we can accomplish. Little tasks could include looking in the mirror in the morning before work and saying out loud, "I am resilient, I am capable, and I am loved." If you continually say out loud those positive affirmations, one day you will believe them for yourself about yourself.
I decided to go to Instagram and post on my story to ask my followers what they loved about themselves in the season of thanks. These were the responses:
"My ability to write--I love being able to produce a piece and be proud of the final product."
"My smile and chubby cheeks."
"My ability to always look on the bright side."
"The way I am able to turn my negatives into positives."
"My confidence and being able to put myself out there more."
"My resilience."
"My strength."
"Regardless of the many body types in the world, I have come to love mine the most."
"I know my worth and I do not allow people to treat me disrespectfully."
"My compassion for other people."
"I am slowly learning to love myself and not let other people's opinions bother me."
"My compassion."
"My creative mindset."
"That I stopped listening to the voices in my head, and started following my dreams today."
"My empathy for others."
"My ability to be on task and motivated."
"My compassion for others and my eyes."
Now, I challenge you to do the same thing. Throughout the rest of 2019, begin to write down what you love about yourself. Even if it is something that is a physical attribute about yourself or maybe something about your personality. Then begin saying them out loud. Put sticky notes on your mirror so that you can recite each day while looking at yourself. Fake it until you believe it. Say it continually even if you don't truly believe it. Eventually, one day, you will begin believing it for yourself. It just takes some time. Find little things to appreciate about yourself. We find it so easy to send out love, but we deserve it so much from ourselves as well.
"The question "Is this an act of self-love or is it an act of self-sabotage?" is one you must consistently ask yourself if you are committed to having all that you want and all that you deserve. When you love yourself, you feel worthy and deserving of claiming the gifts of this world. Self-love gives you peace of mind and balance. Self-love gives you self-respect and the ability to respect others. It gives you the confidence to stand up and ask for what you want. Self-love is the main ingredient in a successful, fulfilled life." -Debbie Ford
Give thanks for others, and give kudos to yourself too.