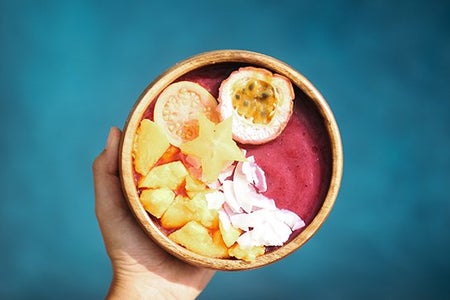 Tessa Pesicka / Her Campus
Top Five Best Healthy Snacks from TikTok
Location:
Wesley College
United States
US
Some of us are stuck at home eating anything we find to satisfy our cravings. The thing is, most of the snacks we find can be very unhealthy, but we can't help it—they're so good! Now, TikTok is a very popular platform where people can share their ideas or thoughts. I chose five healthy snacks ideas that I believe can be both good and nourishing. Remember, balance is key, so try to balance these snacks between your meals, and do not go overboard with the amount you eat.  
1. Apple Nachos by @han.jarr 
I love this snack idea and I cannot stop eating it! First, you will need one or two apples, based on your preferred serving amount (per person). Cut the apples into thin slices and display them flat on a plate (the way you want). Then, add nacho peanut butter since it will distribute nicely on the apple slices. You can add granola, your choice – the healthier the better, and some cinnamon if you'd like. You can add anything you enjoy, and even honey to make it sweeter. Just distribute your ingredients nicely and enjoy this snack! 
2. Pickle Taco by @mackmaddux 
@mackmaddux tells her viewers exactly how to make this quick snack step by step to make it enjoyable. You will have to microwave a slice of cheese for one minute, and then freeze it until it is hardened. Next, distribute one tablespoon of cream cheese on the slice of cheese and add any seasoning you like (such as everything bagel seasoning). Lastly, place ham and a pickle. If you do not like pickles, you can use your favorite vegetable in the center. Fold your taco and enjoy!
3. Snacks You Can Buy at the Store 
I have found a variety of snacks that can be found at the store which can substitute your usual go-to unhealthy snacks. First, Popchips come in different flavors such as barbeque, sea salt, and sour cream and onions. They are only 97 calories and they can substitute your usual 200 calories chips. The second snack is Rowntree's Fruit Pastilles Lollies which can help you with your ice cream cravings and they are only 56 calories! The third quick-grab snack is Fibre One Chocolate Granola Bars which are only 97 calories per serving and can be very filling. Finally, for your strong chocolate urges, Blue Riband's original chocolate bars are a very good option as they are only 97 calories per serving. As long as you eat these snacks in moderation, they will fulfill your unhealthy cravings.
4. Raspberries and Hazelnut Covered With Nutiva by @bondenavant
This healthy snack idea will help you "cure sweet cravings" (@bondenavant). You will need raspberries, hazelnut, and Nutiva to make this snack. First, grab one hazelnut and inserted it into the raspberry. Then, top this with the organic Nutiva hazelnut spread with cocoa. Supposedly, this will not only benefit your body but your skin as well! This is a quick and easy snack idea that can be done in less than five minutes if you have all of the ingredients. Just eat this moderately and enjoy it!
5. Banana Peanut Butter Sandwich by @sydney.a4
This is super simple and delicious, but you will need to make this with time. First, cut a banana into small almost equal slices and add some peanut butter or almond butter to half of the slices. Then, top the other half with the slices that have no peanut butter or almond butter on them – they will appear as sandwiches. Freeze them for an hour and wait patiently. The creator used melted chocolate chips to coat the sandwiches; however, I would recommend using Nutiva instead. Finally, freeze them again (optional)!
These quick and healthy snacks can help you with your unhealthy cravings —give them a try and balance them out. Enjoy your creative snacks, all thanks to TikTok content creators!