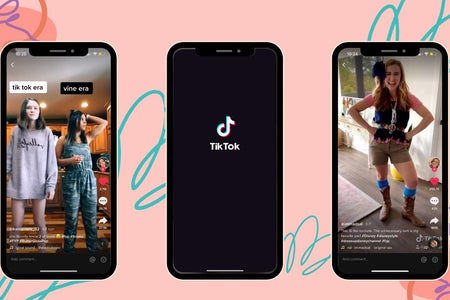 All The Hype Around Tik Tok's Aerie Leggings
As much of the world right now, I'm completely obsessed with Tik Tok. Something about the constantly reproducing new content, the multitude of life hacks, and using it as a source of news keeps me locked in for hours. After user @hannahschlenker posted a video that now has upwards of 5 million views, there is one thing on everybody's mind: her leggings. Hannah was wearing the now famous 'Offline Real Me High Waisted Crossover Leggings' from Aerie in blue. These supposedly thinning leggings have a cross-over style at the waistband that creates a v-seam. Aerie sells the leggings on their website for $44.95 in three colors (blue, black, and snakeskin pattern), all of which quickly sold out shortly after the Tik Tok went viral. It's currently unclear if Aerie is going to restock (although I think they'd be crazy not to). 
If you're a little late to the game and still trying to get your hands on a pair of these famous leggings, you're not out of luck. Although they're not the real deal, Amazon sells a similar pair called the "Core 10 Women's Cross Waist Legging with Pockets" in navy, blackberry, micro animal, and black for $29. I actually ordered a pair for myself and can vouch for the slimming effect. I like the leggings a lot – they're super cute and more importantly, super comfortable! I'd be interested to order a pair of the Aerie leggings to compare if they ever do a restock. 
Other options that I can't personally vouch for but have done some research on are the Lululemon "Aligned Angles Super High Rise Tight" leggings for $69 on their website or the Nike "Women's Yoga Wrap" for $48.97 on their website (both of which have the cross-over waistband style). If you're going to try them out, order fast because they're going quick!