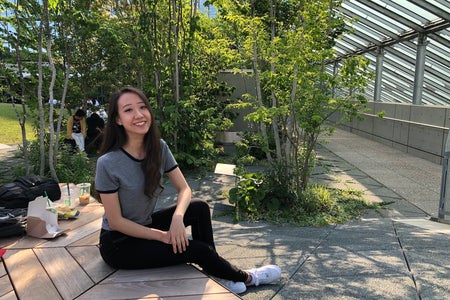 Humans of Waseda: Nicole Sung
Can you explain what TEDx is for people who aren't familiar with it?
TEDx events are focused on a local area and we try to emphasize local voices and our goal is to share "ideas worth spreading" in our community. We do this through having speakers give short but powerful speeches that get listeners thinking and starting conversations that they otherwise wouldn't have.
How long have you been a part of the TEDxWasedaU team?
Honestly, I'm pretty new to the team. It hasn't even been a year since I joined, I only started at the beginning of this school year.
What inspired you to participate in TEDx?
There was actually a TEDx organization in my high school, and since then I've been interested in joining the team! I really enjoy listening to short speeches on topics that the speakers are passionate about, and I also really like being able to see the behind the scenes of events and how things come together.
I love being able to create something in collaboration with other people. I think it comes from loving performing arts and being fully involved in the process. I used to be in theatre productions in high school, but when it was a dance production, I would be helping out backstage because I still wanted to stay involved. 
How was this year's Student Speaker Competition theme ("Things Unseen") chosen?
It was chosen by our Speaker Team after careful deliberation! The theme needed to be a broad topic that people can interpret differently so that there can be a wide variety of speeches and speakers. An abstract concept like "Things Unseen" gives people the freedom to choose any topic that they believe falls in that category. We had a few examples in our promotional video, like labor workers who go unthanked to personal struggles that we don't talk about, and also something as simple as how someone does their makeup to portray themselves.
Do you have any tips/advice for people who are interested in joining TEDxWasedaU?
Go like and follow our Facebook page or Instagram at TEDxWasedaU in order to stay updated on when we're recruiting new members. It usually happens during the beginning of the fall semester, but sometimes we'll also recruit during the year so keep your eyes peeled.  
Don't be afraid and don't procrastinate! Sign up when you see the application form floating around. Being proactive and applying early could work in your favor; at the very least it'll give a good impression to whoever's going to be interviewing you.
Make sure you're applying for the team that you think you'll fit best in. Don't apply to be in the team that has to contact sponsors if you're uncomfortable speaking to strangers, or to the team that designs posters and films videos if you're not interested in creating visual arts. (Don't worry about not having experience though, you'll get that while being in the team! Just make sure you're interested and will participate.)
Be yourself in the interview and have fun! Don't be too stressed, try to have a conversation with your interviewer and let them get to know you.
What are the three keywords that best describe TEDxWasedaU?
Main. Event. Soon.
No, but really, our main event is coming up on July 14th.