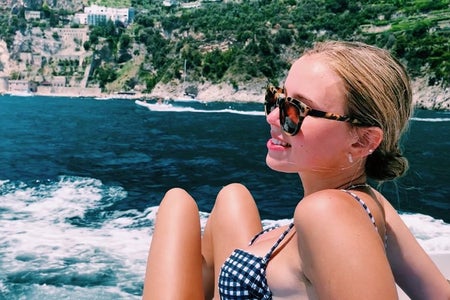 Sophomore Spolight: Annie Culberton
Annie Culbertson is a sophomore majoring in BEM with a concentration in Marketing and minors in Entrepreneurship and Art History. She has a passion for lifestyle, fashion, and social media, and hopes to start her own blog in the near future. In order to learn the ropes, Annie is working for a well-known local Winston-Salem blogger, Caitlin Covington. 
Her Campus: Tell me a little bit about Caitlin Covington and why you wanted to work for her. 
Annie Culberton: I have followed Caitlin Covington, a fashion and lifestyle blogger, on Instagram since I was a freshman in high school and I have always looked up to her. I have always thought her career is super inspiring — like, how in the world is she making big bucks being her own boss, writing about stuff that she loves? She has an actual blog that is her main focus before Instagram was even a thing. The blogging industry was a huge thing before Instagram gained popularity, and I think Instagram has fueled the blogging industry. She was one of the first people to tap into the whole industry. I was so interested and wanted to learn more so I sent her an email one day and asked if she would meet with me to tell me more about her life and potentially teach me more throughout the course of a semester. 
HC: What types of tasks do you do for her and what is your favorite part of the internship?
AC: So, everyday I would be doing something different, which just speaks so much to the nature of a blogging job because everyday just brings different tasks. From linking clothes on her liketoknowit.com to create a revenue stream, to unboxing PR packages sent to her house, to even trying out different concoctions for the perfect pumpkin spice latte recipe. My favorite part of the internship is the realization that making everything seem seamless on Instagram or the internet actually takes a lot of work and time. My favorite part was learning about the nitty-gritty backbone tidbits of being a blogger. 
HC: When you create a blog of your own, what content would you most want to publish?
AC: It has actually been a dream of mine for a long time to create my own personal blog and eventually monetize it. I am hoping to work on it really hard this summer. The content and the market I will be trying to reach is the typical college aged female who wants affordable and attainable everyday style. Think, like, what to wear to class or cheap bathing suit options for spring break. I would want to be relatable to the average stylish college girl. 
HC: Why do you think lifestyle blogs have become more popular in recent years?
AC: So, like I said in a previous question, blogging has been going on for a long time, even longer than Instagram has been around. But I think, especially with the explosion of Instagram, Facebook, Twitter, really all social media platforms, it has fueled the blogging industry even further. Originally, I think people used Instagram as a platform to see what their friends are up to. But more recently, it has grown into seeing what the latest trends are, affordable options for clothing, beauty and makeup tutorials, and even forms of art. People want to follow these influencers to learn from them and not just be viewers of other people's lives. 
HC: How do you see this internship helping with your future career positions?
AC: So, currently my studies at Wake Forest have a lot to do with aesthetics and marketing them towards a target audience. I honestly am not sure what I ultimately want to end up doing. However, I do think that blogging will be a part of my career whether it be in the arts market or perhaps even a piece of a marketing campaign. I think it is super interesting the way that brands these days are actually using influencers and bloggers as part of their marketing campaigns. I think it would be super cool to work on either side of the influencer to brand relationship, it's such a novel concept.