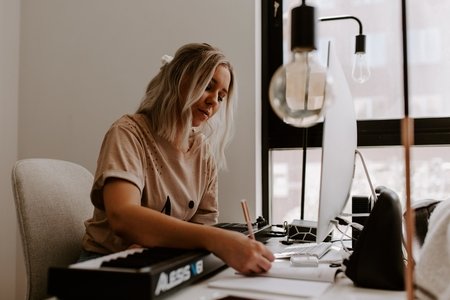 Quarantine Recommendations: What to Read, Do and Listen to
Finding the Silver Linings...
It was the best of times, it was the worst of times… okay, it totally is just the worst of times. As of last week, President Trump announced that the period of social distancing and self-quarantine would extend until April 30th, making this epoch of isolation a six-week long ordeal—as of now. It is utterly surreal that we are living in a time like this. The American people have always been brazen about their freedom, but the consequence of exercising freedom right now is spreading a life-threatening disease. This situation has left many of us at a crossroads because, to put it simply, we don't know what to do with ourselves. I, myself, have encountered boredom to such an extent that I retreated to a dark place that I am not proud of: downloading Tik Tok. I know, I know, I'm just as disappointed as you are. That being said, I wanted to make a list of things that I've been doing to pass the time and establish some normalcy as well as some general recommendations. If I can save at least one college student from surrendering to Tik Tok, I've done my job well.
Fitness:
    Working out is an integral part of my day, but the recent closure of gyms and fitness studios has put a damper on this daily pursuit. However, so many of these fitness studios have been incredibly innovative and accommodating by offering live fitness classes. Cycle studios such as Soul Cycle, Cycle Bar and Fly Wheel, have been broadcasting classes via Instagram live, so fitness fanatics can stay on top of their game in the midst of this chaos. My cycle studio of choice, Cycle Bar, even rented out bikes to its members so they could be put to use rather than sitting idly in the studio. Similarly, Orange Theory has been posting workouts of the day on their Instagram page and Crunch Fitness has employed Facebook live to transmit their classes online. Even my local gym, The Gym Jax, has been posting daily workouts. Luckily, instructors there, such as my mom, have been creating Facebook groups and Instagram stories for their students. Even though it may be harder to motivate yourself without going to a physical gym, even doing something little to remain active can help to ward off stir craziness while we are confined to our homes.
School Work:
    If you're like me, Zoom University has resembled Work Forest all too well. The first week of online classes was pretty challenging because the allowance for social interaction and extracurriculars have been significantly reduced. I have found that in order to help myself have a more structured schedule, I can start my day by making a to-do list. Seeing the work I have to do laid out motivates me to get it done because I am physically able to see my productivity as I cross items off my list, despite feeling sluggish and unproductive. Another tip I have is to separate your work space from your living space. If I lie in my bed, there's approximately a 0% chance of productivity, but I have dubbed the office as my workspace and I limit work strictly to this room. This way, when I am in the office, I know that work has to be done. However, when I go to my bedroom, I enter a stress-free zone. Lastly, breaking up the day with intervals of family and personal time helps to give myself breaks from my work and keep morale high (or as high as it can be).
Podcasts:
Thick and Thin: Hosted by Katy Bellotte, this podcast covers a wide range of lifestyle topics and often roots them in a discussion of a historical or cultural figure. For instance, she connected the Coronavirus craziness to an artist that lived through the Spanish influenza and used the period of isolation to create art.

Bachelor Party: A witty, clever pod hosted by Juliet Litman that dissects The Bachelor Franchise from an analytical perspective. Just like sports analysts examine and discuss the politics of sports, Litman and her guest co-hosts talk Bachelor every Monday.

Manifest with Tory DeSimone: Another lifestyle podcast, hosted by an influencer and spin studio owner, DeSimone discusses topics such as achieving goals, envisioning your dream life, and cultivating the self. 

Tiny Meat Gang Podcast: Brought to you by YouTube comedians, Cody Ko and Noel Miller, TMG podcast is a hilarious extension of the commentary the two do on YouTube.

The Morning Toast: This podcast breaks down the top five news stories that you need to hear before biting into your, wait for it, morning toast. This pod comes out every weekday at 10:30 EST.
Books:
Eligible by Curtis Sittenfeld: The novel is an incredible, modern reimagination of the epic love story, Pride and Prejudice. A novel in which Bingley was the bachelor that reinvents the classic with feminist themes? Yes please!

The Wedding Date by Jasmine Guillory: It starts with two meeting in an elevator and develops into yet another modern love story with an empowered, African American female protagonist.

The Other's Gold by Elizabeth Ames: A story that centers around four college friends and how each makes a big mistake that unleashes deep, ethical and moral considerations for the reader.
Music: (just a few of my current faves)
"Westworld" by EVAN GIIA

"July" by Noah Cyrus

"Crashing" by Illenium

"Josslyn" by Olivia O'Brien

"Young & Alive" by Bazzi

"Blinding Lights" by The Weeknd
Random Things to Do:
Play a board game! My personal favorites are Scrabble, Uno, BS, and the Game of Life.

Bust out the Wii or any other video game console. (I recommend Mario Kart and Wii Sports Resort)

Get dressed up for no reason. My friends and I recently celebrated our sorority formal remotely. We dressed up, got on zoom, and danced around. May seem a little pathetic, but it's a big morale booster!

Journal! Sometimes I look up prompts on Pinterest that are really introspective and thought provoking.

Support local businesses and order take-out. Most places, whether it be restaurants or coffee shops, are doing this and it's a great opportunity to show them some love during this challenging time.
With that, my comprehensive quarantine recommendation list is complete. I hope this has been helpful and that you got some ideas on how to occupy yourself or organize your day. Although this situation, to be blunt, sucks, we can still try to make the most of it and find the silver linings. I'm thankful that this break has given me the opportunity to spend time with my family and enjoy the Florida sun. Anyway, stay safe—and off of Tik Tok!