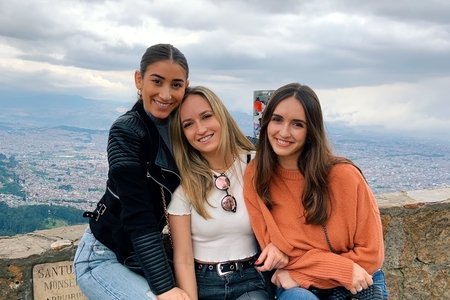 Madeleine Coss on Senior Spring Online
Madeleine Coss is a senior from Penn Valley, Pennsylvania, majoring in History and English. I decided to interview her to hear her thoughts on the COVID-19 pandemic as a senior who is not experiencing a ~typical~ final semester of college. 
Her Campus: Were you surprised by the news about not going back to school because of COVID-19?
Madeleine Coss: Even though it was really upsetting when we found out we would not be going back to Wake after spring break, I was not particularly surprised about the news. So many other schools, and particularly colleges, had already made the decision to transition to online classes, so I had a feeling Wake would end up doing the same.
HC: How has life been on campus without the rest of the WFU community? Is it nice spending the last few months of college with just the seniors?
MC: I went back home following spring break, but I am planning to return to my off-campus house in the next week or so. I am really excited to be back in Winston-Salem with my roommates and catch up with everyone! I am also excited to spend the spring in Winston and end my final weeks of (online) college with my friends, of course while being socially distanced.
HC: Has the coronavirus pandemic taught you anything?
MC: Although I am definitely upset about missing the rest of my senior year, I think this whole thing has really made me appreciate the amazing 3.75 years I have had at school. I am really glad I took advantage of my time at Wake and made a lot of amazing memories to look back on. Most importantly, I met incredible people who shaped my experiences and showed me that while college ends, your college friends will always be there.
HC: How has not having your final few months of senior year impacted your outlook on college? And life after college?
MC: It has definitely made me realize the importance of living in the moment and trying to appreciate even the small moments, like going out to dinner with friends. In college, it's easy to get wrapped up in looking forward to Wednesday's and the weekend when class schedules get busy, but I realize now how important each and every day and moment is.
HC: What are your plans for after graduation?
MC: I will be working at MetLife in Philadelphia and then possibly going to law school in a year or so. 
HC: What was your favorite first semester memory from senior year?
MC: One of my favorite first semester memories from this year is the trip I took with my Wake friends to Nashville over Fall break. It was so much fun to travel together and see an incredible city I had never been to before.
HC: Reflecting on your past four years at Wake, what advice do you have for the freshmen who still have three more years?
MC: I would definitely say to take advantage of all the amazing opportunities that Wake offers - definitely go abroad, it was such an amazing experience. It's [Prague] a really beautiful and historic city so I spent a lot of time visiting sites including Prague Castle and the Lennon Wall. It was also a super convenient location for travel, so I had the opportunity to visit other cities, including Berlin, Paris, and Vienna. I would also say try to meet as many people as possible! Reach out to people in your classes and people outside of your circle that you may not have gotten the chance to know before!