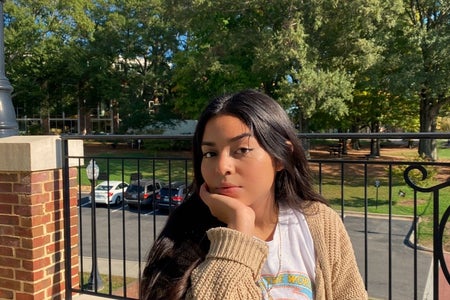 Celine Cardenas on Being Politically Active
Meet Céline Cardenas, a freshman from Chicago, Illinois. She plans to major in Biology, with minors in Chemistry and Bioethics (Humanities and Medicine), following the Pre-Med track. She is involved in the Club Lacrosse team, the Organization of Latin American Students (OLAS), and the Minority Association for Pre-Health Students (MAPS). Celine discusses voting in the upcoming election and civic responsibility.
Her Campus: Is this your first time voting?
Céline Cardenas: This is my first election, but I did vote in the primaries as well.
HC: What has motivated you to vote in this upcoming election? 
CC: My community, which I would mainly consider to be the working class LatinX community, that I represent has motivated me to vote this upcoming election because I know many of them cannot vote mainly due to being undocumented. By voting, I feel like I am voicing their needs and necessities through my ability to do so. My vote counts for so much more than myself, which is why I vote. Not just for myself, but for my community as well. 
HC: Would you say that being on a college campus, or specifically Wake's campus has impacted your ability and/or motivation to vote in this election? 
CC: I thought that it would be a lot more difficult to vote just because the election process itself can be complicated, but I feel like the Wake Forest community is very supportive and motivating in terms of pushing students to vote. I think that being on campus, it is clear that we, as the younger generation, have so much power to incite change. Being on a college campus such as Wake was definitely very motivating. 
HC: Have you ever been involved in any political action further than just voting?
CC: Back at home, which is a Chicago suburb, I spent a lot of time with my brother preparing for the campaigns this summer. We tended to do a lot of canvassing and mapping to get the word out for different local candidates running. We also organized a large BLM protest where over 1,000 members of our suburb attended following proper Covid-19 guidelines. This was huge for us because it showed us how much influence our youth has just by getting the word out there, which is why afterward, I started to help my brother plan a voter registration drive with his friends from the Black Student Union from our high school. I strongly believe in the powers of the grassroots movement where the local community is the one being the most active. We must push others in our local communities to go beyond the presidential election and learn about the ways we can improve from right outside our homes. 
HC: Why do you think others should vote?
CC: I think others should vote because, like I previously mentioned, the vote leads to changes that impact entire communities, not merely the individual voting. When voting, there are so many things that determine what the future looks like for these families, such as the benefits families receive, federal aid, the amount of taxes families need to pay, and so much more. Communities need to come together and think about what they need as a whole and put this to the test at the voting ballots. Having voted for my first time ever this year, I see the importance of voting so everyone that has the ability to vote should do it, especially for the sake of so many that cannot regardless of the reason. Those that cannot vote still make up large portions of the population and they are still affected by the outcomes of the 2020 presidential election.