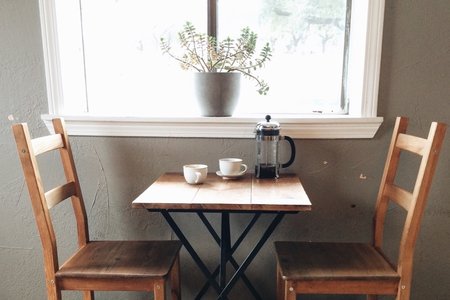 Why You Shouldn't Pay For a Meal Plan
One thing that I haven't invested in here at VCU is a dining plan. VCU is expensive and so is living on or off-campus in Richmond. So, when it comes to saving money, I've become quite savvy. The biggest money saver that I have found is to cook meals at home instead of eating out or buying a dining plan. I know how inconvenient that sounds; grocery shopping, cooking and cleaning sounds exhausting. But, I'm about to show you some math that may convince you to ditch the meal plan for some good ol' home-cooked meals.
The first plan I looked at was the plan that includes 5 Swipes plus 160 Dining Dollars. That plan costs $212, with each Dining Dollar being equivalent to one U.S dollar. So, with this plan, each "swipe" is $10.40. Another plan that includes 100 swipes plus 75 Dining Dollars is $1,015. That comes out to $9.40 a "swipe".  
One swipe can get you a bowl at Panda Express and a medium-sized fountain drink. That typically costs about $8.10 when paying with cash/card. So, depending on your plan, you will either pay $2.30 or $1.30 extra when using a swipe. 
Another swipe option is Subway. With a swipe, you can get a six inch sub, a bag of chips, and a medium-sized drink. If you get a Spicy Italian sub meal, it will cost about $8.50 paying cash/card. Depending on which sub you get, a swipe will most likely be more expensive than just paying cash/card for a Subway meal. 
Overall, depending on where you use your swipes and which food you are getting, swipes are likely to be more expensive per meal than just paying with cash or a card.
So, then, how much do groceries cost? I did a little research on Kroger's website and found a few meal options that are way cheaper than a dining plan. For example, you can get a whole Kroger brand pizza for $2.99 and a 2-liter of Dr. Pepper for $1.99. That's $4.98 for a dinner that can serve 2 people. If you are feeling healthier than pizza, you can buy a fresh chicken breast for $3.49, a bag of frozen veggies for $1.00, and a whole 24 pack of water for $2.50. That's $6.99 for dinner, with 23 bottles of water left over. Plus, Kroger offers tons of weekly coupons that help cut costs on your favorite brands and foods.
I will admit, grocery shopping and cooking is a lot more inconvenient than grabbing takeout, but it can be worth the money saved. The only exception that I can think of is if you are in school on a full scholarship that pays for your meal plan; obviously you should use that. Otherwise, if you or your parents are paying for your education and you want to save some dough, skipping the meal plan and opting for making your own dinner will help lower your costs in the long run.