It's Time To Survive Finals! Check Out Our Finals Kit
It's that time of year again! Finals. And if you're anything like me, you probably anticipate walking into finals week like: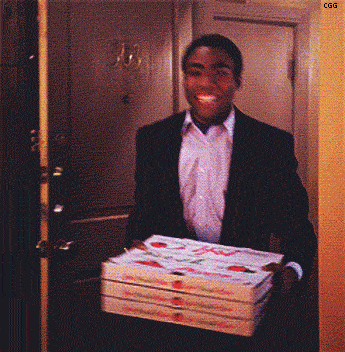 While we'd much rather be at home for the holidays already, it's imperative we push through the final days of the semester! Next week, a few ladies of Her Campus Valdosta will be giving out free coffee on campus, along with goodie bags to keep your spirits lifted and brain working hard during finals week! Take a look at the surprises that came in the mail for us—and what we're giving away to YOU!
We received two packages from Her Campus Nationals this past week. The first was filled with just what every girl needs to prepare her for the long week to come!
Along with all the goodies, we received a special note from the National Team:
Now it was time to do a little unboxing! (Who knew so much could fit in one box?) Because we plan to share these gifts with the women on campus, it's only right I give you the inside scoop!
Let's be honest here: who doesn't love Chipotle? While we don't have one in town, if you live in the Atlanta area and will be home for Christmas, a BOGO coupon for Chipotle sounds like heaven! We have 15 of them to give away! Not only is the food delicious, but it's also organic—the company serves more naturally raised meat than any other restaurant chain. Lunch is served!
We received a $20 gift card to order anything from chain & charcoal's College Catwalk Collection, which is inspired by Her Campus! The jewelry is made especially for college women, featuring necklaces, bracelets, and rings! It's the perfect Christmas gift!
Speaking of jewelry, we also received a gorgeous alphabet necklace from BaubleBar—an $18 value! But it doesn't end there! BaubleBar spoiled us with a $10 gift card! And guess what? That's still not it. You can use the promo code "HERCAMPUS" to get 25% off all BaubleBar jewelry! (Thank us later!)
As you can see, we love accessories—and we love our undies just as much! Cosabella has given us a free pair of panties and a coupon. Driven by the mantra "Freedom of Color," Cosabella believes a woman's lingerie should reflect her mood. I couldn't agree more!
#TheTimelineProject is an online tool designed to capture your goals and make them happen. Nearly 40 of these books were shipped to us to share with you! Learn strategies to stay focused, prioritize, and make your dreams come true in this cute and fun book! Be sure to hashtag #TheTimelineProject.
Pink is a girl's best friend. These durable, spill-proof CamelBak bottles will be sure to keep you hydrated during finals week! They are BPA-free and dishwasher safe; they also come with a lifetime warranty!
Due to studying for finals likely taking up most of our time next week, how will we have time—or energy—to do our hair? TRESemmé's travel sized hairsprays are just what we need to tame flyaways and keep our hair looking just how we want it to! We have 10 of these to give away!
TRESemmé has also given us 10 samples of 7 Day Keratin Smooth. This keratin treatment even lasts through washes! Plus, you'll receive a coupon of $2 off any 7 Day Keratin Smooth product (excluding trial and travel sizes).
The end of the semester not only brings finals, but it also brings infections. Cold-EEZE products help reduce the duration of the common cold while relieving those annoying symptoms that can get in the way of studying! Got it bad? They also help relieve flu symptoms such as cough, chest congestion, and sore throat. With over 40 of these to spare, come see us if you catch the cold and you're short of cash!
Like TRESemmé, we've received plenty of Luna bars in the past! These delicious and nutritious bars are made with the best ingredients possible, are high in calcium and folic aid, and rich in antioxidants A, C, and E. As small as these bars are, they still manage to pack 8g of protein and 4g of fiber. We received 15 in Chocolate Peppermint Stick!
A second package came in the mail filled with Kettle Brand tote bags! (8 of them, to be exact.) Inside of each, there are 2 bags of snacks: salt and pepper chips and maple bacon popcorn! Nothing better than snacking while racking our brains!
Well there you have it, ladies! There's tons of goodies to go around. If you would like any of the items you see here, email us at [email protected]!
HCXO!