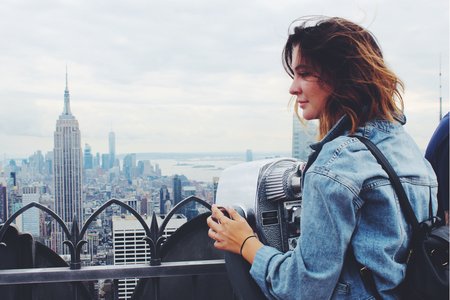 Anna Thetard / Her Campus
Time for a Weekend Getaway!
It's that time in the semester when all you can do is snuggle up in your bed with your laptop and pretend finals aren't soon approaching. So what we all need is to get away from our beds and go away for that long weekend trip!
Being able to work for a company that has traveling dance tours I've been privileged with some opportunities for weekend work getaways (that are way more fun than work). Last weekend I was in New York City and it was just what I needed to get through the end of the semester! There is truly nothing like a broadway show to inspire your creative juices and be amazed by all the talent around us. 
New York City is much different from my usual surroundings of La Crosse, Wisconsin and it feels good to break out of complacency. A weekend trip doesn't need to be some extravagant trip, it is something to look forward to while you grind all week for class. 
On my weekend getaway, we took a walk through central park and the contrast of the busy city and the serenity of the park was breathtaking. As a person from the midwest, we need to admire the environment around us the next seven months of winter hits! Get out and find that perfect weekend getaway for you!