Hello, Her CAMPUS UVM and welcome to my crib. Per my last article How to Beat 'Maskne'  I mentioned my most famous line, "ballin' on a budget". I find that this seems to be my anthem as an incredibly poor college student. However, you don't have to give up a Pinterest aesthetic apartment to save that $$. Here is the ultimate bible on how to decorate an apartment/room on a budget.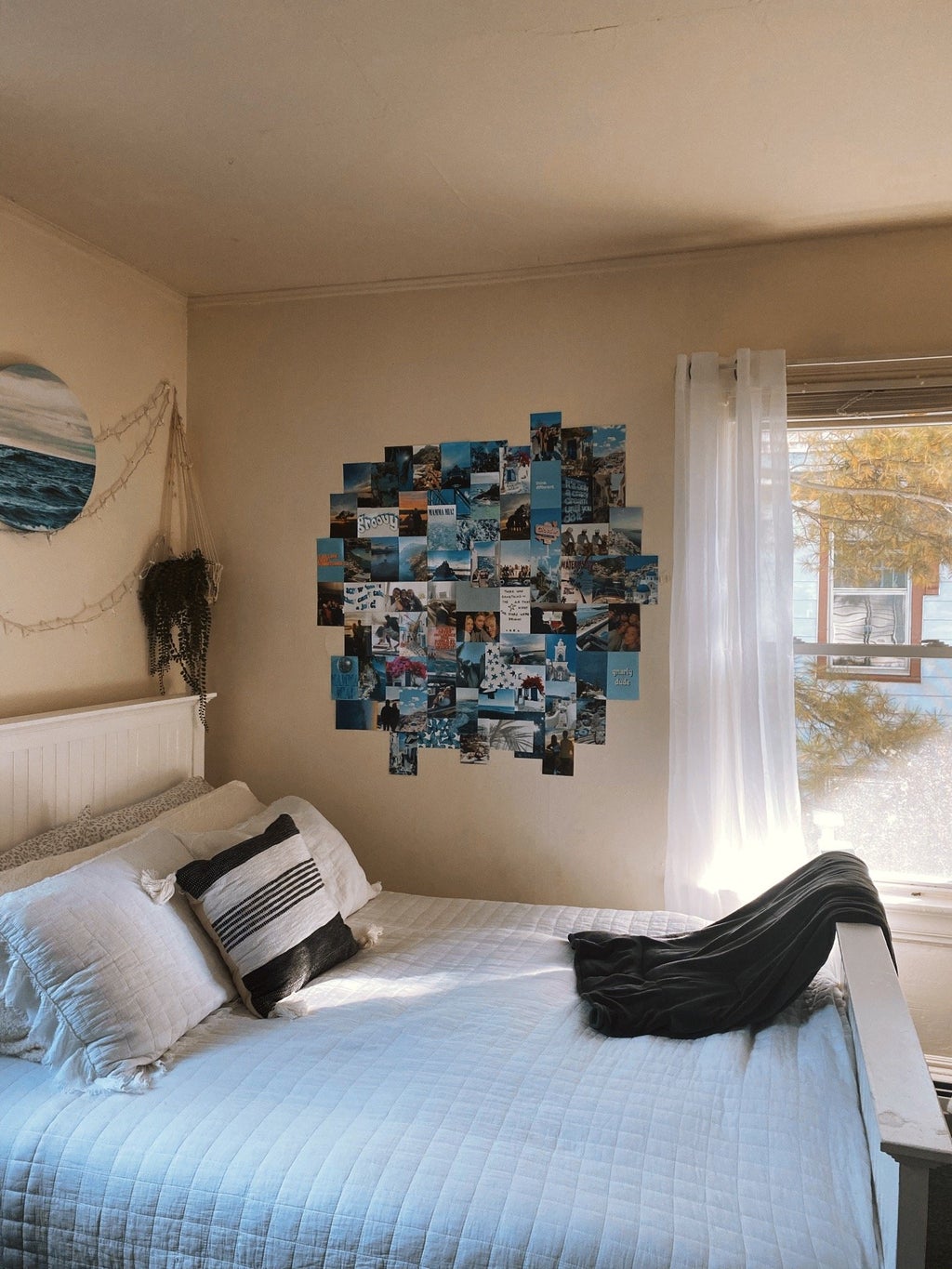 I would say that 85% of the time that I am on my phone, I am looking at Facebook marketplace. My best way of describing Facebook marketplace can be put into one statement: a gold mine. People post everything and anything on Facebook marketplace, and most of the time, you can get some good finds. My favorite to date, my rattan desk chair. This beauty was an absolute steal and paired with a cute white blanket, makes the best place to study.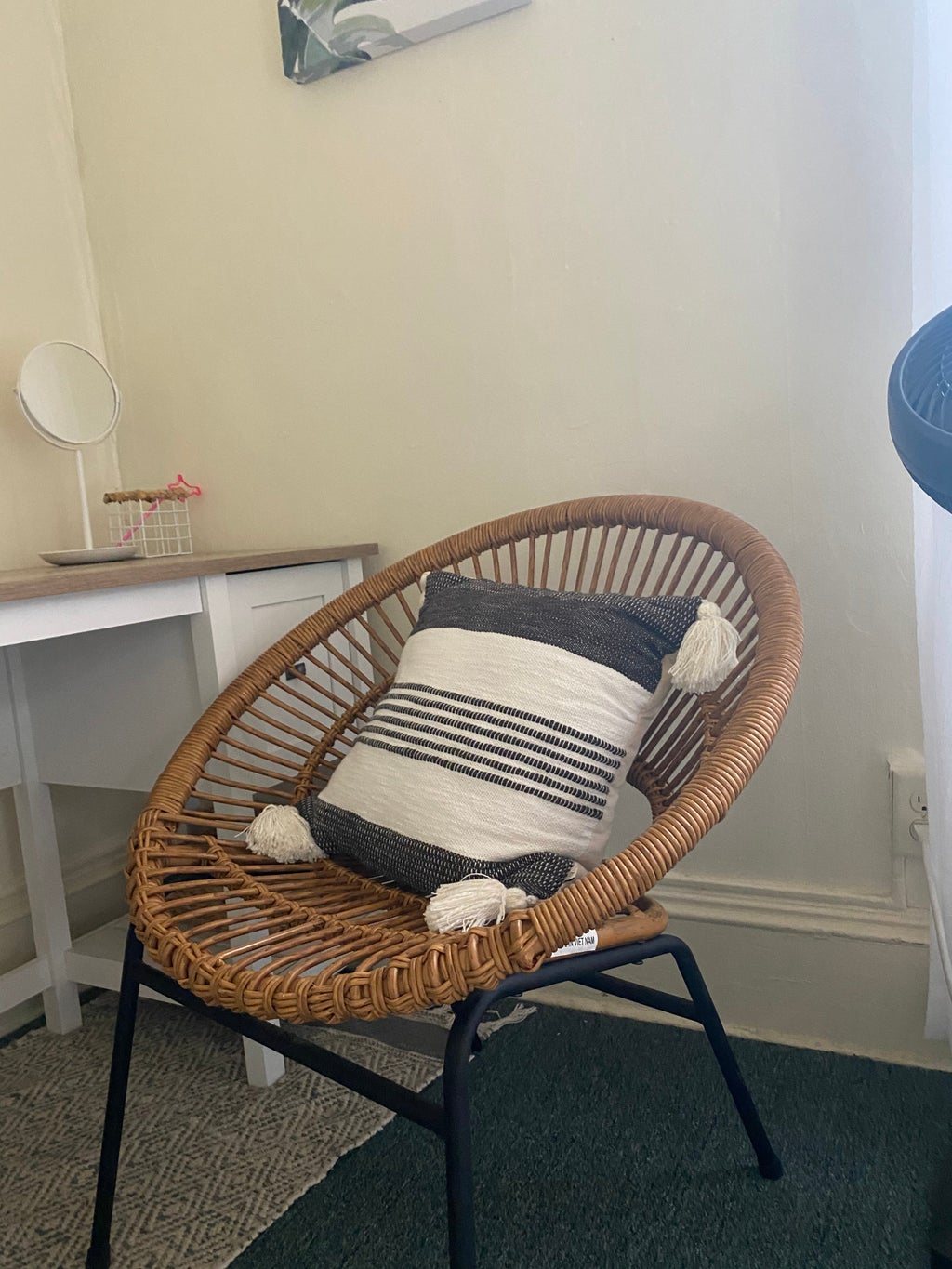 My second favorite find was my vintage dresser with the original drawer pulls. For this find, I had to get creative and add my own twist. For the space I was imagining, I saw something simpler with black and white tones and a bit of blue. I decided to add a dotted print to the dresser and just painted them on using acrylic paint. I spray painted the drawer pulls and voila, a cute little dresser that matches my aesthetic perfectly. This is the beauty of Facebook marketplace – it just takes a bit of creativity. I did the same with my bed frame and added some pictures from Pinterest for a cute little Mamma Mia/Greece vibe.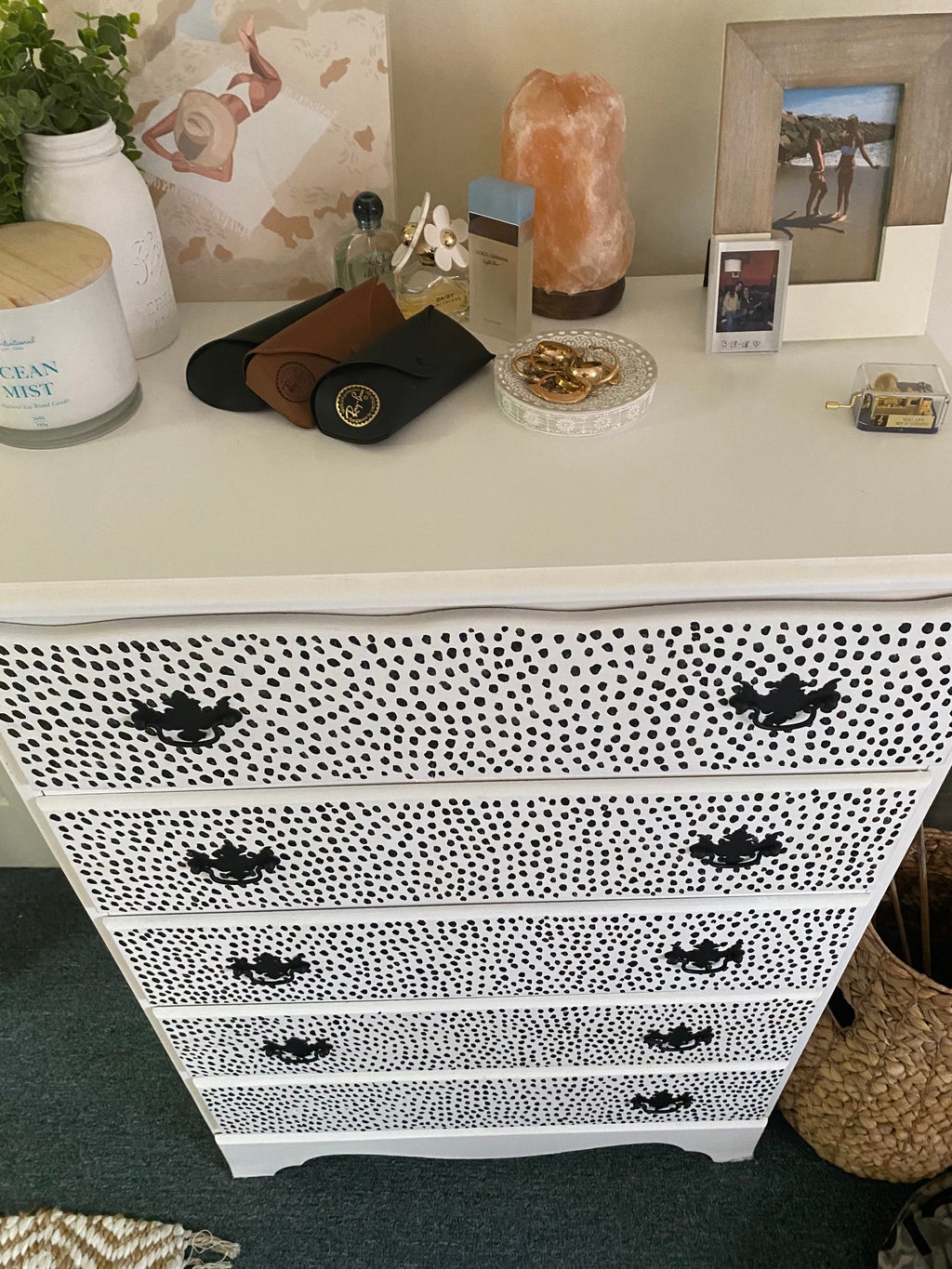 The next section of my bible is titled: the Dollar Tree is your friend. In the peak of quarantine, I was running out of colors to dye my hair. I had a burst of creativity which was brought on by an ad for half off fake plants from Hobby Lobby. I purchased all of the fake plants my empty bank account could afford, and then went to the Dollar Tree for some cheap mason jars. I painted the mason jars with a white chalk paint and sanded them down for a more vintage look. And just like that, I had some cute décor to put around my apartment that didn't cost me an arm and a leg.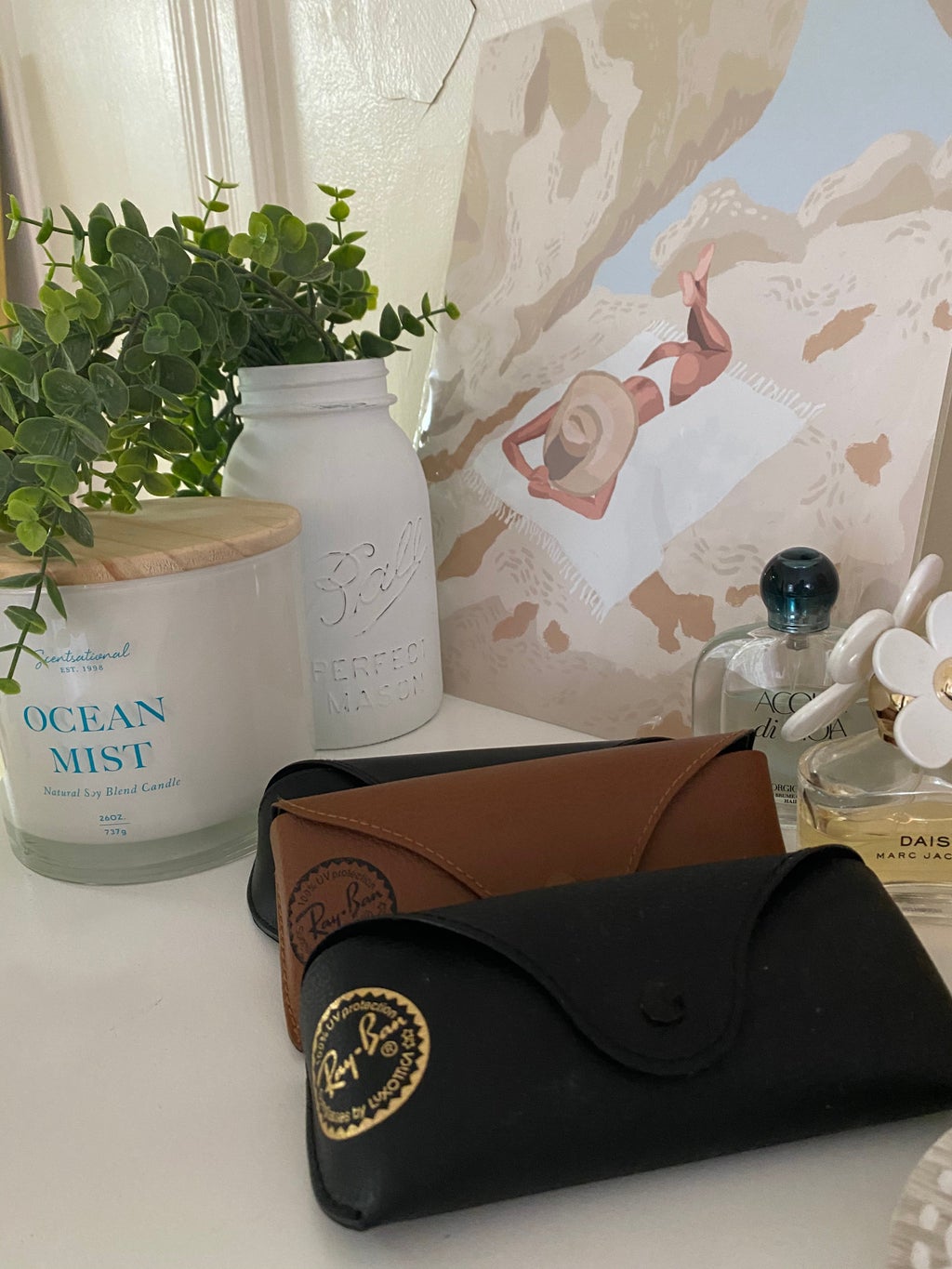 I know I said that the Dollar Tree is your friend, but TJ Maxx is your soulmate. I would be 200% lying if I said that I didn't get emotional when I first stepped into TJ Maxx post quarantine. I have to say 98% of everything I own is from TJ Maxx, Marshalls or Homegoods. I suggest going there if you need any cute bedding, wall décor, or even bathroom accessories. The clearance section is also a must-see as they usually have some really great treasures there, but be prepared to really dig for the good stuff. I am still unsure why I am not sponsored but it's okay.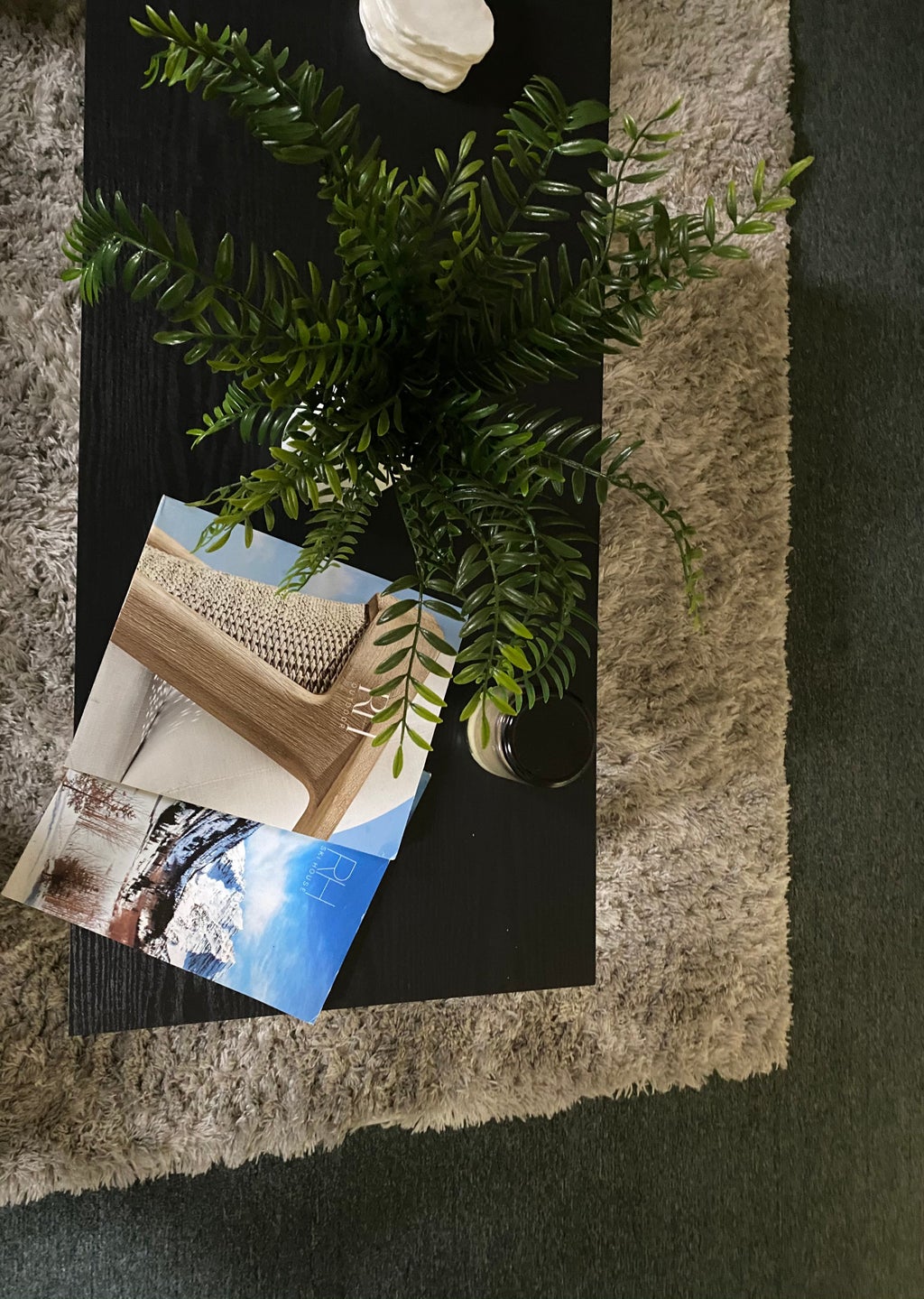 The art of ballin' on a budget is all about hustle. One of my favorite hustles is getting free stuff. I highly recommend going onto Restoration Hardware or any cute lifestyle online store of your choice, and requesting a source book. They will send you an aesthetically pleasing magazine which will spice up your space. Having coffee table books truly makes you feel like you have your life together, so I highly recommend it.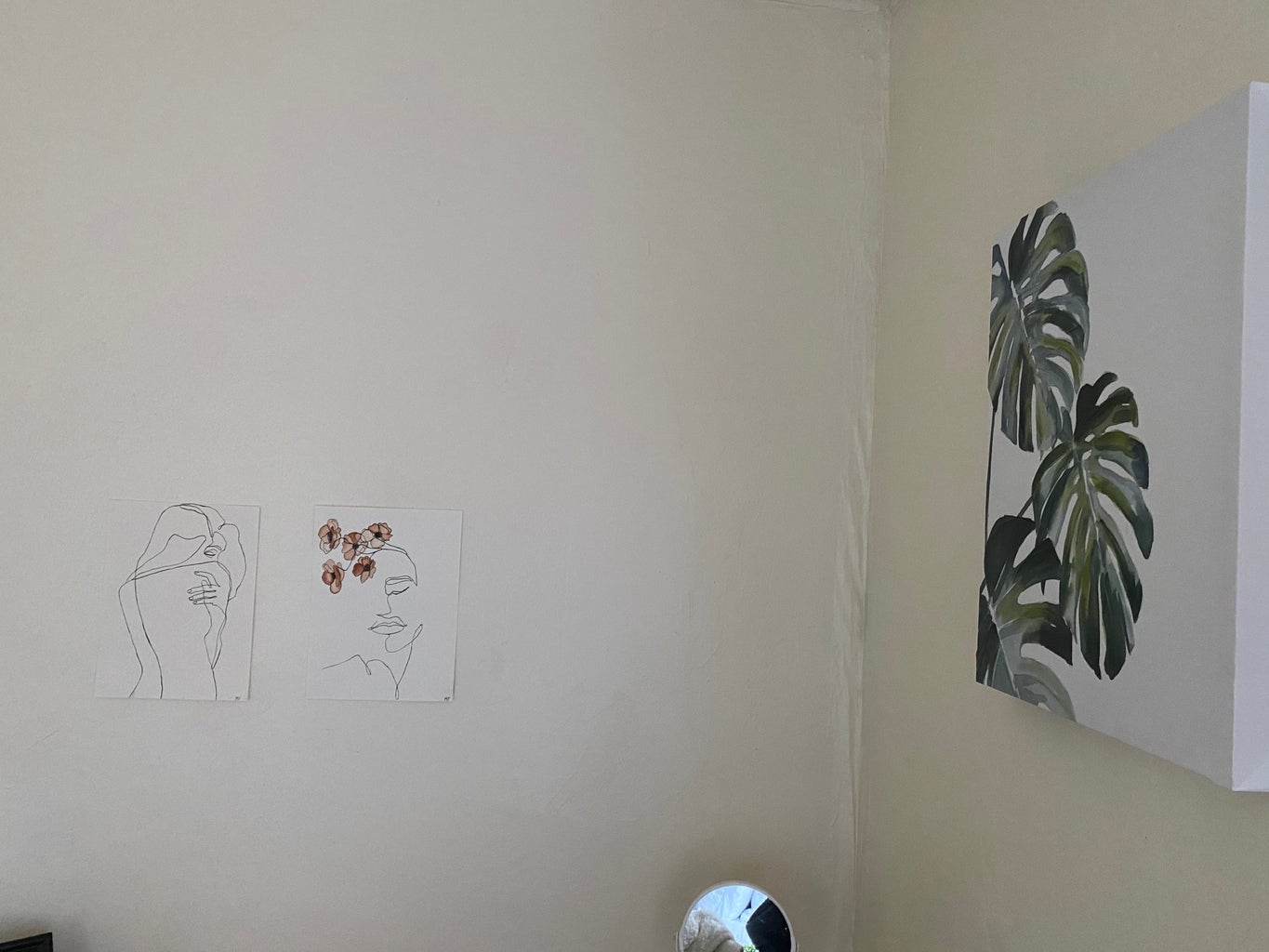 Finally, it always pays to have an insanely talented best friend to make you artwork. I personally have the artistic talent of my 3-year-old niece, so trying to make art for my room is consistently a struggle. If you don't have a really talented friend like I do, I suggest going on Pinterest and finding any cute prints that you like. You can usually print them for fairly cheap at Walgreens and ALWAYS look for coupons first.
I have presented you with the bible of how to personalize your space on a budget. Do what you want with this information, but I suggest taking advantage of my advice. Keep a lookout for more of my top tips for "ballin' on a budget".
With love,
Emily Day