Delving into the Music Career of UVA Alumni STRUAN
Earlier this year, I had the privilege of interviewing up and coming singer/ songwriter, Struan Shields, professionally better known as STRUAN. If this name seems familiar to all my fellow Hoos out there, STRUAN is actually an alum of the University of Virginia, class of 2015, where he studied English Literature. Coincidentally, his hometown is Arlington, VA which neighbors my hometown. Since graduating, STRUAN has been making big moves with his music.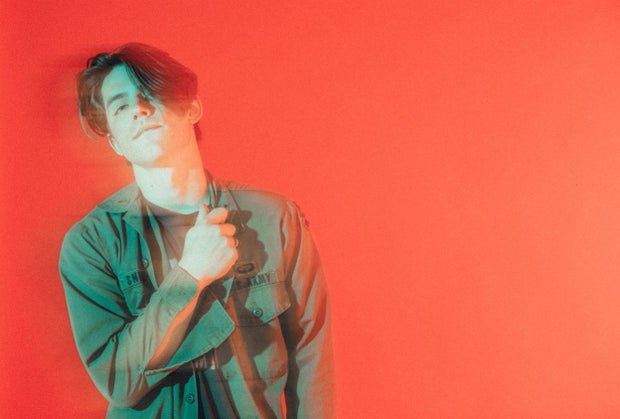 The Dwyers
Original photo by The Dwyers (Connor & Rachel)
His single "Go Out With My Friends" dropped last December, and since then it has appeared on Spotify's "Fresh Finds" for over a month and has gotten over 127 thousand streams to date! The music video was published on YouTube shortly afterwards, and is filled with visuals that scream, "what a time to be alive" and make you nostalgic for a time when you could actually go out with your friends.
When asked about the inspiration behind this song, STRUAN replied with,
"This song started with my best friend and I texting ideas back and forth.  I had just gone through a bad breakup and I had gone to London on a songwriting trip to escape and clear my head. I kept going out every night, but I'd always end the night thinking of her. I'm incredibly proud of it and the music video. It's pop, with a little Killers influence and it's my best work so far. For the video, we were hoping for something fun, kinetic, while still capturing the emotion of the song.  I worked with my good friend, Noah Tidmore."
The story behind the creation of "Go Out With My Friends" is actually very interesting. It began before quarantine with one of his buddies, Jordan, and the process just started very spontaneously and organically with texting lyrics and chorus ideas back and forth. This was inspired by Jordan's girlfriend at the time who said something along the lines of, "You know where you belong? You belong out with Struan at El Fuego (a Mexican restaurant)." They thought this would make a dope song concept, and they were right. This single perfectly encapsulates the feeling of being in your 20s and just having fun with your friends; living life with no strings attached and making memories.
If the song itself didn't sell you on that point, then the music video definitely does. Shot in a friend's basement, the MV gives off a tongue-in-cheek vibe with some sadness mixed into it. Visually inspired by The 1975's "Robbers", it makes you nostalgic for the teen/ young adult adventures you always see on the big screen. Just the late night drives and running through the streets aesthetic makes the song very relatable and desirable. This song and accompanying music video is definitely "kind of a vibe". After the MV's release, I asked how STRUAN would like this project to be perceived, and he said I hope they think something like "I want to see this dude live" (as in a performance), and damn right I do! STRUAN was actually supposed to play in Charlottesville at The Pav last spring, but it sadly got cancelled. Definitely when he gets the chance to come back to his alma mater to perform, I'll be in the front row!
Speaking of UVA, I of course had to find out what college life was like for him being a student and aspirating artist. Balancing a work-life balance is a hard thing to do, but STRUAN did it. He made sure not to take too many credits, and he luckily had chill professors. Just by looking at the fact that he majored in English Lit, I wouldn't have expected him to ultimately pursue this music career path, but he always planned on it, so he just did a major he thought he would enjoy. During his time on Grounds, he was able to play The Jefferson  and The Southern full band a few times. For those who don't know, The Jefferson Theatre is a performing arts/ concert venue on East Main Street, and The Southern Café and Music Hallis is a venue featuring local and touring bands on 1st Street. He also had the opportunity to perform with the band Parachute, who are also UVA alumni. Fun fact: they were part of the reason why STRUAN chose UVA as they used to talk and he had the chance to play together with his band while he was still in high school.
Straight out of high school, STRUAN had some opportunities to sign a deal or go to school, and he admirably chose school. He realized that he didn't feel ready enough as a musician or as a person to go into this though industry right away, so he followed his own path. However, this doesn't mean he wasn't still making strides in his work. He did weekend gigs and college shows, and with these experiences, he was able to discover what he did and didn't like. For instance, doing things solo weren't as fun and learning that he wanted his image to center around good vibes, having fun, and having other people feel the same way. Sugary pop superiority!! "Finding things you're passionate about outside of music is really important/ inspiring for music." He made a key realization and hit point of self-reflection of "why would I write songs I don't even want to listen to?". Being able to find out who you are is such an important step in shaping what you want out of your career. Since then, he's been able to artistically design his own sound and create that into something meaningful and something worth listening to.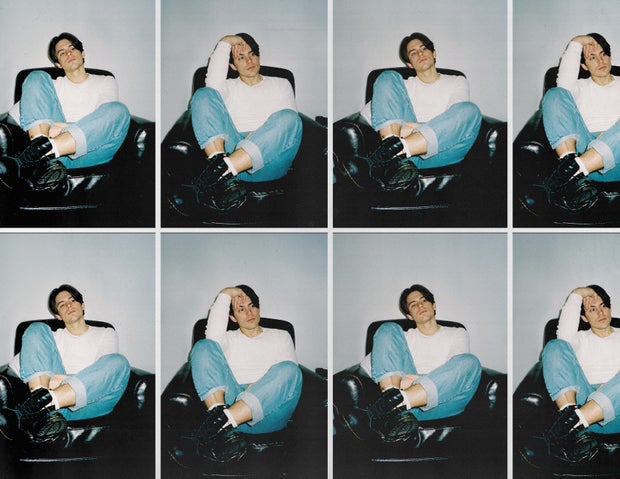 Photo by Luke Rogers
Falling under an alt/indie pop genre, he would describe the music he typically creates as anthemic, energy, and cathartic (which I can attest to). He likes to create songs that are fun to sing live but that also have substance. In addition to his STRUAN project, he has done some ghost writing, and like ten of his songs have appeared on different TV placements including MTV and Oxygen. However, his big thing is obviously STRUAN, and it has been perceived well with Spotify curators, including Fresh Finds that was mentioned earlier. He has also appeared on New Music Friday Germany, India, Switzerland, Denmark, and Sweden.
His goal as an artist is to have fun playing live and also see his audience enjoy watching and singing along with. There is a strong message of "just live your life." You're only young once, so you have really experience it, even if it includes going through breakups and making bad decisions. There's no one telling you what to do bc no one really knows, so just go for it and have fun!
When asked about what he enjoys most about being a musician, he responded with "writers love to have written." It's such a good feeling to get a good chorus, and you know it's like the one. Then when you hear your final recording, it's so exciting and relieving! And for the obligatory 'we're in a long pandemic, so all interviews include a something-about-COVID' question, I asked how it has affected his plans and what he looks forward to in the future. Unfortunately, his mini tour got cancelled, but it provided him an unexpected creative opportunity, and now he has a giant load of songs he's written. This time was also a good learning experience as he was able to improve self skills like production and become more efficient by not wasting time with things he didn't have to do but felt like he needed to.
Aside from this, one of his favorite memories has been being able to go to  London every 6 months to write, and the last trip was very special creatively. Additionally, just getting out of Nashville for a while and then coming back makes appreciating the city even better. He was able to play one show last year with a full band to play. There was a packed house, and unfortunately the tour was cancelled soon after. There was no more tour, but there was a great show, so at least things ended on a high note! He said it is always rewarding to play live and have people enjoy it. 
Now that STRAUN has been in the music scene for a bit, some advice he has for aspiring singers/songwriters is that "collaborations are valuable." It is one thing to have success by yourself and thinking that's it, but then getting with other people makes your eyes open more. "Magical things with multiple people work together", so work with your peers and people you admire. Another thing, "don't take it too seriously, you just have to write bad songs sometimes (just try not to release them)!" And just for a fun question, I asked, "If you could go open a show for any artist who would it be and why?'. He responded with The Killers because he would love to see them play. He would also love to open for Lennon Stella, The 1975, or LÉON (all great choices tbh). He obviously loves their stuff and enjoys listening to them, but he's also inspired by their artistry and writing.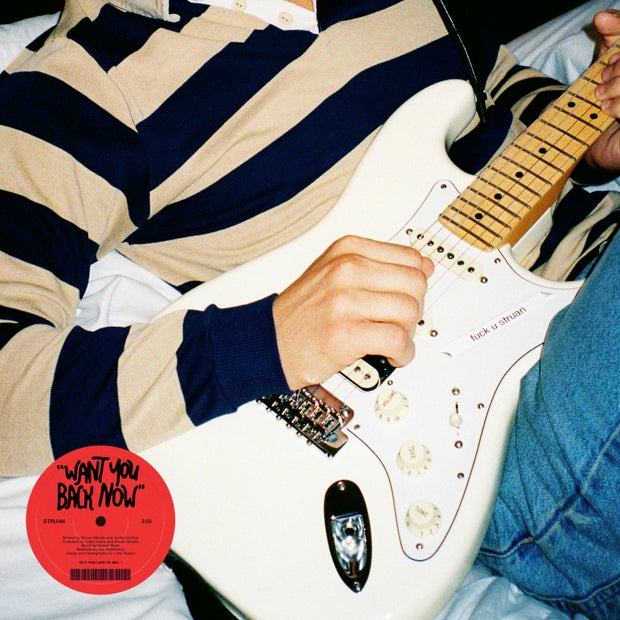 Photo by Luke Rogers
STRUAN has been working on co-producing things during the panny, and actually ended up writing like 50 songs the last time I asked. He got it down to 20 and is now  at 5 or 6 that he's sitting on for a possible EP. He planned on rolling them out as singles in March. Speaking of which, one of those new songs is called "Want You Back Now" and was released March 17. He described it as:
"This project has always been about what it means to be young, making mistakes, and going through break ups. I think of these upcoming songs in particular as the part of therapy where you face the fall out from your bad decisions and say, 'well, damn. how did i get here?' They're also the first I've co-produced (with Julian Dente) and are more heavily influenced by the 90s/early 2000s bands that I grew up on.
These songs are the soundtrack to my twenties (and hopefully yours too)."
With a bunch of songs that are absolute bangers, make sure to check out STRUAN on all streaming platforms!
Spotify: https://spoti.fi/2QfS15S 
Apple Music: https://music.apple.com/us/artist/struan/1438648853 
YouTube channel: https://www.youtube.com/user/StruanShields 
YouTube "Go Out With My Friends": https://www.youtube.com/watch?v=7x2dKHBLhfQ
Instagram: https://www.instagram.com/struanstruan/