The Importance of Sorority Philanthropies
Greek life is a big part of a university's community. Many join these organizations in order to make new friends, build connections, network, or most importantly, support and help their community. Many of those that are not involved in Greek life don't tend to know that sororities and fraternities have a philanthropy that their chapter supports and promotes. I thought I would spend some time going through the philanthropies of sororities here at the University of Utah!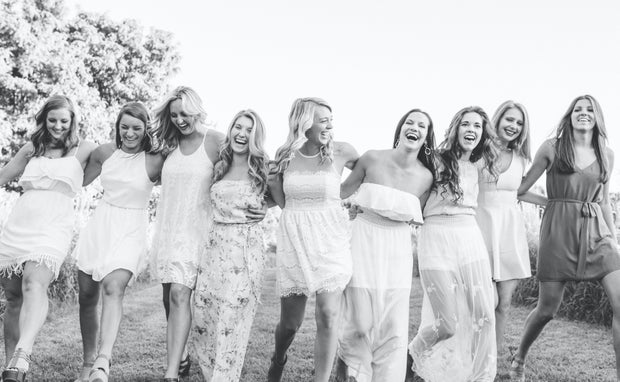 Cassie Howard / Her Campus
Alpha Chi Omega
Alpha Chi Omega directly works with and spreads the mission of the Domestic Violence Coalition. They are a nonprofit organization that helps support victims of domestic violence. The Domestic Violence Coalition raises awareness for domestic violence, fights against unhealthy relationships, and works to build healthy ones. 
Alpha Phi
Alpha Phi supports women's heart health and works to spread awareness and education about women's cardiac care. Here at the University of Utah they host an annual Red Dress Gala to help raise money for their philanthropy. Alpha Phi believes in acts of service to advance and educate those in women's heart health.
Chi Omega
Chi Omega works with the Make-A-Wish Foundation to grant wishes and change the lives of children that suffer life-threatening medical conditions. Chi Omega at the University of Utah directly works with local children to help make their experience as positive and happy as possible as they go through their journey of recovery.   
Delta Gamma
Delta Gamma's philanthropy is Service for Sight. They support children that are visually impaired by raising money through philanthropy events and hands-on service to provide eye exams and supply children with glasses. Every member has a vision screening certification which allows them to perform vision screening tests in local communities. 
Kappa Kappa Gamma
Kappa Kappa Gamma supports the Kappa Kappa Gamma Foundation. This foundation helps women in need by providing scholarships to support them in pursuing higher education. Kappa Kappa Gamma also partners with Reading is Fundamental to encourage and motivate children to read. They do hands-on activities to provide books to underprivileged children. 
Pi Beta Phi
Literacy is the national philanthropy of Pi Beta Phi. They work to give underprivileged children the opportunity to strengthen and grow their literacy skills by raising money to provide them with books. Read > Lead > Achieve inspires a lifelong love of reading in children as Pi Beta Phi works to create a more literate society.
Each sorority has a unique philanthropy that they support. If one piques your interest, consider supporting or joining the chapter!