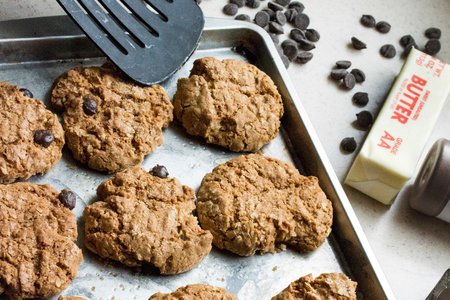 Easy Vegan Oatmeal Cookies to Make in Quarantine
After about a month or so of quarantining, there's a good chance that you're snacking more than ever. And who can blame you? We're stuck inside nearly all day with very little to distract us, which for a lot of us is the perfect recipe for unrestrained snacking. And while some people continue to lead very healthy lives in quarantine, chances are that most of us can't say the same.  
I believe that there's absolutely no use in feeling guilty about what you're eating, how often you're exercising, or how productive you are. It's a stressful time and honestly, 50% of the time I just want to eat something sweet. Whether I daydream about baking an apple pie or a loaf of banana bread, I can't help my cravings and I don't feel guilty about acting on them. One thing that's made this easier for me is to incorporate a healthy recipe into the mix, or at least make recipes healthier if at all possible. Just like so many other people, I've been on a banana bread kick recently, but I've gotten so tired of making the same thing over and over again. All it does is remind me of the monotony of quarantining indefinitely. 
To get over this hump, I've tried experimenting with new recipes and some that I haven't made in years. My most recent endeavor to escape total boredom in the kitchen has been vegan oatmeal cookies. They're so incredibly simple to make and they'll make you feel a little bit healthier while you eat them. 
Ingredients
3 large very ripe bananas 

3 cups rolled oats 

2 tablespoons almond OR peanut butter (almond milk will can work as well) 

¾ cup coconut flakes (optional) 

½ cup chocolate chips (optional) 

1 tsp cinnamon (optional, can also use nutmeg) 
Directions 
Preheat the oven to 375 degrees Fahrenheit. 
In a large bowl, mash ripe bananas until they're smooth. 
Mix in the rolled oats and almond butter until the texture is consistent.  
Add coconut flakes, chocolate chips, and cinnamon until the mixture has been thoroughly combined. 
Using a spoon, scoop the dough onto a cookie sheet. 
Bake for 10-15 minutes. 
Optional: drizzle nut butter on the tops of your cookies. 
These cookies are one of the easiest things to make during your time at home, and you're sure to love them. One of the best things about this recipe is that it's super customizable and can be made with ingredients you likely already have in your cupboard. Don't have coconut flakes or chocolate chips? You don't need them! They taste great without the extras, but if you want to spice them up a little bit you can always add whatever you think will taste good. Some ideas for additions include honey, maple syrup, chopped dates, nutmeg, vanilla extract, dried berries, and various nuts. It is important to remember, though, that some additions, like honey, won't be vegan. If you're bored at home and looking for an easy sweet treat to make, look no further than this simple vegan oatmeal cookie recipe.