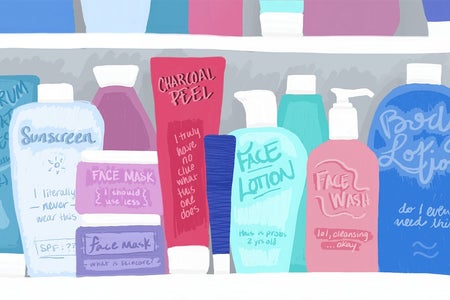 Megan Charles / Her Campus Media
A Skincare Routine is the New Makeup Routine
Let's face it. You've been meaning to start a proper skincare routine and never got around to it. Or maybe you did and were so overwhelmed by the products and steps that you immediately gave up. Since we are all sheltering-in-place for the foreseeable future, this is the perfect time to start a routine.
Having a skincare routine helped to ground me and quickly became something I looked forward to every day. I cannot tell you how many skincare products I have tried, all of the trial and errors I have subjected my face to, all in the name of finding skincare products that work for me.
Everyone's skin is different which is why this is only a guide to starting a skincare routine. At the end of the day, I always prioritize healthy skin over perfect skin. I hope this helps you as much as I enjoyed writing it. 
Skincare routines are completely customizable but a basic, barebones skincare routine consists of a cleanser, moisturizer, and SPF. You always want to wash the day off, repair your skin lipid barrier and protect yourself against harmful UV rays.

Cleanser

A good cleanser should remove the day's impurities, such as dust, oil, and makeup, without over-stripping your skin of its natural oils. If your face feels tight after you wash it, or if your face starts to tingle (I cannot tell you how many times this has happened to me—oh the horror!), the cleanser is too harsh. 

For makeup users, I recommend Simple Skincare's Cleansing Oil or Banilla Co's Cleansing Balm to remove all of the makeup. Trust me, waterproof eye makeup and smudge-proof lipstick don't stand a chance against these oil-based cleansers. 

Micellar Water is also great at removing eye makeup if you don't want to use a balm. 

After that, I go in with a water-based cleanser like CeraVe's Facial Foaming Cleanser to gently remove all the impurities from your face. CeraVe also makes a version with salicylic acid for anyone with acne-prone skin. 

If your face is particularly dry, a cream cleanser such as the Inkey List Oat Cleansing Balm or Versed's Calming Cream Cleanser will cleanse the impurities of your face, while also nourishing and soothing your skin's natural barrier. 

Moisturizer 

Moisturizer is a must-have, regardless of your skin type. When we wash our faces, not only do we remove dirt, makeup, excess oil from our face, but we are also disrupting the natural lipid barrier in our skin. As someone with oily skin, it seems counter-intuitive to moisturize, but our bodies constantly produce sebum to clean, hydrate and protect our skin. Stripping the skin of the natural oil causes sebum production to go into overdrive, making you face even more oily and increasing the risk of congested pores and acne. By moisturizing our skin, we are able to better regulate our sebum production, reducing the oiliness.

I love Fruit of the Earth's Vitamin E Skincare Cream because it moisturizes, yet is super lightweight, perfect for oily skin. It absorbs super fast, so my skin doesn't feel sticky or overly greasy. I have been using this for almost two years and it's my favorite moisturizer. 

Weleda's Skin Food Cream is also an amazing moisturizer in the winter, or for those with dry skin. Personally, it is too thick for my oily skin, but I love it as a lip treatment and hand cream.  

Finally, belif's True Cream-Moisturizing Bomb is great for all skin types. It is lightweight enough for oily and sensitive skin, yet long-lasting for those with dryer skin. 

SPF

I will die on this hill. SPF is a must-have for overall skin health and anti-aging. You can use as many steps as you want in your skincare routine, but without implementing SPF, it's all worthless. Whether it is sunny outside or cloudy, whether you are taking a walk outdoors or studying indoors (yes UV rays can pass through your windows), you need to be wearing sunscreen. Not only does it help minimize your risk of getting skin cancer, but it also helps prevent signs of aging, redness, and inflammation brought on by UV rays. In addition, some active ingredients such as vitamin C, salicylic acid and retinol make your skin photosensitive, so wearing SPF will help protect your skin. 

Not all sunscreens are created equal. The two main categories of sunscreen found in the US are chemical and mineral. Chemical sunscreens work by absorbing UVA and UVB rays and convert them into heat which is then released by the skin. Because they must absorb into the skin to work, chemical sunscreens must be applied at least 30 minutes before sun exposure.  Mineral sunscreens on the other hand, form a protective barrier that blocks UV rays before they reach the surface of the skin. After application, you can immediately go outside. The only drawback to mineral sunscreens is that they leave a white cast, which makes it difficult for melanated folx to find a good sunscreen. Look for an SPF of at least 30, but no more than 50. Don't forget your neck (front and back), ears and eyelids. 

I prefer a mineral sunscreen like Neutrogena's Sheer Zinc Sunscreen Lotion because it directly blocks harmful UV rays and is environmentally friendly. 

Korean sunscreens are also great at providing protection from UV rays while having amazing formulations that don't clog your pores or cause irritation. Their superior formulation also means they absorb really well and don't leave your skin feeling greasy or hot.  

PURITO's Centella Green Level Centella Green Level sunscreen is a fragrance-free chemical sunscreen for sensitive skin. Since it's so lightweight, it leaves very little white cast and works well on all skin tones. 

This is when you can get creative with your products and create a regimen that is customized to your skin. With all active ingredients, always patch test and monitor for irritations or allergic reactions. Avoid adding too many active ingredients into your routine because, yes, your skin will freak out, yes it's happened to me, and yes it will be a bad time. Whenever I incorporate a new product into my routine, I make sure to try it for two weeks to see if that particular product works for my skin. 

Your skin may purge for a period of two to four weeks, depending on the active ingredient. Purging is when your skin reacts to an active ingredient, usually one that increases cell turnover rates like salicylic acid or retinol. This also causes pore-clogging gunk like excess sebum, dead skin cells, and buildup to surface, causing pimples. If my skin begins to improve at the end of the two weeks, I know the purging period is over. If my skin continues to breakout or show signs of irritation, I stop using the product. 

Most active ingredients take at least a month before they start becoming effective. Please be patient when adding new products to your routine. Trust the process and let these ingredients do their job.

I have an on-off relationship with toners. I think the skincare community is highly divided on toners. The purpose of using a toner is to restore the skin's pH as well as remove the last traces of dirt and oil from your face. However, I have found that a good cleanser will not drastically alter pH and with double cleansing, my skin is overstripped when I tone. After a two-year hiatus, my cousin talked me into trying a new toner, so I guess I'm back on the toner wagon. On one hand, I am trying to do my best to avoid overspending on skincare but on the other hand, there is something soothing about swishing a damp cotton pad across your face. As with all active ingredients, it's important to not go overboard on toners. We have just washed our faces and our skin is sensitive. 

Pixi's Glow Tonic uses glycolic acid (5%) to gently exfoliate the skin, unclog pores and brighten skin. It also has aloe vera to help prevent the skin from drying out. My cousin and I have extremely sensitive skin and this toner didn't dry, irritate or cause us to break out. 

A cult favorite for good reason, Paula's Choice's 2% Skin Perfecting Exfoliant is probably the only product with salicylic acid that doesn't irritate my skin. Salicylic acid is also great for acne-prone skin because it helps clear the dead skin off your face, reducing the risk of clogged pores. 

Not all toners are drying. With its milky formula, Versed's Baby Cheeks Hydrating Milk hydrates and replenishes the skin.

I have extremely acne-prone skin, so when I tell you I've tried all the acne products, I really mean that. Over the years, I have found out that despite my skin being extremely oily, my skin is sensitive to salicylic acid, one of the best products for fighting acne. Go figure. 

Good Molecule's Niacinamide Serum is a must-have. It works to reduce acne by controlling sebum production and decongesting your pores. It is not as irritating as salicylic acid, so give this a try if you have sensitive skin. 

Azelaic acid helps to reduce redness and inflammation caused by acne. It's also a great ingredient for targeting the hyperpigmentation that acne leaves behind. It helps to brighten the skin and improve skin evenness. The Ordinary's Azelaic Acid uses a suspension formula, so be sure to let the product absorb fully before applying your next product. 

Spot treatments such as COSRX's Pimple Master Patches are a great way to soothe inflammation and dry out pimples. The hydrocolloid patches work by sucking out the excess oil and pus from your skin without flaking the surrounding area as some liquid spot treatments do. Also, it is super satisfying to peel them off and look at them the next morning! 

The air is getting colder which inevitably means my skin gets dryer. There are two steps to combat dry skin: hydrators and moisturizers. Hydrators such as hyaluronic acid or glycerin are hydrophilic, which means that they love binding to water molecules. Their unique abilities to hold onto water means that they are effective ingredients for pulling water molecules into your skin, keeping it plump and hydrated. A moisturizer acts as a seal, keeping the water molecules locked into your skin so they don't evaporate. With any hydrator, make sure to seal off the hydrator with a moisturizer to keep that goodness on your skin. 

For anyone with dry skin, COSRX's Advanced Snail 96 Mucin Power Essence is a lightweight formula that is super hydrating. PS—it pairs super well with azelaic acid and niacinamide. 

Hyaluronic acid is currently touted as one of the most hydrating products out there. With a hyaluronic acid like the Inkey List Hyaluronic Acid Hydrating Serum, it's important to apply to your face when it's damp so the hyaluronic acid is pulling water molecules from your environment rather than deep within your skin. 

Glycerin, an underrated ingredient, is also great at hydrating your skin. Similar to hyaluronic acid, glycerin attracts and retains water. It also has a low molecular weight, allowing it to go deep into your skin. Inky List's Peptide Moisturizer is a hydrating, yet lightweight moisturizer.

Finally, a facial oil is a great way to round off your skincare routine, especially if your skin is on the dryer side. Even with my oily skin, I like to mix a drop of squalane with my moisturizer during the cold weather for an extra dose of moisture. 

For those with sensitive skin, Good Molecule's Rosehip Seed Oil is lightweight yet hydrating. It helps to soften skin, smooth texture, and calm redness. This is especially beneficial if you are using an ingredient that tends to cause irritation such as retinol or Vitamin C. 

For extremely dry skin, The Ordinary's Plant-Derived Squalane mimics the natural oils that are found in the skin. It acts as an emollient, helping to smooth the skin, as well as a hydrator suitable for all skin types.  

There are a variety of reasons your skin is looking dull. A buildup of dead skin cells or dryness can make your skin look lackluster. If this sounds like your skin, try a chemical exfoliator to remove the dead skin cells off your face or incorporate a heavier moisturizer into your routine. If these don't work, try the following products: 

Hylamide's Glow Booster uses peptides to brighten skin and reduces an uneven skin tone, perfect if you want to even out your skin and achieve that glow. 

Vitamin C is an amazing ingredient for evening out dull or uneven skin. It's also a really good ingredient to help address hyperpigmentation. 

Lumene's Nordic-C Glow Boost Essence is a Vitamin C serum with hyaluronic acid to brighten and hydrate the skin. 

Retinol is a Vitamin A derivative that helps with textural irregularities by increasing cell turnover. Due to its nature as a powerful exfoliant that sloughs off dead skin, retinol can dry out your skin. I recommend starting with the weakest retinol concentration to allow your skin to be acclimated before gradually increasing the strength. You can also "sandwich" your retinol between layers of moisturizer to help offset the dryness that is common with retinol use. I recommend starting with one application a week to begin with before increasing use to 2-3 times a week after your skin has become accustomed.  

CeraVe's Resurfacing Retinol Serum is formulated with 0.3% encapsulated retinol, which has a very low concentration, great for a first-time retinol user. 

The Ordinary also offers a Granactive Retinoid, with a 2% formulation. While it is higher concentration, the nature of the retinoid formulation allows for the same results, with less irritation. It is also suspended in squalane, which helps to offset dryness. 

Hyperpigmentation is a common skin issue that results in the overproduction of melanin. Whether this is due to acne scarring, sun exposure, or simply genetics, hyperpigmentation buildup on your skin is completely normal. These spots will fade on their own with time but if you want to speed up your skin cell turnover rate, here are some products I have found helpful. 

Versed's Stroke of Brilliance Brightening Serum combines Vitamin C, licorice root, palmaria palmata extracts, and niacinamide into a super formula that works to brighten the skin and help fade pigmentation. 

Another great ingredient for hyperpigmentation is alpha arbutin. It helps to reduce the appearance of dark spots and hyperpigmentation. The Ordinary's Alpha Arburtin is a higher strength formula than other alpha arbutin formulas and is formulated with hyaluronic acid to offset potential irritation.  

Face masks are a fun way to relax and take care of your skin at the same time. They have a twofold benefit. Face masks may have a higher concentration of active ingredients or contain multiple active ingredients. This allows them to quickly work into your skin and allows you to use multiple active ingredients at once. Luckily, having these ingredients on your face for a short amount of time means your skin is less prone to irritation. 

Like your skincare, face masks are completely customizable to your skin needs. If you have dryer skin, a hydrating mask can help bring in some moisture. For more oily skin, a clay and charcoal mask can help draw out impurities from the skin. 

I like to apply my face mask after washing my face and before doing my skincare routine. For clay masks, a quarter-sized dollop is plenty enough for me. I use a clay mask and a chemical exfoliant once a week, and make sure to spread out usage as far apart as possible. I also make sure to use a facial oil after a mask to make sure my skin isn't overly stripped.  

A classic clay mask such as Origins' Clear Improvement Mask is wonderful to clear out congested skin and remove impurities. 

Follain's Dual Detox Mask helps to decongest, resurface, and smooth skin without being overly harsh and drying. 

A hydrating mask is a great way to refresh your skin after a long day. Both of these face masks below are gel, which means they quickly absorb into the skin. 

Peter Thomas Roth's Cucumber Gel Mask is a bit pricey but it is so worth it. If your face is particularly dry, you can apply a layer of this before your moisturizer and rinse it off in the morning for some extra hydration. Supposedly it also works wonders for sun burns. 

I'm From's Mugwort Mask is another great mask that calms the skin and soothes irritation. The gel formulation helps to suspend and preserve the active ingredient and deliver it directly onto the skin. 

A quintessential sheet mask is also a classic. Below are three of my favorites from three different brands. These brands also offer sheet masks for other skin concerns, so be sure to check out their other products as well. 

LAPCOS's Charcoal Sheet Mask with salicylic acid and tea tree oil detoxifies the skin less harshly than a clay mask. This is a great choice for those with sensitive, yet acne-prone or oily skin.  

Etude House's Soonjung Sheet Mask is made with bamboo to heal damaged and sensitive skin, great for more dry skin types. 

Tony Moly's I'm Real Honey Sheet Mask uses honey, which is also a natural brightener and antibacterial, to brighten dull skin.

Chemical exfoliation is gentle on the skin, safer to use, and better for the environment than physical exfoliants like walnut shells and microbeads. Chemical exfoliants use a higher concentration of acids, so to avoid over stripping your skin and damaging your skin barrier, keep the exfoliation to once a week and layer on a heavier moisturizer after.

The Ordinary's AHA 30% + BHA 2% Peeling Solution is a chemical exfoliator that gently yet deeply cleans pores and sloughs of dead skin cells for a rejuvenated appearance. Because this mask is high strength I strongly, strongly suggest using it for no more than ten minutes once a week if you have oily skin, or twice a month if you have dryer skin. For first time users, wait two weeks after your first application and monitor your skin for any adverse reactions. Two to three drops on dry skin is all you need—I still cry when I see TikTokers slather it on their faces. You only need a couple of drops to tap into your face—this mask is not meant to be Instagrammable. 

For a lower strength formula that still delivers results, Inky List's Apple Cider Vinegar Peel uses glycolic acid and apple cider vinegar to exfoliate, brighten, and decongest pores. This is a much gentler formula so it's better suited for those with sensitive or dry skin. Again, you should only use this mask once a week and monitor your face for any side effects, such as tightness, redness or flaking skin. 

For oily or acne-prone skin, Herbivore's Blue Tansy Mask is another great choice. It helps to reduce redness, dullness, and uneven skin texture. This mask is slightly different from the previous two masks because the instructions ask you to use the mask frequently the first week of use and then use it less often for subsequent applications.

10.

Layering Your Skincare

In general, skin care products should be layered from the lightest texture to the heaviest. If you double cleanse, you would use an oil-based cleanser to dissolve oil and makeup before moving into a water-based cleanser to remove all the impurities from your face. If your routine includes a toner, you would use that next. 

Following this, you should layer your active ingredients. I prefer to start with the active ingredient for my most pressing concern. For example, I currently have a few areas of hyperpigmentation, so I use niacinamide before using a hyaluronic acid serum, even though the serum is a slightly lighter texture. Following my active ingredients, I moisturize and apply facial oil if my face is feeling dryer. 

AM

Cleanser

Serum (usually Vitamin C)

Moisturizer

SPF

PM

Cleanser

Toner/Essence

Serum(s)

Moisturizer

Facial Oil

2-3 times a week

Sheet Mask 

Retinoids

Once a week

Clay Mask

Exfoliation

11.

Skincare Combo Dos and Don'ts

While layering skincare products is a great way to maximize product efficacy as well as treat specific skin concerns, there are some product combinations that may decrease efficacy or cause irritation when combined.

Skincare Combos That Will Make You Glow!

Vitamin C + Glycolic Acid

Vitamin C+ Vitamin E

Niacinamide + Azelaic Acid 

Niacinamide + Retinol

Retinoids + Peptides

Retinoids + Hyaluronic Acid

Girl Don't Do It!

Niacinamide + Vitamin C

Vitamin C + AHAs

Vitamin C + Retinol

Retinols + ANY ACIDS 

BHAs + Benzoyl Peroxide

This was a lot of information so I hope the following regimens give you an idea of where to start with your regimen. These are just suggestions so get out there and create your own skincare regimen!
Acne-Prone Skin
AM
PM
Face ​Mask 
Oily Skin
AM
PM
Face Mask
Dry Skin
AM
PM
Face Masks
Dull Skin
AM
PM
Face Masks
Hyperpigmentation
AM
PM
Face Masks