It was 10 a.m. on a Monday morning when we arrived at the University of Puerto Rico- Mayaguez Campus (UPRM) parking lot. Our conversation halted upon looking at an empty parking lot, known as "area blanca", as it was always flooded with student's cars in their attempt to find a spot before class. It caught both of us, two students from the English Department in the Campus, by surprise to see it empty when it was usually packed… at least it was before the pandemic. On a regular day one would be on the lookout for students walking to their cars to see if they were heading out so you could quickly find a vacant spot. Isabelle had been the one who saw on Facebook that the cafeteria was actually open, which was why we decided to come check it out.   
We were astonished when we found out the cafeteria was offering its services, since most UPRM facilities had been closed.  Before the global crisis, our daily lives revolved around this place; It would be bustling with students every weekday. Now, it was utterly desolate and, as we walked towards the student center, where the cafeteria is located, we noticed how unkempt the campus was. It felt like a Ghost Town.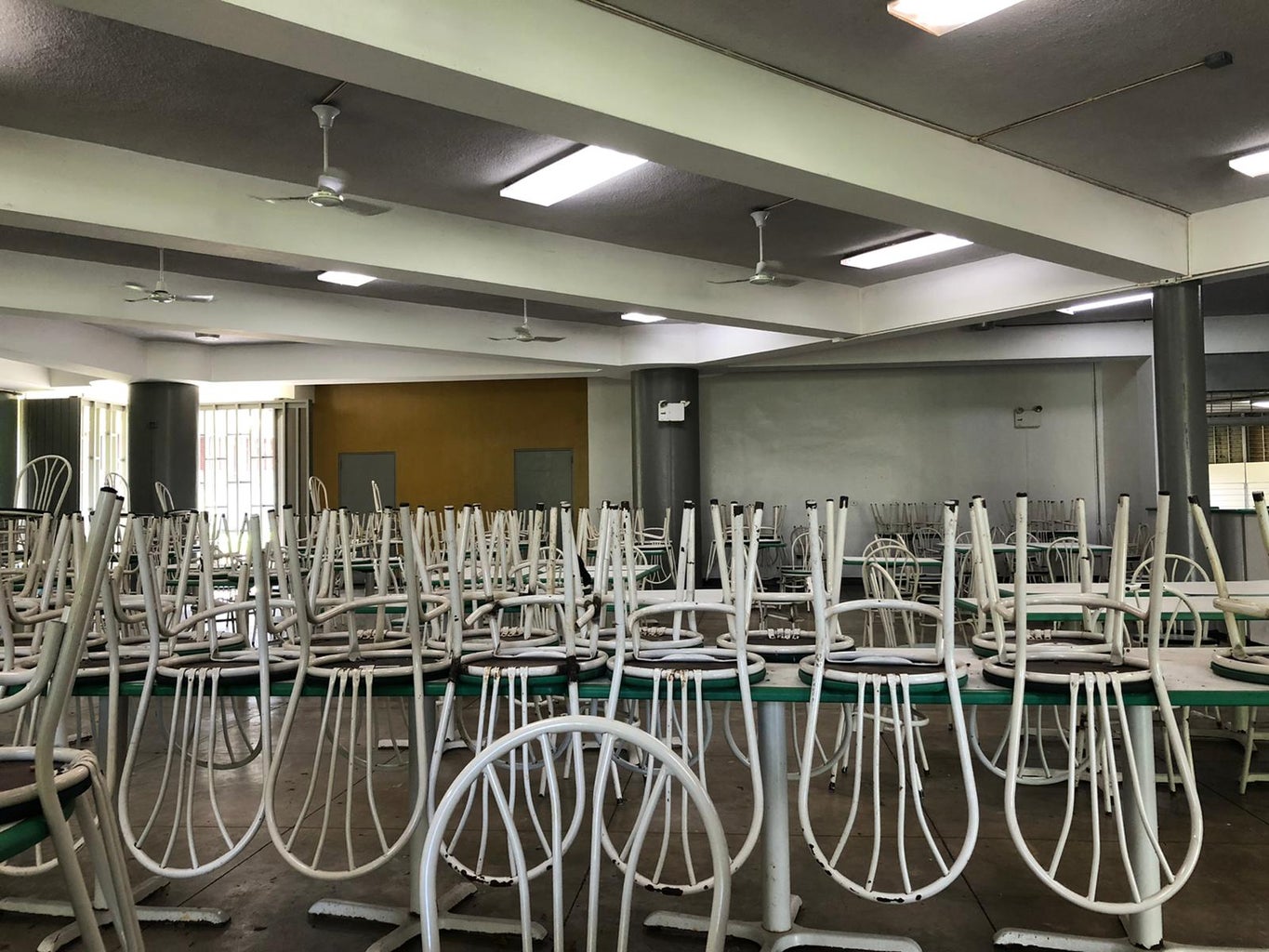 Both of us discussed that perhaps the students eating here were the few who had in-person labs and such. However, once we arrived at the cafeteria, it was isolated. The chairs were propped on the tables (Fig. 1), and blackbirds inhabited them. These "changos", as we call them, would usually hang around the cafeteria's building to feed on scraps of food left from students' meals. Now, almost eight months since we last stepped on campus, they seemed to own the place (Fig.2). It was an eerie sight. Suddenly, Isabelle was able to spot three cafeteria employees inside the kitchen. One woman was startled to see us and made her way over to us with a defensive posture. We shall call this woman Brenda for privacy reasons.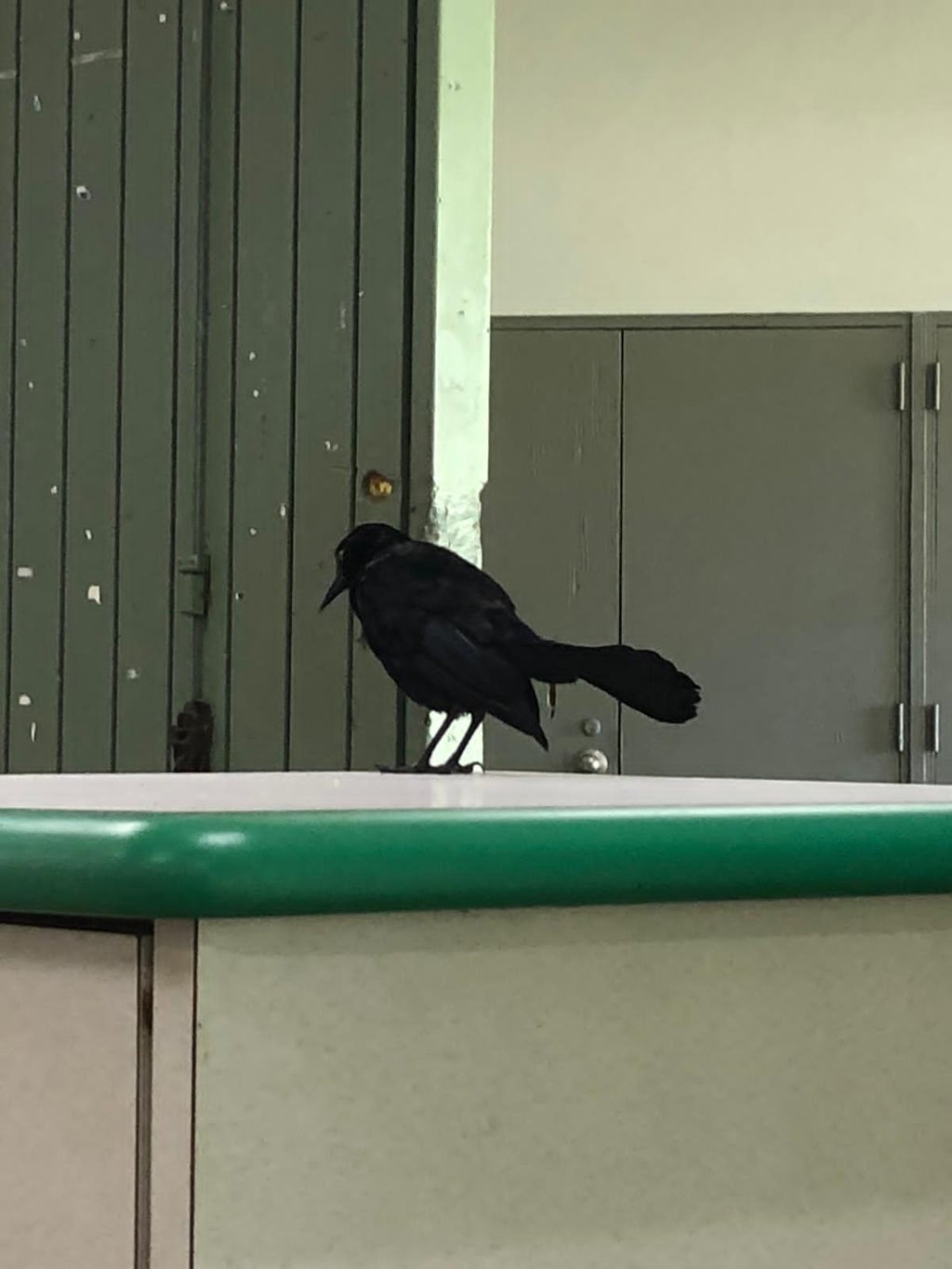 Isabelle began explaining that we were here to do a profile for a class in an attempt to ease Brenda's visible tension. 
"What class?" She asked rudely.
"Expository Writing, Ma'am. It's about how much the cafeteria has changed," Daniella replied, confused at Brenda's attitude.
"Why would a professor send you here? No one comes to the cafeteria, " she snapped. She then firmly asked us for the course number and wrote it down. Both of us became uneasy, unsure of why she was flustered and why she needed to verify the class. The cafeteria is supposed to be open for students.
Isabelle began to ask, "May we inquire about the COVID protocol you guys are-"
"We are implementing all the measurements the government has dictated," she interrupted hurriedly, clearly irritated.
We later came to the conclusion that perhaps Brenda confused us with health inspectors or thought we were students sent by the University to observe the employees; this would explain her defensiveness. Despite the tension, she was kind enough to answer more questions. We found out that barely anyone came to visit the cafeteria, besides the foreign exchange students and some university employees. They significantly reduced their opening hours, along with the amount of food they cooked; drastically going from feeding thousands of people to around 30 a day. Daniella asked for her name after the interview, and Brenda reluctantly told us, but then added, "Don't include my name anywhere".
We assured her we would use a pseudonym and continued to the cafeteria's second floor.
When we reached the top of the stairs, Isabelle saw that the door of the second-floor cafeteria was locked (Fig.3). The two of us decided to try the third floor and saw a tall man with glasses sitting behind a desk and some students sitting alone at separate tables. It occurred to Isabelle to interview the man, who seemed to be monitoring the number of students that went in and out.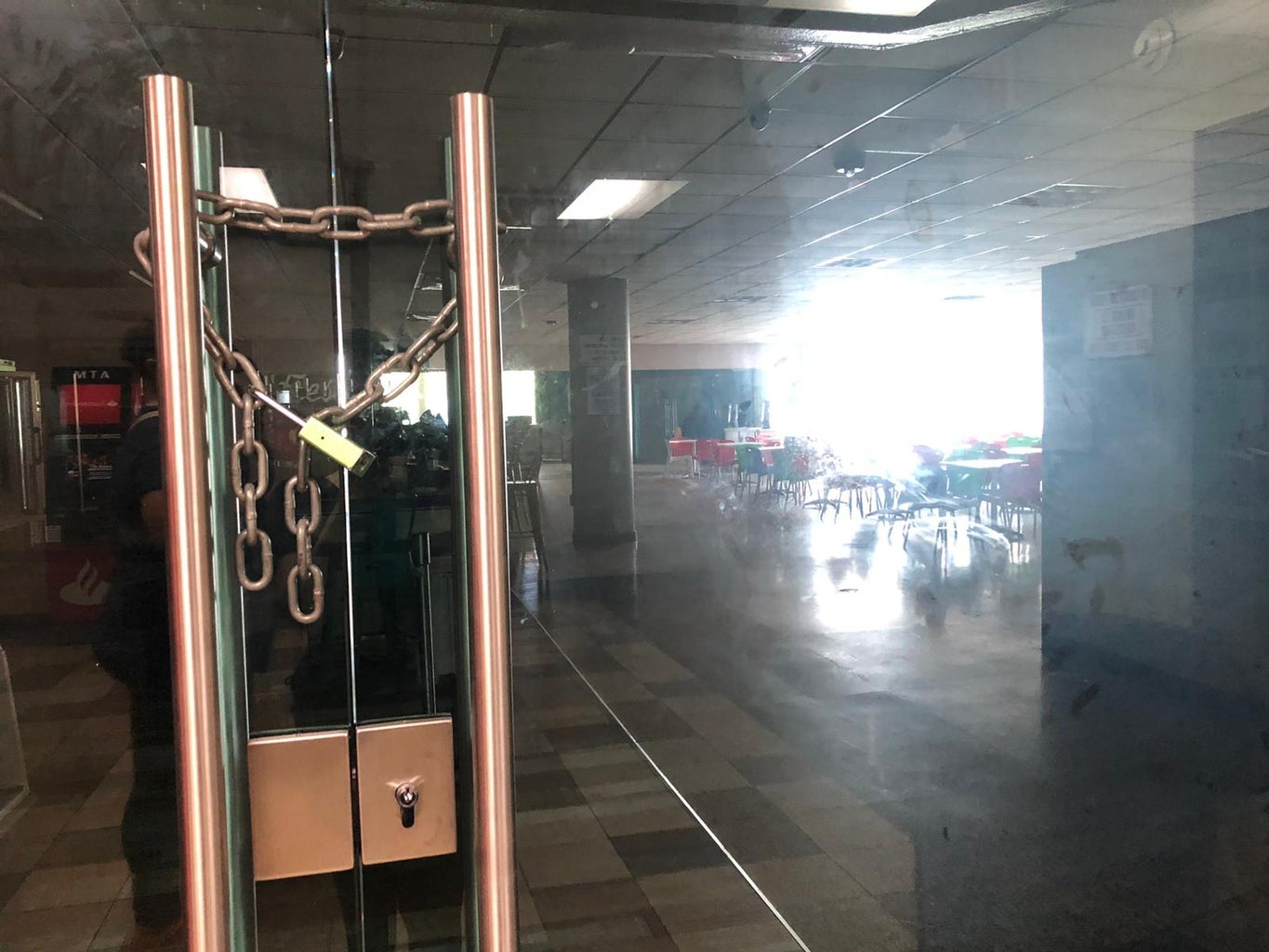 We decided to not let Brenda's attitude get to us and mustered up the courage to approach him. Once again, we introduced ourselves and explained our purpose there. The man, whose name was Carlos, politely accepted the interview.
"How many students come here weekly?" asked Daniella while taking notes.
"In a week…I'd say an average of 17 students. The university opened for those who have internet connection problems at home, so they can come here and study," Carlos said while fixing his mask.
"May we interview the students to see if any of them eat at the cafeteria downstairs?" Isabelle asked him to make sure it was allowed.
The man laughed and gave us the green light to go ahead and even wished us good luck. His kindness gave Daniella and Isabelle a boost of much-needed confidence.
There were only three students scattered across the third floor, so we decided to split up and gather the information needed. After comparing interviews, we found out that none of them eat at the cafeteria. However, they come to use the internet for their classes. One of the students told us that he liked studying here to have a change of scenery. The other two said that they concentrated better here because there was too much pandemonium at home and that their internet was unstable. The cafeteria, however, never crossed their minds.
We thanked the students and decided to head back down. Isabelle's stomach grumbled once she smelled the delicious aroma of food coming out of the cafeteria's first floor. After deciding to grab lunch, Brenda assisted us by taking our temperatures and giving us hand sanitizer. A disinfected food tray was given to us for our meal. The chef wore gloves, a mask, and a face shield. When we reached the cash register, Brenda disinfected the card reader each time one of us paid.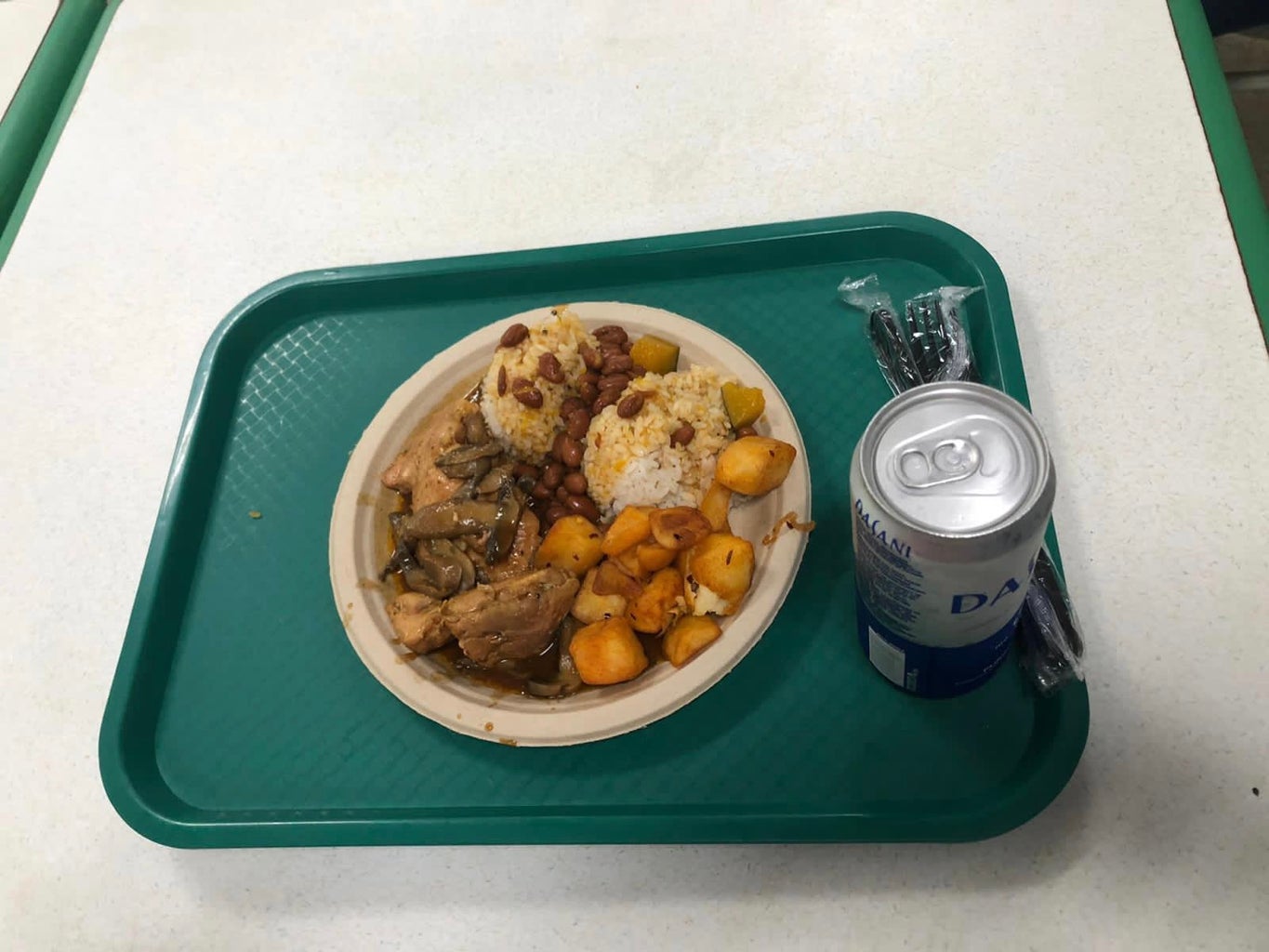 With each bite of our delicious plate of rice, beans, baked potatoes and barbeque chicken (Fig.4), we reminisced about our time here with the student's loud voices, the laughter, and the free time we enjoyed between classes. We talked about our memories here and the adventures we had with friends. After an hour, we headed back to our cars hoping that soon we'd be able to come back to the college life we dearly missed.