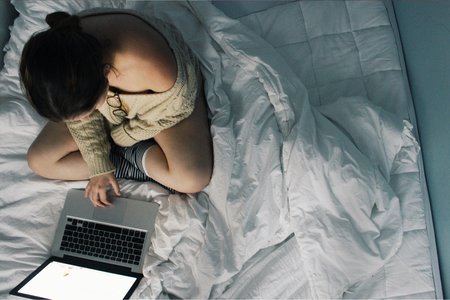 Anna Schultz / Her Campus
Three Underrated Youtubers You MUST Watch
As someone who likes to spend any free time that I have watching YouTube videos, I wanted to share some of my favorite channels. I really enjoy viewing their content as there is always something to take away from each video they post. This article lists three great Youtubers that will not only entertain you but teach you valuable life lessons as well.
1.

Dr. Mikhail Varshavski (Doctor Mike)

You don't have to be a medical student to find Dr. Mike's content enjoyable. Despite having accomplished so much at a young age, he is incredibly kind and humble. Not only does his channel includes videos about what it's like to be a doctor, but he also creates hilarious and entertaining videos. One of my favorite segments features him reacting to medical TV shows, such as "Grey's Anatomy." He then shares with his audience their level of accuracy and gives his overall thoughts about them. Another one of my favorite segments includes him running around the streets of New York and letting complete strangers ask him any medical or health-related questions that they have. To be honest, I've never met a doctor who is able to effectively break down complex ideas as well as he does. It also doesn't hurt that he is extremely good looking.

I LOVE Brenny because there's never a time when she doesn't keep it real. On her channel, she gives great advice on topics that range from how to build your confidence to why you shouldn't lower your standards or shrink yourself in order to appear more desirable to others. My favorite video of hers is titled, "Stop dating down!" where she basically tells her viewers to stop settling. I'd be lying if I said I didn't spend countless nights laughing at her disses and taking notes over her advice. She is incredibly blunt, empowering and reminds me of a friend that's not afraid to call me out on my bullsh!t and redirect me toward personal growth.

Sierra is so fun to watch. Her videos are a breath of fresh air as she provides fashion videos from a curvy girl's perspective. She encourages her viewers of all sizes to make bold fashion statements and feel confident in any outfit. Sierra also posts vlogs where she allows her viewers to join her in her spontaneous adventures. My favorite video by her is titled, "I Lived Like Gossip Girl For A Day," which included her taking over New York City, Blair Waldorf style. As a huge "Gossip Girl" fan, I was in awe when Sierra visited some of the most iconic spots from the show, such as the Empire Hotel, the famous steps of the Metropolitan Museum and Central Park. With her charming and positive personality, Sierra is definitely worth watching.
I hope you were able to find at least one Youtuber that sparked your interest. So, don't wait any longer—grab your favorite snack and binge-watch these amazing YouTubers!