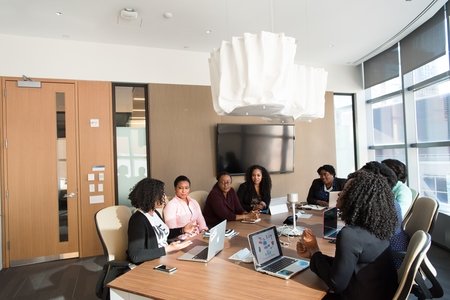 How to Prepare for an Internship Interview
Securing an internship can be beneficial to your future endeavors after college, even if it's an unpaid one. Not only does it spruce up your resume, but you can also gain valuable experience that will apply to your career. Some internships even apply towards college credit. With so many advantages and a lot on the line for life after college, there can be immense pressure to nail that interview. Here's how you can make sure you're going in prepared.
1.

Rehearse, Rehearse, Rehearse!

Practicing answers to potential questions beforehand can not only benefit you in the actual interview, but it can also reduce any nerves you have heading into it. While it's important to prepare yourself for questions oriented to the position you're applying for, don't neglect the basic questions either.

Out of all the questions I was asked during one of my internship interviews, I was definitely not expecting the simple, "tell me about yourself." It's a common interview question that I had never been asked before, but I knew that they didn't just want to hear about my family, friends or what my favorite color was. It's a question that allows you an opportunity to divulge why you're qualified for the job based on life experiences.

Rehearsing your answers to basic questions will make your interview stronger.

2.

Build a Confident Mindset

Feeling confident can be tough for some people, but there are ways to build yourself up mentally. Think about some of the experiences and skills listed on your resume, or maybe even some of the knowledge you learned in college, and remind yourself why you're qualified. Keeping in mind what makes you good for the position will boost your confidence and improve your answers.

When I applied for a Special Events and Communications internship, I was a little unsure if they'd want me since I wasn't included in the majors they were looking for. But instead of dwelling on that, I kept telling myself over and over again that I was a perfect fit for the job based on my event planning experiences. The more I thought about and explained my qualifications to myself, the more my confidence increased. By the time I attended the interview, I felt great about what I could bring to the position.

Writing out, or even talking to yourself about your qualifying skills and experiences, is key in building that confidence.

3.

Have a Plan for the Future

Generally, your supervisors will be looking for ways to help you once you graduate and start job searching. That means it's important to know what skills you want to learn, and then not be afraid to ask them to show you. Having a rough idea of what you want to do five years from now will also make yourself seem more appealing to them as an intern. It demonstrates that you have a vision and are actively working toward it.

In my internship interviews, I was always asked about what I wanted to do and what I hoped to learn. It made me realize that the interview wasn't just about impressing them, but it was also about assessing what they could offer me.

Knowing the specific skills and experiences you want to gain from the internship will not only improve your performance, but it will help you decide if the internship is actually right for you.
Once you've prepared for your interview, just remember that feeling nervous is perfectly normal and okay. You can be totally prepared and confident and still feel a little anxious. At the end of the day, you know that you're qualified for the position. Now you just need to find out if they fit your own criteria for an internship.