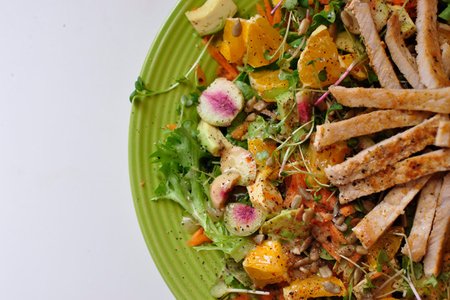 How Hard Would it be to Go Vegan at UF?
Got beef? The vegan community doesn't. Veganism has made its way to college campuses throughout the country with a cruelty-free diet: no eggs, dairy, meat or anything else of animal origin. 
Although this diet is challenging, vegan students can find a growing amount of support at the University of Florida, one of the top 10 most vegan-friendly campuses. 
With a 10-page vegan handbook, Meatless Mondays, and an inclusive "omelet" bar, vegan students at the University of Florida have plenty of options to choose from, as Marilyn La Jeunesse wrote in her Insider article titled "Two-thirds of colleges in the US now offer vegan meals – here are 10 of the most vegan-friendly campuses." 
Jeunesse credits the UF Dining Services department for being committed to promoting sustainable food offerings and business practices. 
"We continuously offer vegan options and are always adding new and exciting vegan options to our menus," said Jill Rodriguez, senior district marketing manager at the Fresh Food Company and Gator Corner Dining Center.
Providing plant-based options isn't difficult for the center, she explained. With vegan entrées on a daily basis, vegan students have the options they need to maintain the diet. 
"We've had the vegan stations in the dining halls for over a decade," said Rodriguez, "so we have been ahead of student needs."
 The University of Florida was also named a standout on PETA's vegan report card in the Forbes article "This is the Real Reason Colleges are Going Vegan."
According to its writer, Christopher Elliott, veganism in America has increased by 600% between 2014 and 2017. UF is meeting this increasing demand by facilitating students' access to vegan food.
The Office of Sustainability is one of the "standout" aspects at UF. It offers an online vegan and vegetarian guide with a list of places with special-diet options.
For example, Rising Roll at Heavener Hall offers vegan-friendly options, such as an asparagus and basil wrap. This guide can potentially make eating on campus easier for a student who typically requires a specific ingredient list.
If students prefer to cook vegan-friendly food at home, there are additional clubs on campus helping students wanting to eat healthier. The Plant-Based Nutrition Club at UF teaches a nutritional, inclusive vegan diet that's affordable and easy for students.
"There's a stereotype that you can't get all the proper nutrients on a plant-based diet, but that's not true: You can," said club president Brian Trupo, 21.
Trupo, a graduate student in the UF Master of Science in Entrepreneurship program, became vegetarian at 8 and vegan at 18.
The change happened after he watched "Cowspiracy," a Netflix documentary that highlights the relationship between veganism and the environment.
He challenged himself to go vegan one summer and found out how easy it is. 
Currently, Trupo is running VeggieBrothers, a company that promotes local animal sanctuaries.
Students like Trupo can also find nearby vegan-friendly options at Krishna Lunch, a religious organization that serves "karma-free meals" at Plaza of the Americas five days a week, according to its website.
For $5, a student can buy a compostable plate and refill it as many times he or she wishes from 11 a.m. to 1:30 p.m. The food varies from kofta balls on Tuesdays to chili and potatoes on Fridays, but the fan favorite salad with almond dressing is always there, as well as the line that snakes its way through the plaza, full of students ready to eat a vegan-friendly lunch.
"I eat it because my roommate introduced me to it," said Romina Albokord, a 20-year-old accounting major at UF, "it's an affordable, filling option for students on the go."
Between the dining hall, vegan handbooks, clubs and Krishna, going vegan at UF might not be as hard as you think. 
Go Gators (and don't eat them)!