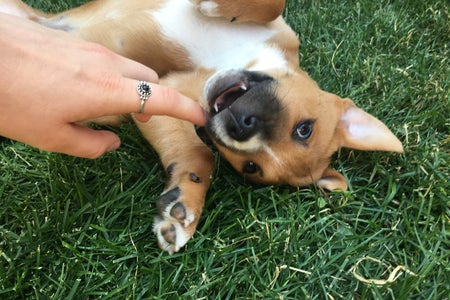 Charlotte Reader / Her Campus
The Healing Power of Pets During Quarantine
Our research today confirms what we already knew: Amid the dizzying pandemonium of the pandemic, our furry friends can help us cope. Animals can help reduce stress, anxiety and depression during this dark time.  
The Center for Disease Control has recognized the significant impact of the pandemic, especially on mental health. Social distancing can exacerbate feelings of isolation, loneliness and stress.
Globally, students cope with psychological distress at higher numbers than the general population, according to the National Institute of Health. Students already experience stress from their academics, finances, social lives and living situations. Living with these same stressors along with a pandemic can be mentally overwhelming. In Psychology Today's recent survey of 48,000 college students, "64% reported feeling extremely lonely in the last year."
In the book titled Together, Dr. Vivek H. Murthy, 19th Surgeon General of the United States, writes about the necessity of human connection and expresses concern over what he calls a "loneliness epidemic" in the U.S.
"You're not alone in feeling lonely," says Vivek Murthy, M.D. Americans were feeling the detrimental effects of loneliness way before the pandemic hit, but now they have just been made a lot worse.
A startling statistic in Together is that the mortality risk associated with chronic loneliness is higher than that of obesity and equivalent to smoking 15 cigarettes per day.
Dr. Murthy joined the Summit on Social Isolation & Companion Animals. The summit recognizes the growing public health crisis that loneliness poses and addresses that research revealing, "companion animal ownership and human-animal interaction can facilitate social interactions, decrease loneliness and reduce depression." Animal-assisted interventions in mental health are starting to become part of evidence-based research and public health.
Having a pet can help diminish feelings of loneliness and compensate for the absence of human companionship. Pets can increase social interaction and soothe lonely feelings. According to research published by the American Psychological Association, pet owners are found to be more physically fit, more conscientious, less fearful and less distracted than non-pet owners.
There is increasing evidence that our four-legged furry friends can be a prescription for loneliness. Dogs are great companions and the Humane Society of Gainesville has tons of pups looking to lend a helping paw.