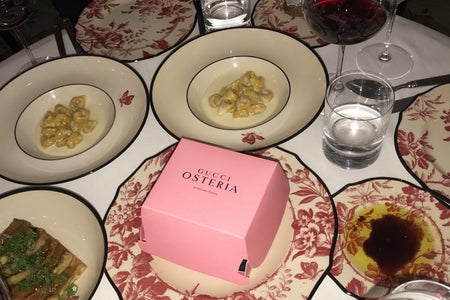 British Model with Down Syndrome, Ellie Goldstein, is Officially A Gucci Model
This past July, Gucci released a beauty campaign called "Unconventional Beauty," and one of the beautiful people featured was 18-year-old British model, Ellie Goldstein. Despite being diagnosed with Down syndrome, Goldstein has successfully chased after her dreams of becoming a famous model after landing a job with high-end designer, Gucci. 
Gucci Beauty and Vogue Italia partnered together for a social media scouting program looking for emerging talent for the "Unconventional Beauty" campaign. This campaign was created with the purpose of "promoting inclusivity and enhancing beauty." In this scouting process, Goldstein was discovered and can be seen on Gucci Beauty's Instagram sporting the L'Obscur mascara. 
Born and raised in Ilford Essex, Goldstein always loved the attention she received and dreamed of being famous. At the age of 15, her mother discovered a model agency by the name of Zebedee Management. According to their website, their mission is to "increase representation of people who have until now been excluded in the media, including people with disabilities or alternative appearance and trans/nonbinary."
Oftentimes, people with disability are underrepresented. The Zebedee Management agency is fighting to combat this stigma because they "want it to be the norm that REAL diverse media becomes common place." You can find Goldstein's profile here which includes several stunning photos of Goldstein's undeniable beauty and fun personality that'll leave you with a smile on your face. 
When interviewed by Vogue, Goldstein describes her experience with Gucci as making her feel amazing, fabulous and proud of herself. She describes her experience in modeling as generally positive which she gives credit for to her fun personality. 
"Once people realize I can talk and have a great character, they are different towards me and they smile," she said. There is, however, one hurdle that she has encountered. She explains, "The only challenge I have faced was maybe people signing to me and talking to my mum instead of me, until realizing that I can communicate and that I am just like them, maybe just slower at learning some things."
This is some advice that I am sure many of us can consider. Sometimes we may not know how to approach or properly communicate with someone who has a disability. This just goes as a reminder to treat them as you would treat anyone else. Speak to them directly, and if you come to any trouble communicating, then find someone who can help. As Goldstein has mentioned, she loves the attention! 
Being featured as a model with Down syndrome, Goldstein has become a role model to many people around the world. This representation in the industry is very important to her because she said it "let[s] the world see that anyone can model and act with a disability." 
Her achievements have turned her into a role model for many people around the world. Goldstein loves being a role model to others because "it shows that if you follow your hopes and dreams, you can achieve anything."
Her advice to others: "Be yourself and don't worry about what other people think of you" If you were looking for a motivation boost for this week, this is it. Goldstein has been able to knock down any stereotype and shine bright as she achieves her dreams by simply being herself.
When Goldstein isn't too busy in a photo shoot she said she loves to do drama, dance, and reading and learning new scripts. Goldstein's goals for the future are to be famous, be on the front cover of Vogue and "show the world who [she is] and what [she] can achieve." I'm sure she can check off two of those three off her list after creating waves in the modeling industry.
Goldstein isn't the only model fighting stereotypes on people with disability. Sofia Jirau is a 22-year-old Latina model with Down syndrome featured in New York Fashion Week. Grace Strobel is a 24-year-old model with Down syndrome featured in this Forbes article. 
The fashion industry has changed for the better as they make every effort to not only be more diverse, but more inclusive. People who have disabilities often don't get to see themselves represented on the covers of magazine or poster hanging in the store. Ellie Goldstein, along with other models with disabilities, is creating this change that will make others feel included and gain a sense of feeling normal. If there is one thing we can learn for these inspirational women, it is that there is nothing stopping us from reaching our fullest potential. If you have a dream, but are too afraid to purse it because you don't think you are capable or you're afraid of what society may think of you, just think of these successful woman who had all odds against them, but yet they were triumphant.