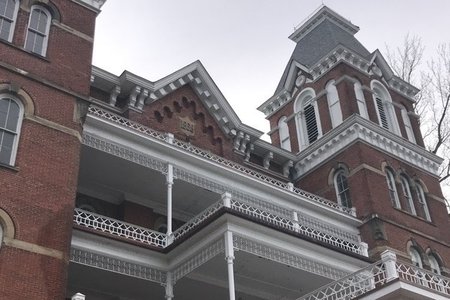 All the Questions You Never had About Orthodoxy, Answered
After binging Unorthodox on Netflix, I started thinking about how we perceive foreign religions.
I was raised Russian Orthodox, which I know sounds unfamiliar to a lot of people, which is why I wanted to acquaint you with this branch of Christianity that isn't too well known in the states. 
I'm not an expert on the subject, but I experienced first-hand a stark contrast when I moved to the states from Toronto.
The environment there was so multicultural that we had Muslims, Hindus, Jews, and atheists all in one 5th grade class.
In the states, it seemed like religion solely belonged to the Christian horse girls of conservative small towns. 
What is Russian Orthodoxy?
First of all, it's one of the branches of Christianity. The other two branches are Catholics and Protestants. 
The churches share several of the same beliefs: God revealed himself in Jesus Christ, the incarnation of Christ, and Christ's crucifixion and resurrection.
Russian Orthodoxy belongs under Eastern Orthodoxy, along with countries like Greece, Bulgaria and Moldova.
The religion is recognized to be older than a millennium.
Throughout Russia's history, the Soviet government tried to eliminate all religion through the destruction of churches and execution of many clerks.
However, orthodoxy prevailed, and today, the Russian Orthodox Church is estimated to have 90 million members.
How is it structured?
It's autocephalous, which means that it's self-headed (independent administration and elects its own bishops and primates).
There's a hierarchical structure, headed by the Moscow Patriarch, although direct authority is given to a council of bishops.
Parishes in a region belong to a specific Eparchy, which is governed by one or more bishops (a senior priest).
Each church has its own priest, who is placed there by the main Russian Orthodox Church.
At every church, there's a Sunday morning "Divine Liturgy" as well as other services throughout the week.
Interestingly, the churches outside of Russia are headed by the Russian Orthodox Church Abroad, which is self-governing.
How does someone "be" orthodox?
I was christened as a baby, and I go to church at least once a year (usually Easter, of course).
There was a part of my life where I took Russian classes in the basement of one church and sang in the choir of another -- trust me, reading ancient Slavic on the weekends was not my favorite pastime as a 15-year old.
To me, being orthodox means expressing my faith through the form of orthodoxy but also developing my own relationship with God.
From my perspective, the church was always intimidating.
There were a lot of rules on what to do and when to do it.
I had to wear a skirt past my knees and a headscarf covering my hair.
During the service, we weren't allowed to sit down unless you were really, really old.
After the three-hour service, we were allowed to eat (for the first time that day), which was always a relief. 
Although there is a lot of standing and staring, the churches are usually beautiful inside and out -- especially in Russia.
Picture the Kremlin's domes, with a shiny gold cross on top and fresh white paint.
The inside is usually lit with very particularly smelling candles made of our dark yellow wax, and the walls are covered with religious icons.
The icons are usually hand-painted, and it's customary to come up to them, cross yourself -- touching your forehead, belly, right shoulder then left shoulder -- and then kiss the glass covering the icon (not corona approved).
You also cross yourself every time you walk into the church, at multiple points throughout the service prayer and during confession. 
Confession with a priest was scary to me as a kid.
Unlike in Catholic churches, you confess standing right next to your priest, who knows your mom, your siblings and everyone else in the community.
Luckily, my sins weren't much worse than watching too much T.V., but I couldn't imagine how hard it would be telling your orthodox priest that you cheated on your wife.
Priests are usually nice. In Russian, we call them "Батюшка," which translates to Father.
They wear long black robes, comfortable shoes and long beards. They're also allowed to marry and have kids.
The church attendees, at least in my experience, were made up of old Soviet grannies who managed to convince their kids and grandkids to join them.
I think Russian Orthodoxy is a beautiful, ancient and devoted religion, and it has my utmost respect.
However, I have always found it important to be open-minded in all things, and through my education I've learned about other fascinating religions.
I hope my post brought you perspective on just how different forms of Christianity can be.