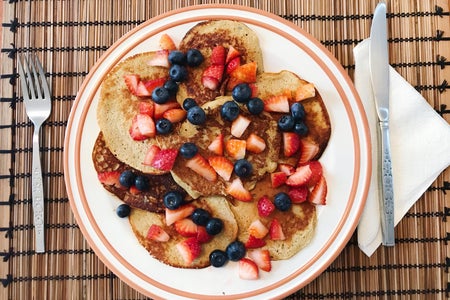 Original photo by Claudia Galindo
One of my absolute favorite things to do before the pandemic hit was to catch up with friends over brunch (my personal favorite meal of the day). It can be really easy to get lazy in self-isolation and skip breakfast, but I challenge you to try one of my go-to breakfast ideas! Breakfast is an excellent way to get the day started on a good note. Whenever I eat breakfast, I feel refreshed, energized and ready to tackle the day. Invite your family to join you for a fun activity to do together or surprise your friends with breakfast as an act of kindness (and to show off your phenomenal cooking skills, of course!) Below are my top five go-to breakfast ideas. 
Original photo by Claudia Galindo

This dish is one of my favorite Mexican meals out there. You are guaranteed to see this option as a staple in many Mexican households. Similar to the popular "British beans on toast" from the UK, this plate includes refried beans and cheese. 

1 Serving

Ingredients:

- 2 slices of your favorite bread

- 1 can of refried beans

- ½ cup of shredded mozzarella cheese

Sauce:

- 1 tomato chopped into cubes

- ¼ of an onion chopped in cubes

- ½ of a jalapeño sliced

- A handful of sliced cilantro

- A pinch of salt and pepper

- Juice from ½ of a lime

- 1 tsp of olive oil

- 1 tsp of Maggi Seasoning

Steps:

- Preheat the oven to 400 F. Spread the beans evenly on the slices of bread. Sprinkle the cheese on top. Add as much or as little as you would like. Place it in the oven for 10 minutes until the cheese melts or is golden.

- For the sauce, combine all ingredients.

- Add the sauce on top of your baked molletes and enjoy it!

Original photo by Claudia Galindo

For all my pancake lovers, this one is for you. You'll most likely already have all the ingredients in your pantry for this easy and healthier alternative. 

2 servings

Ingredients:

- 2 Bananas

- 2 eggs

- 1 tsp of vanilla

- ½ cup of oatmeal

- 1 tsp of cinnamon

- Butter

- Optional: Fresh fruit and maple syrup for toppings

Steps:

- Blend all the ingredients in the blender.

- Turn on your stove to medium-low heat and adjust if necessary. Add butter to a pan to avoid the batter getting stuck. Then scoop out some batter and shape your batter onto the pan. Heat until golden on both sides

- Add your favorite toppings and voila!

Tip: If your blender is not the best, blend the bananas and eggs first before adding the rest of the ingredients to help get a smooth texture.

Original photo by Claudia Galindo

If you prefer a smaller breakfast and are constantly on the go, then this nutritious smoothie is perfect for you!

1 Serving

Ingredients:

- ½ of a peeled cucumber

- 1 rib of celery

- ½ cup fresh spinach frozen to blend

- 1 tsp of brown sugar or honey

- 1 tsp of flax seeds

- 1 cup of water

Steps: 

- Combine and blend in a blender. Cut into smaller pieces if needed. It's as simple as that!

Tips: You can add any other foods or supplements you would like. I love to add Chia seeds and a collagen supplement for nutritional benefit. I also like to buy fresh spinach and freeze it myself. 

4.

Ludo's French omelette

Original photo by Claudia Galindo

For anyone who's watched Emily in Paris and is just dying to try Gabrielle's omelette well you're in luck today. I don't have Gabrielle's recipe, but I do have French Chef Ludo's mouthwatering omelet. After watching Selena Gomez make this omelet with Ludo on the HBO max show Selena+Chef, I knew I had to try it. 

2 servings

Ingredients:

- 5 Eggs

- 45 g of butter

- 20 g Boursin Cheese

- 1 tbsp of chopped Chives

- Salt

- White pepper

Steps:

- Whisk your eggs in a bowl and sprinkle salt and pepper to your liking

- Heat the butter until melted on a 9-inch frying pan on low-medium low heat.

- Add your eggs and turn down the heat if there's any sizzling. 

- Continuously stir the eggs. Do NOT stop stirring. It should turn an orange color.

- Once the eggs start to form more rapidly, take the pan off the heat and reform the eggs evenly into a circle.

- Add the Boursin cheese in a line towards the edge of the circle.

- Once you can lift the eggs without breaking, roll the omelet into its proper shape.

- Top it off with the chives and show off to your friends!

Original photo by Claudia Galindo

This dish is one I've loved since high school. You are free to choose your favorite type of bagel, but I cannot recommend the cinnamon raisin bagel enough. 

1 serving

Ingredients:

- 1 egg

- 1 tbsp of cilantro

- 1 bagel

- 1 slice of turkey breast

- Cream cheese

Steps: 

- Whisk one egg in a bowl or if your lazy like me, you can stir the egg in the pan before it starts to cook (Chef Ludo would disapprove, but that's ok).

- Add the cilantro to your egg and cook until fluffy. Before it's completely cooked, form the mixture into a circle. This will make it easier to handle

- In the meantime, toast your bagel.

- Smear cream cheese on both sides of the bagel; add the ham and cooked eggs and you are done.
These are some of my favorite breakfast meals to cook. They are simple and fast which is perfect for students! I invite you to get creative with these ideas and don't be afraid to try new recipes. I hope to see you all in the kitchen.