Early 2000s Rom-Coms to Inspire Your Inner Girl Boss
Growing up I always looked to strong women as role models, whether it was my mom, my grandma, or the fictional characters I idolized in all of my favorite 2000s rom-coms. As women, we aren't always portrayed in movies as strong figures, and when we are it's typically an intense drama or a superhero movie. I think it's important to watch movies that showcase how amazing women are, while staying realistic and true to real life. The following films are feel-good romantic comedies from the early 2000s that will inspire your inner girl boss. Each of these movies has a powerhouse woman, but they're also lighthearted and fun! They will leave you feeling happy and excited for your dream career. So grab your favorite face mask, a pint of ice cream, and get cozy watching these all-time faves! 
1. How to Lose a Guy in 10 Days (2003)
This classic rom-com follows the life of Andie Anderson (Kate Hudson), an advice columnist for the most popular women's magazine in New York. Andie writes a "How To…" column with articles such as "How to Dress for Your Body Type," "How to Create the Perfect Smokey Eye," etc. But we can learn a lot more from Andie than just beauty advice. Andie is a great female role model because she is strong, confident, sexy, smart, and takes charge of her life and career. Andie goes on a wild journey of trying to get a guy to leave her in 10 days for her column. Throughout this journey she exudes confidence and wit. She doesn't let a man or a boss define her worth and goes after what she wants. We could all use a little bit of Andie in our lives, so dive right in and enjoy! Oh, and did I mention Matthew McConaughey is in it?...Alright, alright, alright.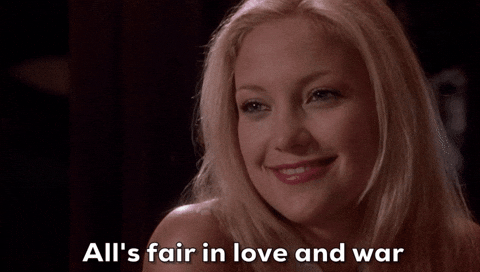 Image via Giphy   
2. The Devil Wears Prada (2006)
The Devil Wears Prada is a powerful movie that follows yet another Andy (Anne Hathaway), a recent college graduate, who gets every girl's dream job as an assistant to the editor of Runway Magazine, Miranda Priestly (Meryl Streep). Throughout the movie, both Andy and Miranda are girl bosses worth learning from. Miranda is a force wherever she goes. She is always the most powerful and exclusive person in the room. For most of the movie she is represented as a villain, but we can still learn a lot from her strength, assertiveness, and confidence. Andy, on the other hand, goes through a drastic transformation from a girl who doesn't know much about fashion into the ultimate fashionista to fit into her new career. We watch Andy go through a lot over the course of an hour and 50 minutes, but we are continuously rooting for her. This movie represents the fierce competition that women can be up against in the workplace, and the body image and beauty standards women are expected to uphold. It shows the effect these competitions and standards can have on someone, but also teaches us to be true to ourselves and stick to our roots. 10/10 recommend this one for your next girl's night!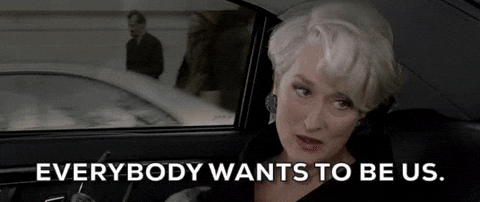 Image via Giphy 
3. Legally Blonde (2001) 
Legally Blonde is a true gem in the world of rom-coms. It follows Elle Woods (Reese Witherspoon), the girl who has it all. She is blonde and beautiful. Her life goal is to marry her longtime boyfriend Warner, but he seems to think she is "too blonde" and not at his intellectual level. Elle doesn't let a breakup get her down. Instead of being defeated by a man telling her she's not smart enough, she does everything in her power to get into Harvard Law School. At first she does it just to win him back, but along the way she finds that her true calling really is law and becomes a powerhouse lawyer. Elle is someone to look up to because she doesn't let anyone get in the way of what she wants. She exudes confidence and brilliance. She represents that no matter how many people don't believe in you, you can accomplish your goals if you work hard enough. She shows us that you can be beautiful and brilliant! Elle is a true #GirlBoss.​
Image via Giphy