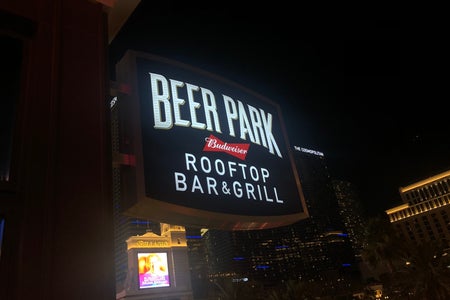 Review: Crafted Cocktails and Flavorful Food at Beer Park by Budweiser
This article is part of our College Girl's Guide to Vegas! Click here to check out the rest of the guide!
During my first Vegas trip, I had the opportunity to visit Beer Park by Budweiser located at the heart of The Strip. Aside from a plethora of food and ice-cold beer options, they also have foosball, billiards, Cards of Humanity, What do you Meme, Jenga and so many other games available to play while they stream sports games on all the TVs. Not to mention that you have a gorgeous view of the Dancing Fountain show presented by the Bellagio. Before you make your way to Beer Park, make sure to book a reservation ahead of time!
I started my meal with a Mac and Cheese Eggroll. As a big pasta and eggroll fan, I enjoy two of these foods separately, but I was a bit hesitant to try this combination out. After biting into my first bite, my mouth hugged the warm and soft fusion eggroll. It felt like these two meals were meant to be combined at one point, and this fusion did not disappoint at all. The mac and cheese eggroll also had bacon bits on the inside that added to its flavor.
Next, I ordered the Smoke Brisket Sliders. The spicy mayo adds a little bit of a kick to the sliders apart from the soft brisket meat, and I think it added the perfect touch. If you are not a big fan of the spice, the cucumber on the side is able to flush out the spiciness that lingered after each bite.
For the main course meals, I ordered the Beef Tenderloin Skewers. Looks can be deceiving, but I am not exaggerating when I say that the tenderloin is probably the softest tenderloin I have ever eaten. Each bite slid off the skewer so easily that the meat felt like a marshmallow in my mouth. I was in a moment of such disbelief that I had to take a few seconds with my eyes closed to enjoy the pleasant softness of the skewer. Apart from the meat, the dish also came with grilled mushroom, green bell pepper and onions for additional flavor.
Last on my order was my all-time favorite dish, Carne Asada. The meal came with two large tortilla wraps as well as sides that you would normally get from taco stands. After eating all the protein and carbs from the last meals, I had difficulty finishing my Carne Asada because of its portion. So if you're looking for a shareable, budget-friendly meal with your gal pals, the price for this meal is definitely worth the size!
The main dishes also came with sides such as fries and onion rings! But we highly suggest that you start off with the meats to get more for your buck.
Aside from the mouthwatering menu options, our trip wouldn't be complete without a glass of Beer Park's famous cocktails. If you and your gals are into the fruity and sweet alcoholic drink, we highly suggest getting a Badge of Honor, a sweet and sour flavor distinguished with its blue color, and At the Buzzer, a gummy bear-like red berry drink. It's the perfect match to your munchies!
Overall, Beer Park by Budweiser is on the top of our go-to food restaurants on the Las Vegas Trip. We would suggest checking it out if you get the chance!
Photo Courtesy of Mikee Lachica