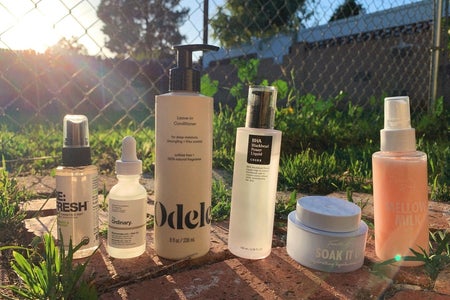 Quarantine Is Changing My Body & I Created My Own New Beauty Routine With These 6 Products
At this point, I have been in quarantine for nearly two months, and my everyday routine has pretty much been flipped on its head. At school, I was getting exercise by walking upwards of two hours a day to get to and from class or work, and although sometimes arduous and tiring, the routine allowed me to spend some much-needed time in the sun. In addition to that, my diet and eating times were rather consistent there too. 
Now, it seems like my concept of time is out the window, and my exercise has mostly been minimized to taking a walk around my block. Per my doctor's recommendation, I started incorporating probiotics from yogurt into my diet as well. As someone who does not eat that much dairy to begin with, this new combination has created quite the fuss in my body, especially in my hair and skin.
Both my hair and skin have been more dry and less smooth, and my face has become pimple galore. It became clear that my normal beauty routine was not cutting it anymore, and I knew I needed to switch out some products to mediate the situation. Some of these new products absolutely blew me away, while others…did not. Here are six products I have tested during quarantine:
Overall, most of these products were a delightful win, and they have been happily incorporated into my new and improved beauty routine. As the quarantine endures, I think it is particularly important for me to listen to my body and its needs. Actively adjusting and doing my best to take care of myself by switching up my beauty routine has not only been fun and great for my skin and hair, but it makes me feel healthier. I encourage everyone to monitor their bodies and to switch up or add to their beauty routines accordingly. Maybe you will find your new favorite product amongst this list!