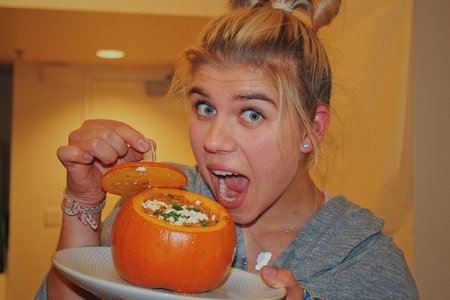 Photo owned by Rebecca Karlous
Pumpkin Party With Bruin Gymnast Pauline Tratz
Pauline Tratz is a third-year, international student-athlete from Karlsruhe, Germany. A floor and vault specialist, she has been a complete asset to the UCLA women's gymnastics team, helping them win the NCAA National Championships in 2018 and the PAC 12 Championships in 2019. Living 5,825 miles away from home, she uses cooking as a way to reconnect to her German roots. Her Campus UCLA chats with Pauline as she cooks up a pumpkin special, as she would at home, to get into the Fall season spirit.
HerCampus: What was your first impression of UCLA and America in general?
Pauline Tratz: UCLA seemed like the movies to me, with campus and "college life." After a few days of being here, people asked me if it was exactly how we see it in the movies, and I could totally confirm this. Also, things here are bigger in every aspect: houses, cars, streets, etc.
HC: You represented your country by competing on the German National team. What does it mean to you to represent your country?
PT: I honestly feel honored and wanted to leave a good impression on my country. I wanted to make myself proud as well as represent my country alongside a group of strong women. It's special to represent a nation that has your back and is supporting you.
HC: How has the transition been from competing for your country to now competing for a highly ranked collegiate gymnastics team in the States?
PT: Since elite gymnastics and college gymnastics is very different, it has been an experience I can't compare because both things are special in their own way. For the national team, you're obviously competing and wanting to represent your country well. So a little bit more pressure in that sense. In college, it's more "show" and performance-based, which is fun for me. I am forever grateful to experience two different sides of competing and it is another aspect of gymnastics I've never done before.
HC: Besides cooking/baking, what are the things you like to do to reconnect with home when feeling homesick?
PT: I like riding my bike because that's what I did at home everyday to get from point A to point B. Also talking to parents on the phone, FaceTime and leaving voice messages for my friends (since that's easier than typing everything in one text message.) Also watching German comedy shows. 
HC: I know you are an inspiration to many young gymnasts back at home in Germany. What piece of advice would you give to girls hoping to be in your shoes one day?
PT: Find your own way to love what you do and find a balance of everything, inside and outside the gym.
Pauline chose to cook a Stuffed Pumpkin for dinner. Makes 6-8 servings.
Ingredients: 
2 small-medium pumpkins
2 tablespoons of creme fraiche, set aside for topping
1 tomato
1 tablespoon of tomato paste
1 lb. lean ground beef
10 oz leek, chopped
parsley to garnish
4 oz of Feta cheese (1 small container)
1 teaspoon salt
1/2 teaspoon black pepper
1 teaspoon garlic powder
1 teaspoon paprika
1 teaspoon curry powder
Directions:
Wash pumpkin; cut a 6-in. circle around the top stem. Remove top and set aside; discard seeds and remove insides. Place pumpkin in the oven for 15 minutes at 350 °.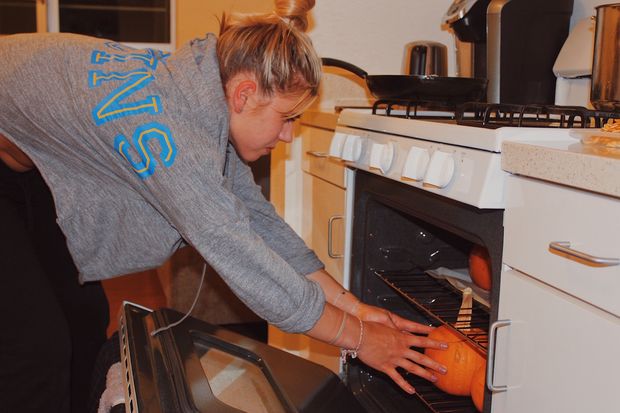 In a large skillet, cook the beef, onion and leek over medium heat until meat is well-cooked. Add tomato paste, salt, garlic, pepper, curry powder, paprika and tomato.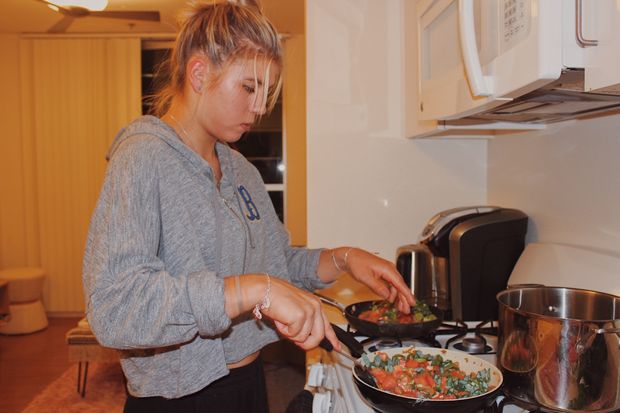 Take the pumpkin out and pack the beef mixture into pumpkin; put the top back on. Bake the entire pumpkin at 350° for 30 minutes. Let stand for 10 minutes. Remove the top; add garnish and cream, if desired. Slice pumpkin into wedges.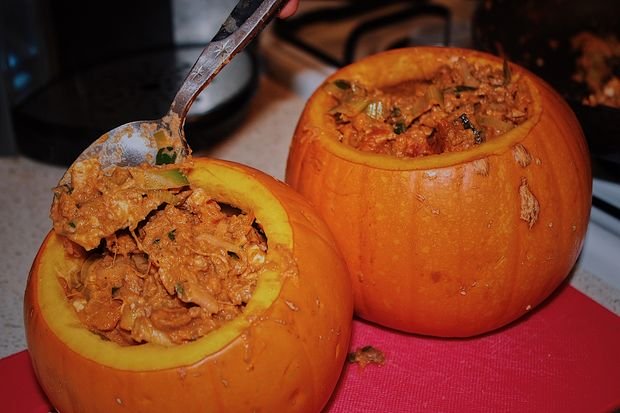 And... ta-da! As the food critic of the night, I can honestly say that this dish was an 11/10.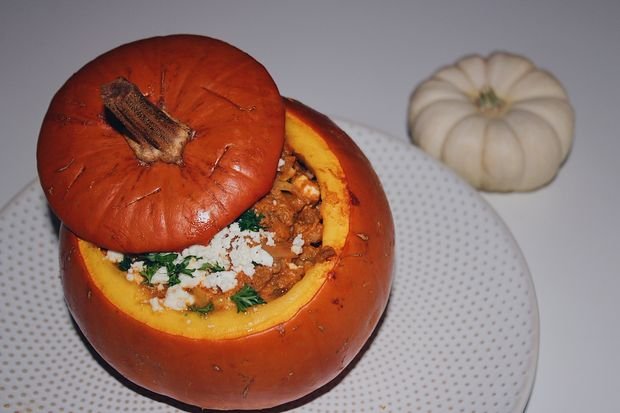 Thank you to Pauline Tratz for inviting us to her Pumpkin Party. Catch her soon in Pauley Pavillion as UCLA Gymnastics begins their 2019-2020 season. Follow her IG social @pulla_carlotta .