As the sister to a certified health coach, I am constantly learning new things about food – whether I like it or not (RIP to my once beloved quick-oats). These meals are all health-coach approved and beyond yummy. 
Let's break it down by meal…
Breakfast is perhaps my favorite meal of the day. But for the days I wake up 20 minutes before class or my kale is just a tad too soggy, this granola saves me. Most store bought granola has TONS of added sugar, and a blood sugar spike just to come crashing down when you get to class is a hard pass from me. This Mixed Grain Granola recipe is courtesy of Erin Holt. It is GF, DF, and SD – gluten-free, dairy-free, and so delicious. I cannot give her podcast, The Funk'tional Nutrition Podcast, enough praise. It is my all time favorite for everything health and wellness related.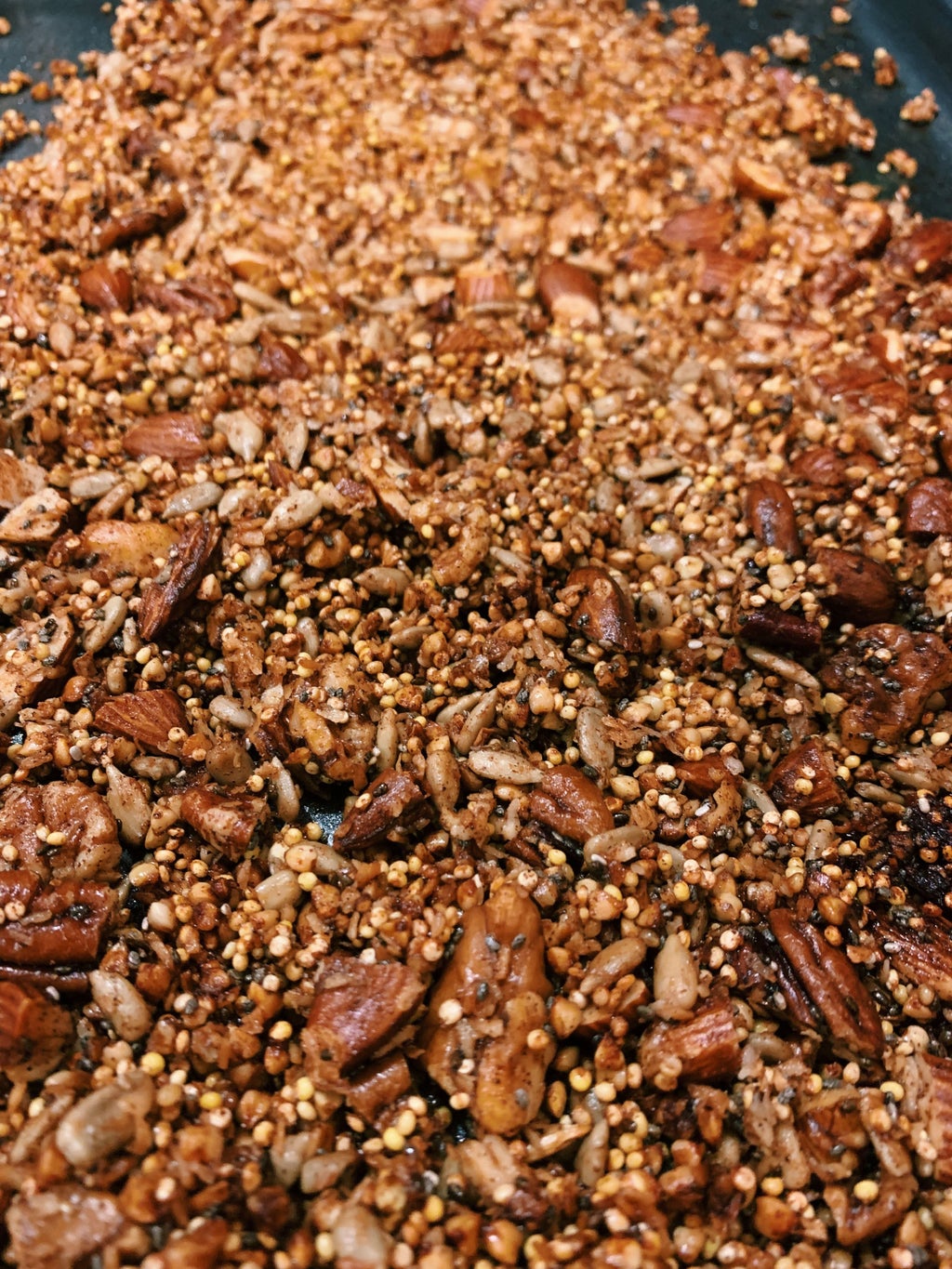 Serve with your favorite milk, sprinkle on a smoothie or just eat it with a spoon. Whatever fits your morning craving!
While your granola is baking you can get started on lunch. I tend to keep things simple here. A bowl with a grain, a green, a veggie or starch and a protein and I'm full till dinner!
I always keep some cooked quinoa in my fridge as well as have my leafy green of choice for the week (spinach, kale or arugula) handy.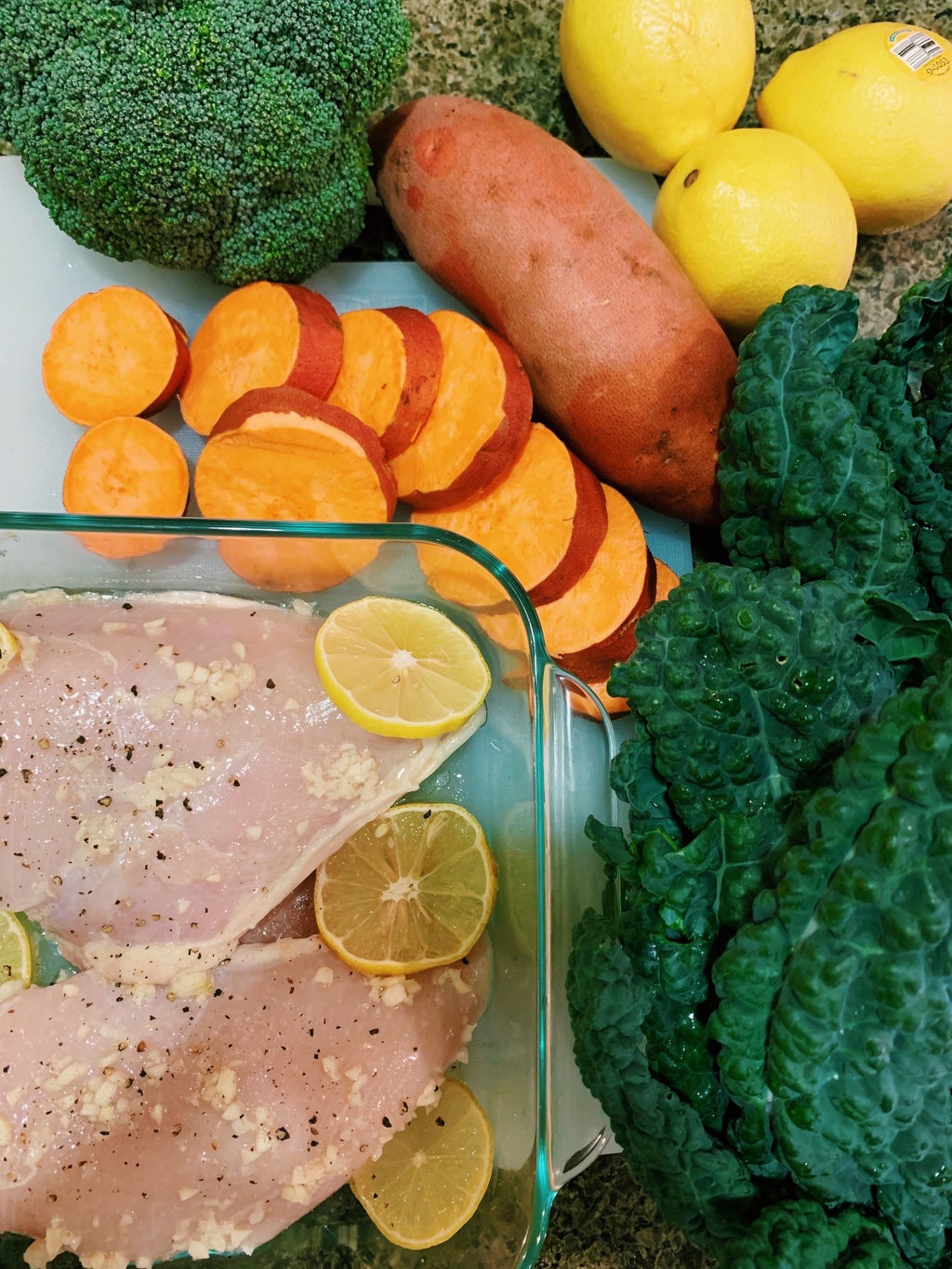 To prep my weeks protein, I stick with very simple flavors. A little avocado oil, salt, pepper, lemon and garlic is my go to for fish and chicken. Pop that sucker in the oven at 375 degrees farenheit for a half hour (or until cooked all the way through depending on the size) and your bowl has its protein. If you are vegan, baking some tofu is a great alternative!
I am sweet potato fiend, so I chop those up and throw them in the oven with some avocado oil, salt and pepper to bake alongside my protein for 45 minutes at 375 degrees farenheit. If you are not a sweet potato person, then roast some carrots, broccoli or cauliflower the same way – the veggie choices are endless.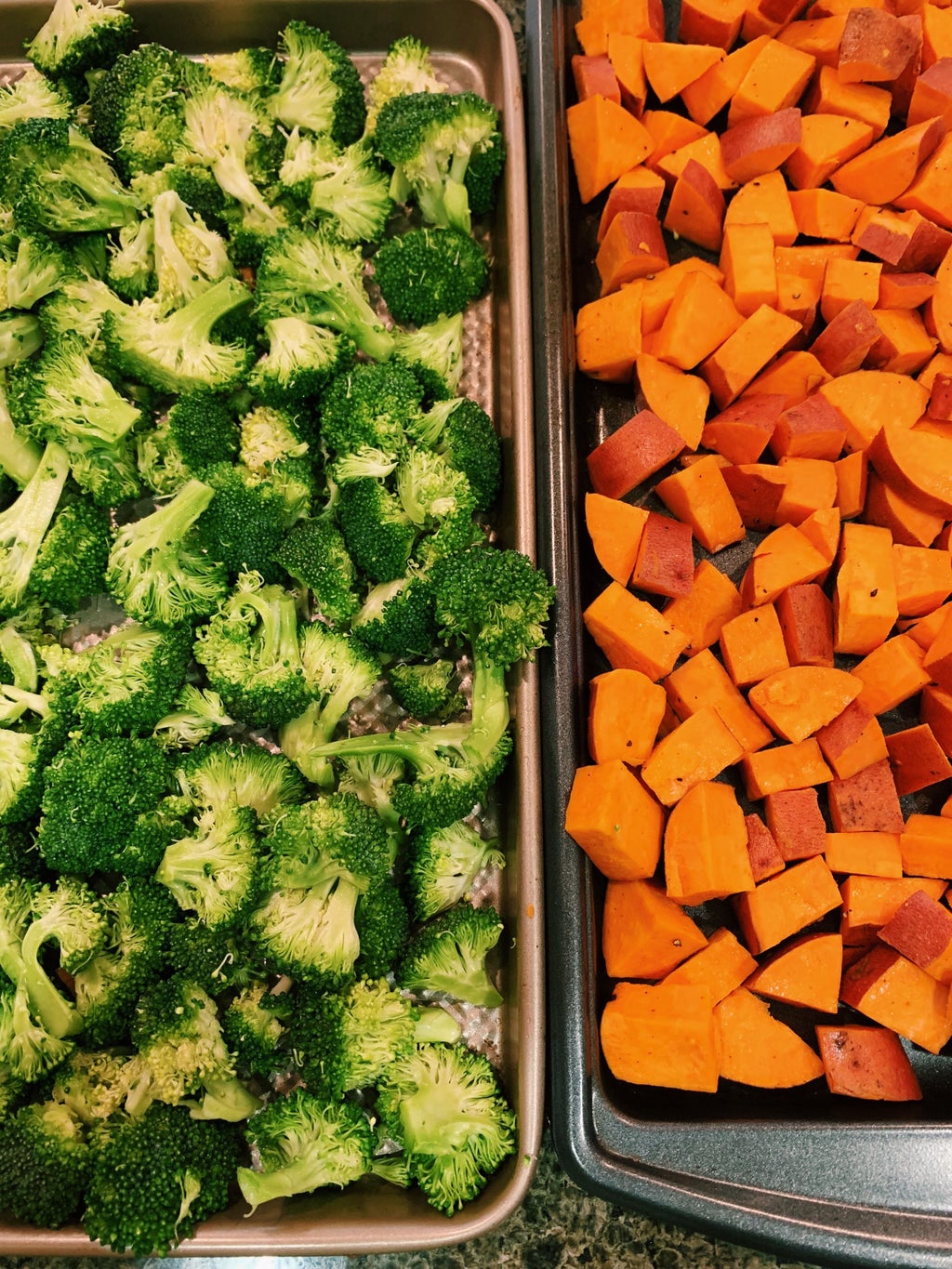 While all that goodness is cooling, your dinner is patiently awaiting!
Dinner is when I get a little fancy. One pot dinners are my saving grace because I have no energy left to do many dishes after all that meal prepping. Right now, I literally can't get enough lentils. As a great source of fiber and protein, they have been my summer and now fall staple. Curry lentil soup? Yes please. Soups are the absolute best because you can heat them up and have them all week. Plus if you get sick of it after a day or two, toss it in the freezer and heat it up when your curry craving is back in a few weeks! This Vegan Pumpkin Lentil Curry recipe by Marisa Moore is simple and a great way to sneak in some greens for dinner!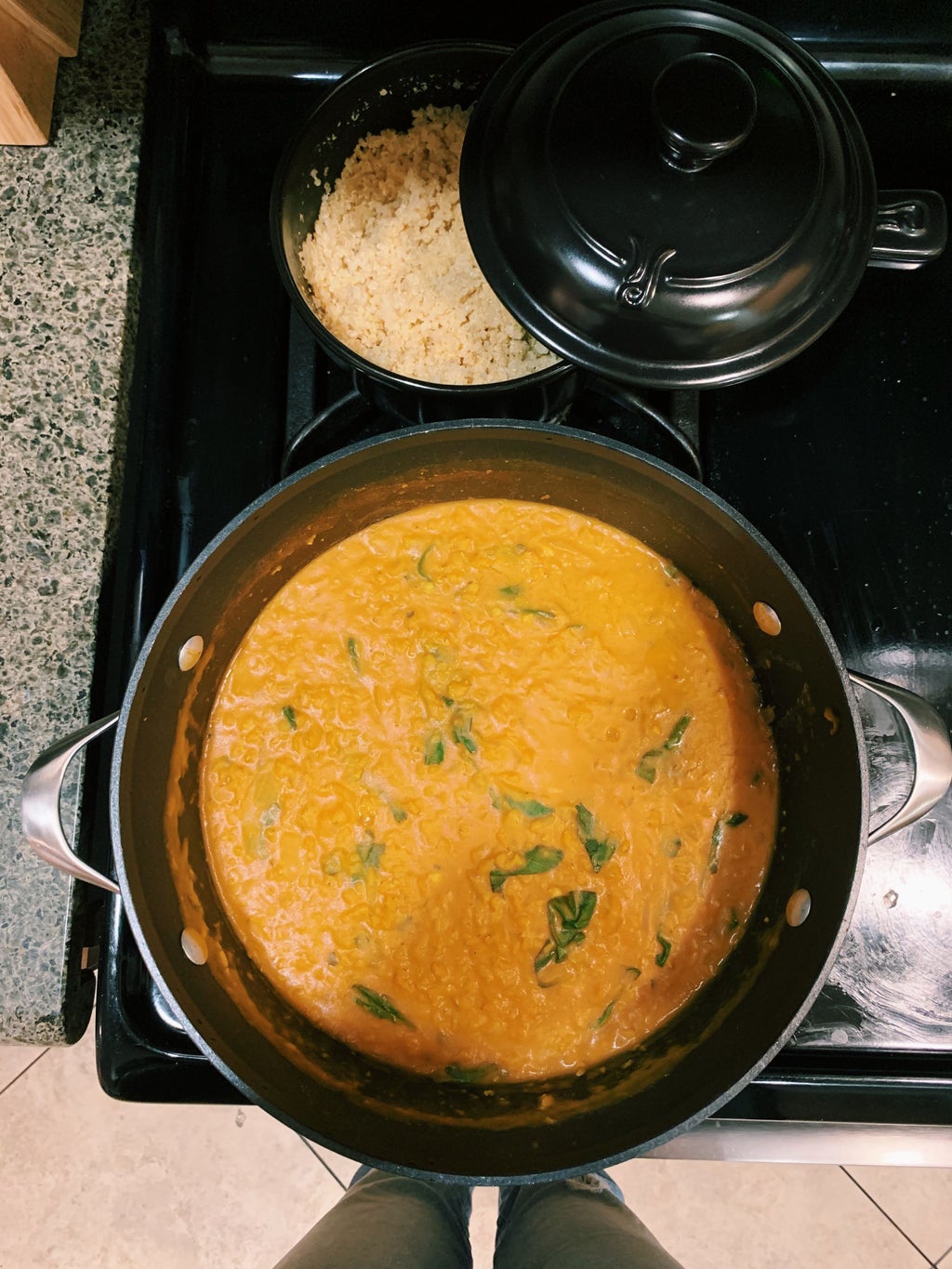 I toss everything in my glass tupperware (because plastic has no place in my heart) and your satisfying meals await.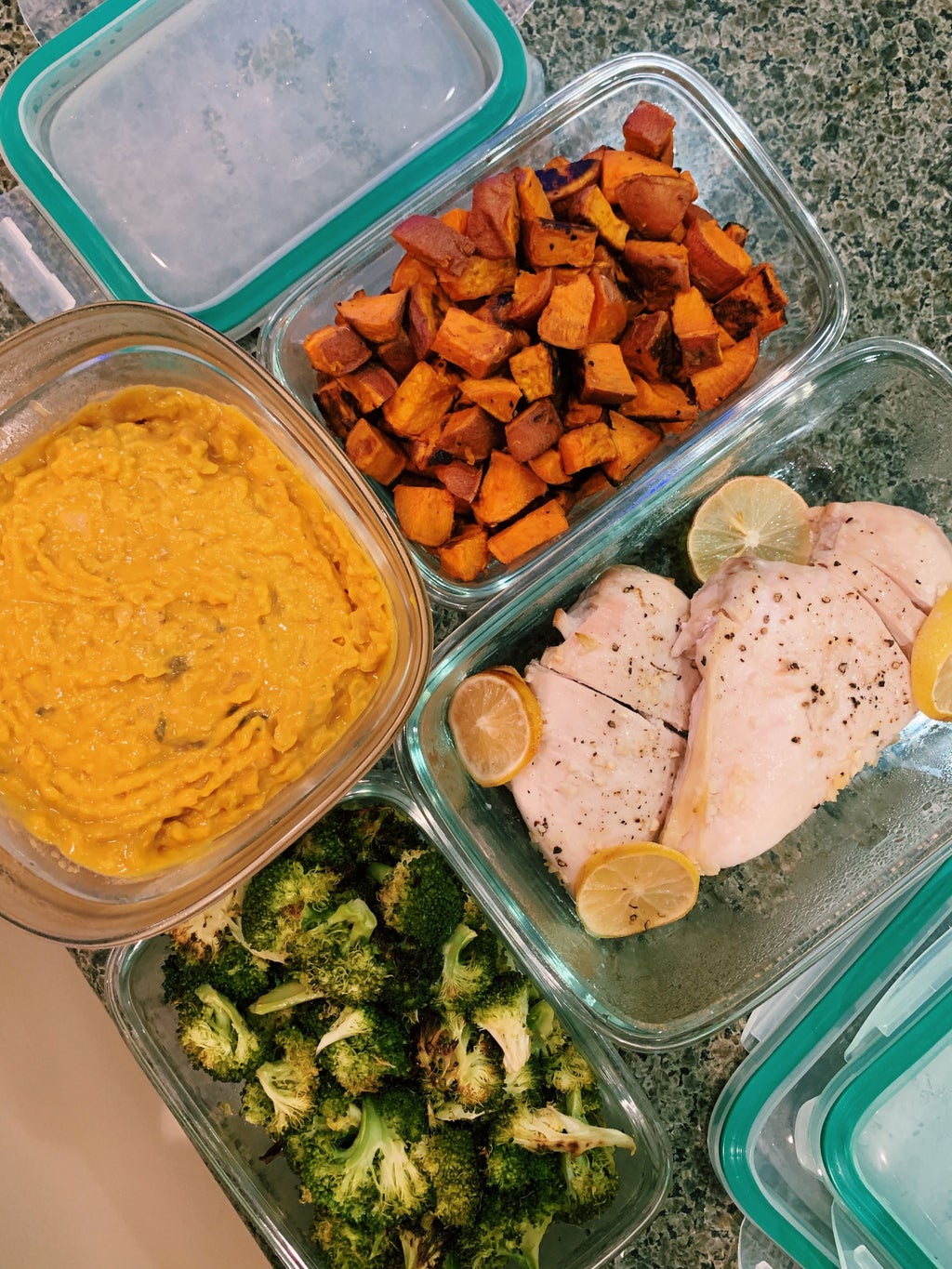 Thursday you will thank Sunday you, I promise.