Girl Gang's Night Out: HC UCLA Galentine's Party
Sisterly love was in the air at Her Campus at UCLA"s first ever Galentine's Day Event. Held the day before actual V-Day at the local Westwood bar Rocco's Tavern, all the Her Campus girls and gals took over the bottom floor of Rocco's to celebrate girl power and enjoy each others' company. Due to UCLA's speedy and strenuous quarter system, Valentine's Day often happens in the heat of midterms stress, so we though what better way to take a break from exams than to celebrate with our gal pals from around campus.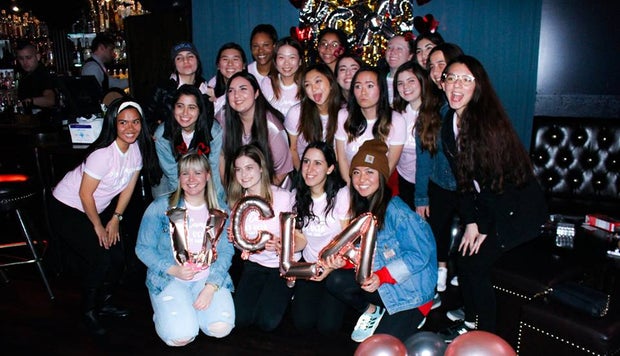 The bar was complete with charismatic bartenders in white button downs and waist coats and lovely Valentine's Day-themed drinks custom made for the event such as strawberry mint mojitos, champagne roses and pink watermelon cocktails. The strawberry mint mojito was by far the most popular drink of the night as plenty of girls were sporting tall glass tumblers in their hands with the recognizable bubbly clear drink, cut strawberries and mint leaves fizzing inside.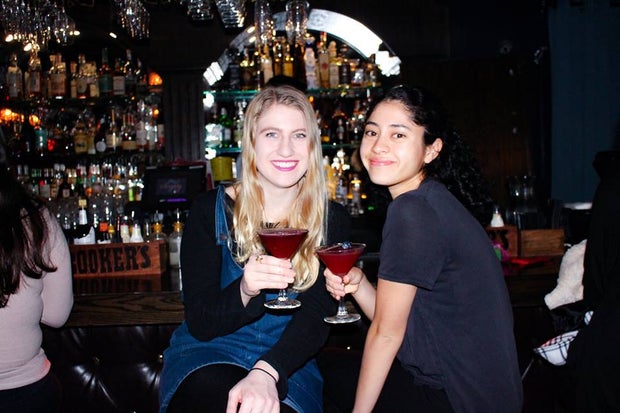 After trying a sip from our gal pals, it tasted like a refreshing splash of summer, a much-needed one considering the dismal rain going on outside. There were also non-alcoholic versions of the drinks as well, and the virgin mojito tasted like Sprite with a hint of fruit, still tasty for our friends under 21. 
As of age undergrads swarmed the bar trying out our custom drinks, others took advantage of the picturesque Valentine-themed decor. In the dimly-lit bar, foil heart streamers hung from the ceiling reflecting what little light there was, alongside tissue fans shaped as hearts and fluffy balls. 
Other than the charm of alcohol and friends, Her Campus at UCLA also put together oh so adorable goodie bags for the first 100 students who came to the event. Inside the goodie bags were Queen V bath bombs, makeup remover and face masks by Bliss, Kendra Scott coupons and Koozie: perfect items for when you need that treat yoself self care day to relax and unwind after your last midterm. The goodie bags went quickly with over 40 girls lining up before the event even started, and we quickly ran out after the first hour. After the first 100, additional guests could enter the raffle to win a huge giveaway of full-sized Demeter perfume bottles, and the winners were promptly announced by their raffle numbers the following day. 
Though the Galentine's drinks shone, Rocco's also offered food like hot wings, pizza, pasta and their famous Italian fries. When not catching up with friends over drinks or bites, girls also snapped photos with each other in the plush dark leather seats or at the photo booth area decorated by Her Campus. Golden foil streamers and foil hearts hung from the wall with balloon letters spelling out "HCXO" overlaid on it. White and pink balloons were scattered across the floor as well as cute props.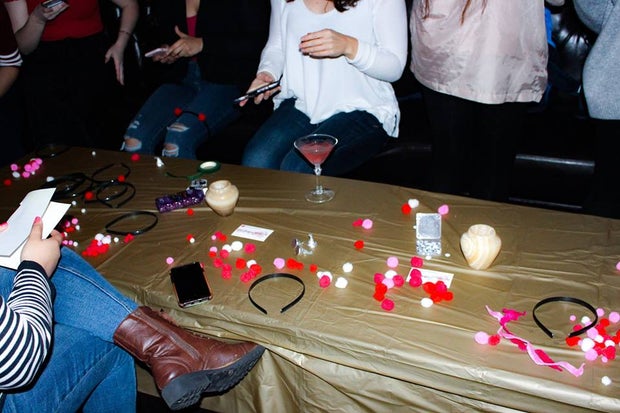 For those who wanted to take home a memento from the night we had two stations of craft projects. One station was dedicated to making adorable Valentine's Day headbands that were fully functional and could be used on the actual holiday. Attendees got creative with forming colored pipe cleaners into shapes, like hearts, and gluing them onto the headbands. 
The other station was assigned to making classic Valentine's Day cards. Some cards were dedicated to Her Campus for hosting, others were made for significant others and best friends and some of the cutest cards were filled with personal words of affirmation to the card-maker herself. While everyone sat, danced or made crafts together, the initial awkwardness of being strangers or acquaintances easily melted away in the face of the awesome mood music and the lovely girl-power ambiance. We're sure that by the end of the night, new friendships had formed!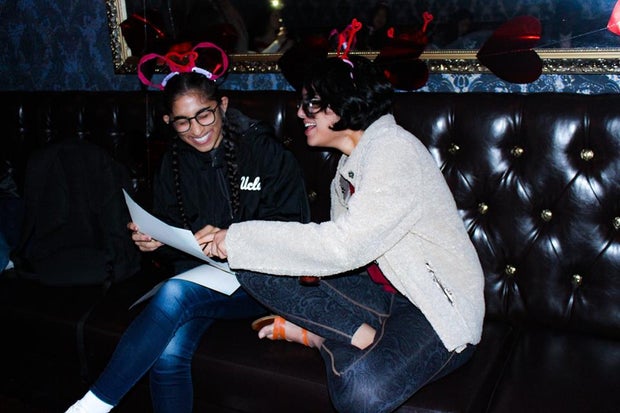 A Her Campus member also compiled an awesome playlist of songs for everyone to dance to. Some songs included upbeat hit songs like Ariana Grande's "7 rings" and "thank u, next" and throwback classics like Beyonce's "Love on Top." 
Just watching everyone spend time together in the cutely decorated room, whether drinking, eating, dancing, chatting or posing for photos brought a smile to our faces. Her Campus at UCLA's first Galentine's day ended up being a hit! Make sure to keep an eye on Her Campus at UCLA's Facebook for more undoubtedly amazing future events.