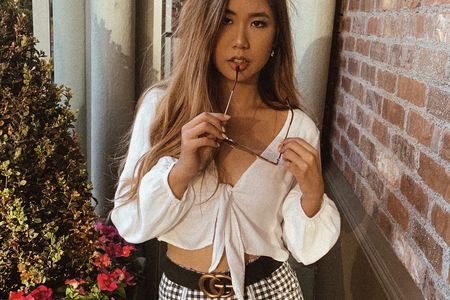 10 Ways You Can Be A Hot Girl Scholar This Quarter
In the wise words of Megan Thee Stallion, hot girl summer is, "basically about women — and men — just being unapologetically them, just having a good-a*s time, hyping up your friends, doing you, not giving a damn about what nobody got to say about it."
First of all, I'm fully here for the social stigma the "hot girl" branding erases about women and female sexuality. It's about time that women are celebrated for embracing their femininity, being open and confident in their sex lives and no longer feeling shamed for the same behavior men get celebrated for. However, adopting the hot girl mentality doesn't revolve entirely about sex and sexual freedom.  It's also about having an unapologetic attitude and the mindset that you can get down to business and accomplish anything you put your mind to while looking bad af.
But just because the summer is over doesn't mean we can't get down in our books and in our dorm rooms. The hot girls have won indefinitely and we're taking over UCLA for the 2019-2020 academic year. Here are 10 ways you can slay in class and stay shaking your a*s:
College is tough and busy as it is. The key to being a hot girl scholar is staying organized and managing your time wisely. Invest in a passion planner or dry erase calendar where you can keep track of your assignments, tests and future hookups. Hot girl scholars stay in school.

2.

Keep up with your hot girl look.

Don't get me wrong, there's nothing wrong with pulling up to your dreaded 8AM in an old hoodie and your favorite worn-in leggings. However, you'll feel and perform your best when you look your best! Put in some effort in your outfits, brush your hair and put on your favorite lipstick before heading out the door.

3.

Be open about your time and commitment.

We all know that you'll be slaying in the guy/girl department, no problem. However, balancing and scheduling all your guys and gals for their daily dose of you AND acing your classes can get a little complicated. Make sure to be open about your time and willingness or unwillingness to commit to said persons.

Be proactive in being vocal about when and where you want to meet and what you want to do. Call the shots and make sure your plans are comfortable and convenient for YOU. Be the boss babe in charge!

5.

Exude confidence on the streets and in the classroom.

Being a hot girl scholar is all about attitude. One huge effective way you can command attention is by being confident in how you look and how you carry yourself! Speak up and answer the professor's question. Strut down Bruin Walk like you own it, because honey, you do.

6.

Approach things head on and never apologize.

No longer be afraid of the unknown and wonder "what if"! Approach your goals and whatever your heart desires head on! Hot girl scholars go after what they want and never apologize for being themselves. From here on out, we'll never say sorry for doing whatever is necessary to secure our bags.

7.

Fake it til you make it.

Your confidence levels may be off the charts and you may be taking the measures to secure your bag, but you might feel like an imposter. I'm here to tell you to wipe that thought from your mind! Being a hot girl is all about how you feel about yourself and loving your body. Like they say, fake it til you make it!

8.

Put your studies first.

Being fine af 24/7 can be SUPER exhausting, but be sure to remember the "scholar" in hot girl scholar. No matter what, always put your studies first! There are plenty of fish in the sea, they'll be there after you finish your paper!

Procrastination is something that I'm guilty of myself. It is a crime I commit every big term paper and something I'm working on! Make sure to set deadlines for yourself and get your work in on time to maximize your time stunting on all of your haters.

10.

Decide that you are the baddest, smartest b*tch in the room, and you'll officially be a hot girl scholar.

Despite your cute outfits and your bad-a*s self, knowing your value and accepting your worth is the best advice I can give you. You are fierce, you are flawless and most importantly, you are one HOT GIRL SCHOLAR.
Take my words of wisdom and go forth, my collegiates. I'm looking forward to seeing more of my fellow hot girl scholars on campus this year!