Lunar New Year: An Asian Tradition
Lunar New Year, also known as Chinese New Year or Tết, occurs every year around late January to early February. Chinese New Year is a celebration that may last for weeks on end filled with food, money and parties. It uses the lunisolar calendar, which tracks moon phases and the solar year. While Lunar New Year is very similar to the New Year that the rest of the world celebrates, it differs due to when it is celebrated and its' cultural significance. It's a holiday with many names that is celebrated by most Asian cultures. There are individual traditions from each culture for the holiday, but all celebrate it to ring in the new year and bring good fortune. 
As a Vietnamese woman, Lunar New Year or Tết has great importance to me. The Lunar New Year represents a time of gathering to me, when friends and family come together to bring in the new year, often filled with traditions that are only seen during this time of year. One of my favorite traditions is the red candy tray that only appears during this time. It is filled with candied peanut clusters, sugared coconut strips and dried persimmons.
Other Vietnamese traditions that really hold a place in my heart that comes out during this time of the year is the traditional outfits and gifts. Áo dài is a traditional outfit worn during this time to celebrate the cultural significance of Lunar New Year. Áo dài literally translates to long shirt and is a long dress with slits on both sides worn with pants underneath. Lì xì is a traditional gift given to close friends and family that;s meant to wish the receiver good luck and happiness. Lì xì literally translates to lucky money and is a small red envelope filled with money. There are many traditions and all are meant to bring happiness and success into the new year while celebrating culture.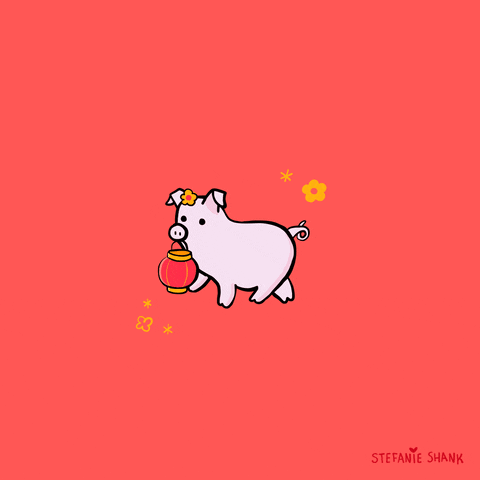 Something else that's significant during this time of year is the zodiac calendar. The zodiac calendar is a twelve-year cycle where there's an assigned animal for each year in the cycle. 2019 is the Year of the Pig. The pig is a symbol of hard work, abundance, wealth, honesty and prosperity. In other words, 2019 is going to be the year to get this bread. It's a holiday for culture and fun that features fireworks, shows, and good food. If you're reading this and local to the Orlando area, I highly recommend experiencing and learning about this long-lasting tradition in a respectful manner. The Central Florida Fairgrounds often hold multiple celebrations by different organizations to celebrate Lunar New Year. Chúc mừng năm mới, or happy new year!