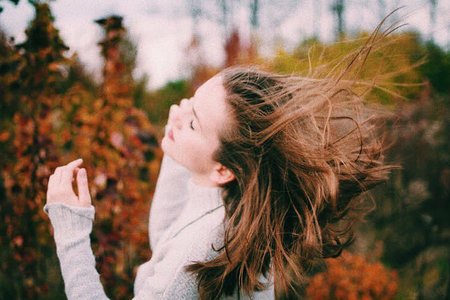 Anna Thetard / Her Campus
4 Fall Outfit Ideas From Your Favorite '90s & 2000s Fashion Icons 
Get ready everyone, because not only is fall finally here, but the fashion of the '90s and 2000s is back in full swing! If you're looking for some authentic ways to bring the old trends into your fall 2019 wardrobe, here are some of my favorite fall looks from classic TV show fashion icons.
1.

The Fresh Prince of Bel-Air

In West Philadelphia born and raised, the Banks sisters blessed us with some of the best outfits in '90s television. While all of the Banks family dressed to impress, it was Ashley that captured the perfect comfortable-yet-trendy fall look here. Even though the color might not scream autumn, the super oversized sweater combined with leggings and chunky sneakers gives Ashley the effortlessly cool vibe I can only aspire to have when going to class. She also has clearly perfected the messy bun. Goals, am I right?

Between Phoebe, Monica and Rachel, there are too many iconic fall looks to count. Even though Rachel may have more recognizable and classic autumn looks, I feel like this one combines a lot of the trends that are going to be popular in 2019. The muted color palette, satin skirt, chunky belt, and tights all work so well together. I could totally see Rachel posing in front of Central Perk in this outfit with her pumpkin spice latte to get the perfect Instagram picture. (Not to mention Rachel throwing water on Joey is always a mood.)

Lorelai and Rory have always been two of my favorite characters, and because Stars Hollow seems to have perfect fall weather for half of the year, this mother-daughter duo was bound to serve some serious autumn looks. This picture has two of the most quintessential pieces for fall: a burnt orange turtleneck and a denim jacket. To put together a modern combination of these two outfits, go for a tighter, darker version of the sweater and pair it with an oversized denim jacket and black jeans or leggings. Finish the look the same way Lorelai and Rory do with some simple glowy makeup.

Spotted: Serena Van Der Woodsen making her return to New York in this unforgettable fall outfit. Sorry B, but S takes our spot for the most iconic Gossip Girl fall look. Who cares if you just ran away from a serious cheating scandal if you come back looking this fabulous? The light leather jacket layered with stripes is too timeless to pass up. And you know we love a neck scarf. XOXO, HCUCF.
A new season is the perfect time to change up your wardrobe, and with the return of '90s and 2000s, fashion this fall can be even more fun! Because these older styles are becoming popular once again, be sure to check out your local thrift store to pick up some new pieces at a great price. If there's one universal thing that we can learn from Ashley, Rachel, Rory, Lorelai and Serena, it's to remember to have fun with your style and make it your own!