You Can't Go Wrong with These Women Lead Shows
My University of California, Zoom eyes can't stop me from watching television. I just take some breaks away from the screen and drop in some eye drops then I'm ready to go. As a woman who wants to write professionally in the future, a lot of the most recent shows I've been watching that have women leads have really motivated me. A lot of these shows are written and produced by women of color, giving new takes on life through a woman's eyes. Every woman is different so all of these series showcase women of varying ethnicities, sexual and gender identities, and personalities.
Comedy:
1. Never Have I Ever (Netflix)
This show was created by Mindy Kaling (one of my personal favorites) and Lang Fisher. It focuses on the life of  Devi Vishwakumar (Maitreyi Ramakrishnan), a fifteen-year-old Indian-American teenager who's been through a hell of a year. To help her deal with her misfortunate situation she makes a game plan to have a stellar sophomore year of high school. She wants it all: to get into Princeton, to be popular, and to date the hottest guy in the Los Angeles County School district. But will her boiling-hot temper get in her way? This is the ultimate teen rom-com series that will have you squealing from your seat. This show was just released on April 27th so you can watch it before the hype.
Photo by Thibault Penin on Unsplash
2. PEN15 (Hulu)
This isn't your typical coming of age tale. Firstly, the actresses are kind-of teens, and, by that, I mean that they are adult women playing as middle schoolers in the company of actual thirteen-year-olds. This show stars and was created by Maya Erskine and Anna Konkle and executively produced by The Lonely Island. They transport you back into the time of dial-up internet, Spice Girls, and gel pens a.k.a the year 2000. Despite having a strict Japanese mother, Maya always drags Anna into crazy situations like stealing a thong and watching their first R-rated movie, Wild Things. Tears will cure your dry eyes from all the time you spend laughing at Maya and Anna.
3. Twenties (BET)
Three best friends are trying to make it big in LA. It's hard enough as a woman, but when you're a black woman, there is an added struggle to be heard. Inspired by creator Lena Waithe's journey as a queer black television writer, the show focuses on Hattie, who reluctantly takes an assistant position at Cocoa's Butter, the most popular black show on tv but one that she hates. She leans on her two best friends, Marie, a producer and actress Nia. This show exemplifies how friendship is the best way to get through the hardships of Hollywood.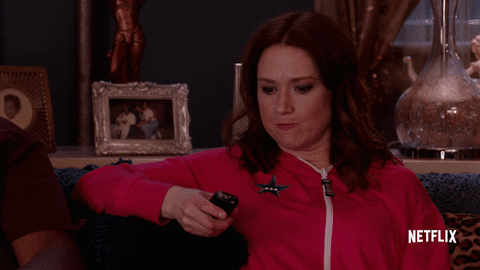 Netflix / Giphy
Drama:
4. Little Fires Everywhere (Hulu)
Based upon the book of the same title by Celeste Ng, this miniseries stars Kerry Washington as Mia and Reese Witherspoon as Elena. Welcome to Shaker Heights, Ohio, the seemingly picture- perfect town with residents who must be really from Get Out. Elena strives for perfection but is tripped up when an artist named Mia comes into her life and shakes things up. My favorite aspect of the show is the flashbacks that bring the past of Mia and Elena to life. We get to know them and why they are the people they are in the present. This show deals with the issues of race, sexuality, motherhood, and socioeconomics in the 1990s.  
5.  The L Word: Generation Q (Showtime)
Don't stress if you haven't watched the original The L Word, this show features members of the original cast and new actors. This reboot is for old fans and fresh eyes who want to step into the luxe life of successful lesbian Los Angelian friends. Here's an update for the returning cast: Bette Porter is running for mayor, Alice Piezecki has a talk show, and Shane McCutcheon is a famous hairdresser who has just returned to LA. The new cast is more diverse in terms of ethnicities and gender identities featuring a Latinx couple and professor who is transgender. This show is funny, heart-warming, and speaks to this generation.