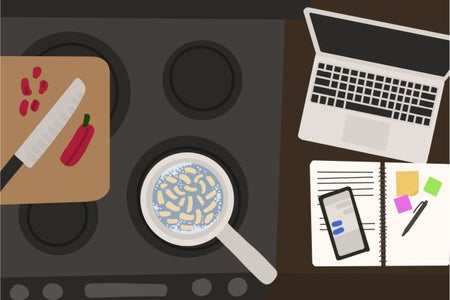 Megan Charles / Her Campus Media
Cooking Breakfast and Lunch on a Budget [Pinterest Edition]
Hello, and welcome to Cooking on a Budget — except this isn't a tutorial where I teach you how to cook. I'll be giving you what I consider to be pretty easy recipes that will turn those sad refrigerator ingredients into meals that will keep you and your digestive system smiling throughout the day. 
Breakfast: Savory Breakfast Bowl (@Always, Hunter)
This savory breakfast recipe is not the most eye-catching or mouthwatering dish to have ever existed, but it does the job quite amazingly when on a budget. So, to start, let's make sure we have the ingredients. Keep in mind that anything is subject to change, and you can spice it up by adding your pizazz to it. 
When it comes down to it, less is more — even if your stomach growls you into thinking the opposite. What I mean is that you shouldn't start by using, let's say, all five eggs. Remember, we are on a budget here, so we cannot risk having excess food we won't eat (unless you're meal planning or you want leftovers). 
For this recipe, I used:
- Two eggs
- ½ of a jalapeño (chopped) 
- ¼ of an onion 
- 4-5 cherry tomatoes (sliced)
- One red potato (sliced)
I cooked the sliced potatoes on medium heat in about one tablespoon of oil until they were golden brown. From there, I used a small pan to sautée the jalapeños, cherry tomatoes, and onions in about 1 tablespoon of oil (for about 2-3 minutes). Then, I added the eggs (scrambled until fully cooked). You don't need to follow the recipe step by step. Feel free to make it your own by adjusting to taste. This meal is perfect for a quick, light breakfast.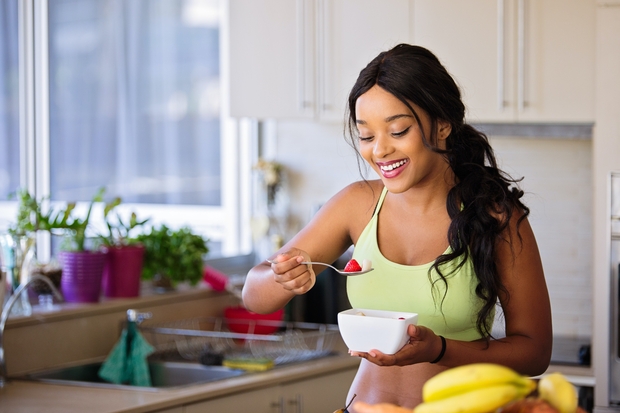 Lunch: Chipotle Chicken Fajita Bowls (@LifeMadeKeto)
Now, for the most overlooked meal of the day — lunch! Usually, for a college student, lunch is either breakfast (because you start class at 10am), or it's a mix between lunch and dinner, aka "linner." Due to these circumstances, we want lunch to be nutritious, but not too filling. Avoid trying to fit all the meals you missed onto one plate. 
Here we have a simple, yet quite filling meal (varies depending on your portions). This plate includes chipotle chicken fajitas, cauliflower rice, and fajita veggies. The concept that I appreciate in this recipe, once again, is its openness to modifications. You don't have to stick to its original content, which comes in handy when you just don't have one ingredient, have dietary restrictions, or simply don't like the flavors. You might be thinking, "Well, if we can change everything, then why not go look for another recipe?" — and you're right. You can always look for another recipe, but it is useful to start with a foundation of what you might want to make and go from there. The fantastic thing about cooking is that nothing is set in stone. Just like art, you can add your interpretation or put a twist on the ingredients. For me, that's what makes cooking so fun.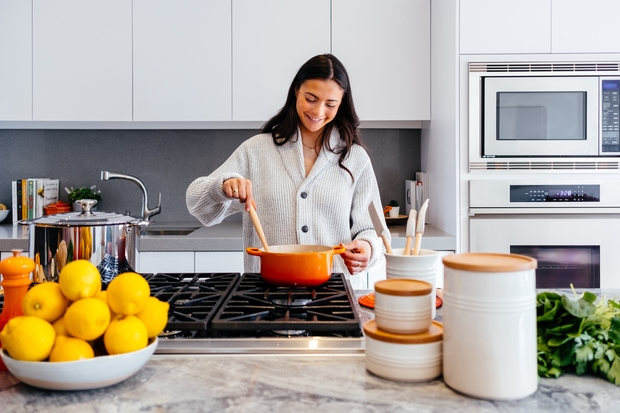 If you are the kind of person who likes to plan food for the week, this recipe is an excellent option for meal prepping. Not to mention, it might even be a great source of protein for a post-workout meal! 
In case you're like me and meal planning isn't your cup of tea, don't fret because this recipe also applies to us! Instead of following the instructions step-by-step, you can cut down the ingredients to fit the portion you're trying to achieve. 
The next time you think about eating Ben & Jerry's for every meal, I hope you look into these recipes in order to give your diet some variety!