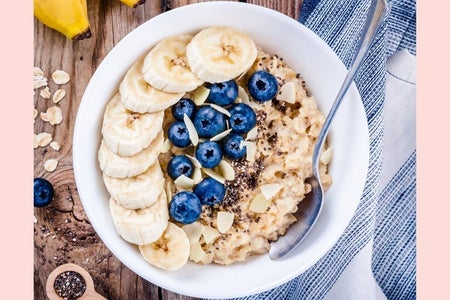 5 Oatmeal Recipes You Need To Try!
When I say I'm a big oatmeal fan, it's a massive understatement. To be completely honest, I've reached a point way beyond the enjoyment stage, rapidly entering the "addicted-and-can't-go-another-day-without-a-bowl-of-it" stage. While I love my fair share of savory breakfast foods like scrambled eggs, bacon, and hash browns, I've fully converted to an oatmeal addict.
Throughout my time quarantining and at boarding school, I've tried my fair share of combinations, flavors, and themed recipes, all of which are doable in a dorm room or a limited kitchen space. You need to get on these recipes ASAP!
This is a combination I made myself, and one I ALWAYS go to when I'm feeling lazy or want something casual. Sometimes, you just need that staple recipe you know by heart and can make with your eyes closed!

For this recipe, I take my bowl of quick oats and add protein powder (I prefer chocolate-flavored or just cocoa powder), chia seeds, and coconut sugar. I mix these ingredients as the base of my oatmeal before topping with frozen banana slices, granola (homemade or store-bought), and a tablespoon of almond butter. I then pour some almond milk on top, just enough for the mixture to get milky. 

I can't tell you how many times I've made this in high school and college, and I'm so excited for you to incorporate it into your lifestyle as well. The measurements can be adjusted for your preference; feel free to swap in any ingredients that better fit your taste buds!

2.

Peanut Butter Chocolate Cup Oatmeal

Personally, I'm a massive fan of anything sweet, and I love to find ways to satisfy this sweet tooth in a healthy way! If you love peanut butter cups or just the combination of peanut butter and chocolate, this recipe is for you!

First, I take my typical, plain bowl of oatmeal and add in chocolate protein powder. In this step, you can also add any seeds like chia, hemp, flax, etc. to spice things up. I then take my peanut butter powder (yes, this exists!) and mix it in. I sprinkle some chocolate granola and chocolate chips on top, and you can't forget a tablespoon of peanut butter! I then finish it off with a dash of almond milk to make it a little bit more liquid. 

This is sincerely one of my favorite oatmeal recipes! The best part is you can eat it for breakfast or for dessert!

Now this is a unique recipe for those who LOVE carrot cake (including myself!) Its perfect combination of warm, fluffy cake topped with sweet, sugary icing really does it for me and my sweet tooth.

For this one, you'll start with your oatmeal base. Add vanilla protein powder and some maple syrup or brown sugar. Mix in some shredded carrots, along with optional toppings like seeds or pecans. For the icing, combine some greek yogurt with coconut sugar, and pour it on top of the oats. Add some granola (whichever flavor you please) for crunch. and you're good to go! Voila! Carrot Cake Oatmeal!

This recipe is delicious, fulfills your carrot cake dreams, and also includes your daily intake of fiber from the oats, and vitamins/antioxidants from the carrots!

4.

Peppermint Bark (for the Holidays!)

With Christmas coming up, you'll want to try this peppermint bark oatmeal recipe; it's perfect for cold, crisp December mornings! If you're like me, you LOVE Christmas with a burning passion, and this recipe will fulfill all your holiday dreams with one bite!

Once again, you'll start with your bowl of oats. Add in chocolate protein powder (or cocoa powder) and other toppings like seeds and granola, depending on your tastes. 

Now, and this is the best part: grab a peppermint candy cane and crush it in a paper towel or plastic bag, and sprinkle it on top! Then, add a scoop of nutella, and there you have it! Peppermint bark oatmeal, absolutely delicious and sweet and just in time for the holidays!

As a kid, I used to be obsessed with peppermint bark, especially the bark sold in a tin box you could break after opening. Now, you can enjoy that same taste during breakfast! And the best part? It's healthy!

5.

Nutella and Strawberries (for Valentine's Day!)

I may not be a big fan of Valentine's Day, but I'm a die-hard fan of nutella and strawberries! Surprisingly, you don't need a lover to make this delicious oatmeal recipe.

For this one, add chocolate protein powder or cocoa powder to your bowl of oatmeal. Here, once again, you can add any other toppings you want. Then, add in freshly chopped or frozen strawberries – fresh is better, but either way tastes amazing. Add chocolate granola and a heaping spoonful of nutella. Finish with a splash of almond milk, and you're done! Nutella strawberry oatmeal!

I may have said this before, but this definitely ranks at the top of my oatmeal recipe list. There's no "perfect" time to eat this one: it's great for breakfast, lunch, dinner, or even as a snack!
Once again, you can adjust the ingredients and measurements used in these recipes depending on your specific preferences. You can swap ingredients, leave something out, or add something in. All of these recipe combinations are versatile, so play with the ingredients you have at home to make it your own!