If you're like me, you came to college with next to zero cooking skills. Sure, you can fry an egg, boil some pasta or make a piece of toast that isn't too burnt, but when it comes to being lone responsible for managing an easy daily meal plan, you'll become a bit lost. Well, before last semester I was right there with you. However, after a couple of weeks of living with a group of girls where we each took a night of cooking, I realized that I had to step up my game if only for the sake of my roommate's palates.
Here are five ways to spice up your dinner time… but with minimal spice, because I'm still not really that advanced:
Veggie Burger with ALL the toppings
I used to hate eating veggie burgers at home because I would eat them plain with ketchup. SO boring. Some of the toppings that have become a staple on my veggie burger: avocado, fried egg (with a runny middle for extra flavor), tomatoes, red onion, and lettuce. Throw some frozen sweet potato fries in the oven with a drizzle of olive oil and a bit of salt and pepper, and you have yourself a meal.
5 Ingredient Veggie Lasagna
The beauty of this recipe is that not only does it only call for five ingredients, but you can also modify these ingredients to make it so much easier. For example, I like using oven-ready lasagna noodles instead of cooking them separately to save time. What makes this recipe even better is that it makes enough for at least 6 people so you can be extra generous and feed your friends or have leftovers for days. The recipe is vegan but I always use regular ricotta and shredded mozzarella on top and it tastes just as good!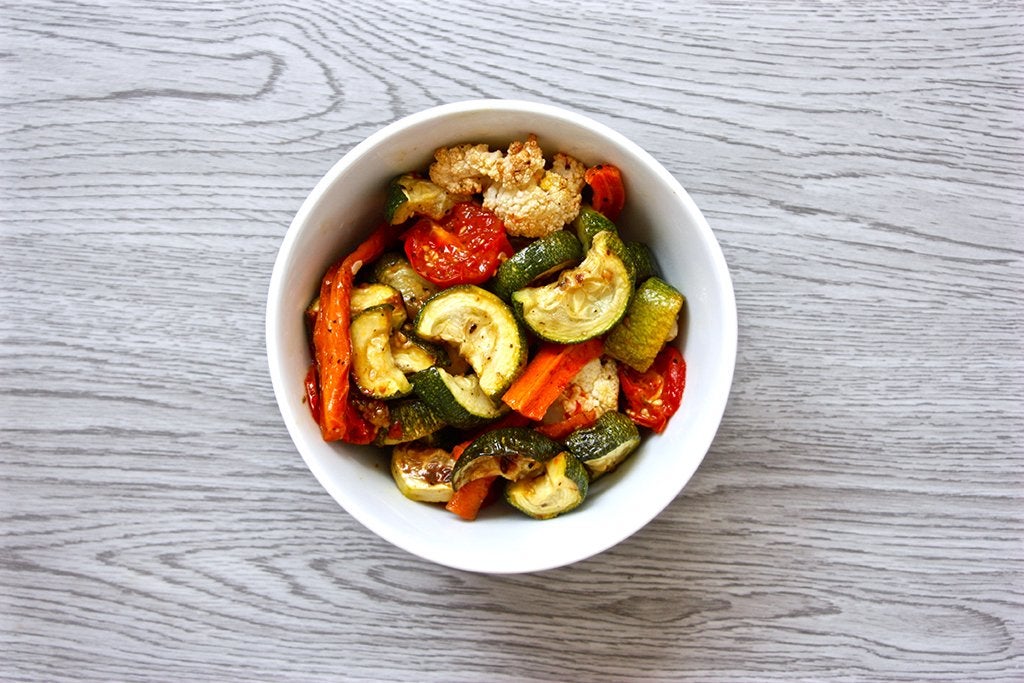 Roasted Chickpea and Veggie Bowl (or any veggie sheet pan)
The link attached will take you to a fabulous recipe that has an amazing dressing that's so easy that even I was able to figure out how to make it. However, it did require quite a few ingredients. So if you're in a pinch, my go-to is sweet potatoes, brussel sprouts, and vegetarian Italian sausage with olive oil, salt, and pepper. If you can get those brussel sprouts and sweet potatoes pre-cut, that's even better!
Pesto Pasta with Spinach
This one is really easy if you can find a good box of pasta ( I would recommend Banza chickpea pasta, it's amazing) and pre-made pesto (Trader Joe's and Meijer both have really good pre-made pesto). All you have to do is sauté some spinach, you do this by putting it in a pan with a little bit of water or olive oil, wait until it wilts, and bam, you have all of the ingredients you need! Throw some parmesan cheese and cherry tomatoes on top for a little extra flavor!
Quinoa bowls
Quinoa bowls are the best because you just need a package of quinoa and any toppings that sound good to you! Strictly follow the directions on the package and you'll be golden (easy as just add water!). Some of my roomies' favorite toppings: salad mix, avocado, cherry tomatoes, carrots, edamame, red onion, brussel sprouts, sweet potato, black beans, fried egg or tofu, and hummus. This will basically clean out your refrigerator, everything but the kitchen sink kind of meal, but it's so filling.
Hopefully this gives you a few ideas for mealtime- good luck!