6 Reasons Why Amy Poehler Will Forever Be My Spirit Animal
As someone who watches Netflix on the daily, I found myself in a slump last semester after finishing yet another amazing television series and not having anything to watch. With nothing to turn to, I decided to watch the pilot episode of Parks and Recreation, a show that had been recommended to me several times. While I wasn't quite sure if it was my "type" of Netflix series, I gave it a go.
Much to my surprise, I fell in love with it and in particular, Amy Poehler, so much to the point that I finished the series within a few weeks. I had heard of her before and had occasionally seen her on television and in the news, but since Parks and Recreation, my infatuation with her as both a woman and an actress has only grown. After weeks of trying to get my hands on a copy of her new book "Yes Please," I can without a doubt say that it was well worth the wait. She is incredible in many more ways than one. Here are just a few reasons why:
She's Hilarious – If Amy Poehler is known for anything, it's for her sense of humor. From her late night skits on SNL dressing as Hillary Clinton to her hit television show Parks and Recreation where she plays the deputy director of the Pawnee Parks and Recreation Department, Amy has had me laughing to the point where I couldn't stop. Her jokes are witty and she somehow always finds a way to be funny without even trying
She's Relatable – While her journey to make it in the comedy "biz," as she refers to it in her book Yes Please has not always been easy, her struggle and perseverance in accomplishing her dreams has made me find myself relating to her in so many ways. She has always found a way to connect with her fans and reminds us that she is just like us. She helps us to remember that people are kind and funny, sometimes rude and untrustworthy, but in the end, everything has a way of working itself out.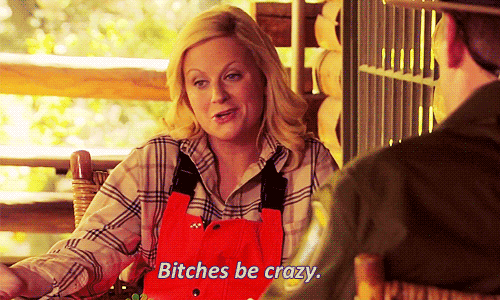 She Would Make a Great Friend – Not only is Amy one of television's most beloved comic actresses, but her friendship with the iconic Tina Fey has been glorified for the past twenty years. Their bond began when they met at Chicago's ImprovOlympic in 1993 and has only grown. Their friendship is one that I admire, and one that I look for myself when it comes to making friendships of my own. The two have always been there for each other, and only have the best things to say about the one another. Just recently, Amy and Tina starred in Universal Pictures' comedy film Sisters where they were praised for their chemistry on screen together.
She Says What's on her Mind – There is not a moment in Yes Please when Amy holds back what she has to say. Her writing is honest and vulnerable, which makes her story that much more real. She jokes about relationships, job hunting, her dreams, and everything in between. Oftentimes she would write about something I wasn't expecting, but about halfway into the book I realized that when it comes to Amy, you have to expect the unexpected.
She's Beautiful – Both inside and out. As a single mother of two with a successful, growing career, Amy is a role model for women everywhere. Not to mention she looks fabulous every time she walks the red carpet. #WomenCrushWednesday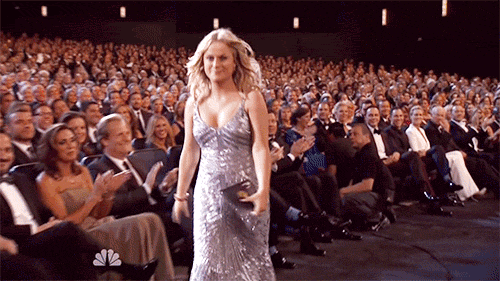 She's Not Afraid to be Herself – It was no surprise when Amy was asked to play the voice of Joy in Disney Pixar's animated comedy Inside Out. Playing an upbeat and energetic character came easy to her, as she has always encouraged good vibes and positivity. She enjoys her solitude, but is more than well balanced, charming and all-around silly. She and Tina even wore disguises as fake Golden Globe nominees when they co-hosted the awards show in 2013. It makes sense why she is often called the queen of comedy.
Images courtesy of: New York Daily News, Tumblr, Giphy, and Pinterest