To preface this article, this is my second year attending UMass Amherst. However, after the abrupt disruption of a pandemic during my freshman year, and staying home for nearly 11 months, I finally returned to Amherst for this spring semester. So, I would not call myself an expert in the Amherst area; however, I have been on my fair share of runs around here. Maybe it's the boredom of doing the same route, or maybe a little bit of adventure in me, but I always end up creating a few runs that somehow get my mind off the actual act of running, and find myself almost enjoying it. Here are my top three routes at the moment.
1. The Mullins Center
A common direction I find myself running in is towards the Mullins Center. Although it is not the most exciting final destination, it is where the infamous Covid-19 tests take place. If you have to make the trip here to get tested, then why not combine it with your workout for the day? Given that there are many routes to this destination, it can be designed as a quick run to get a test, or you could add a longer loop to make it your long run for the week. Regardless, it is a productive run for those who are short on time for the day.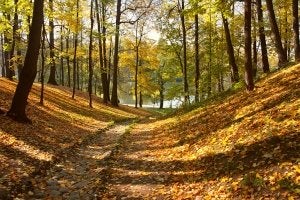 2. Orchard Hill
My second new favorite route is around the Orchard Hill Residential dorms. If you are on Eastman Lane, past Sylvan, but before the Police Department, you will see a little path that goes through a golf course-like field. This small segment, of less than half a mile, is my favorite part of this route. The small sidewalk is surrounded by green fields that make it feel like you are on a resort going for a quick morning jog before getting to spend your day by the pool. This mental image lasts about five minutes until you look up and see a brick dorm building that snaps you back to reality. However, once you make it through the parking lot, you get to run down the torturous Orchard Hill–picking up your pace and giving yourself a little breather. This route is great for exploring parts of campus that you maybe didn't know existed.
3. Norwottuck Rail Trail
Finally, my newest and favorite path is the Norwottuck Rail Trail. Earlier this year, maybe during February when there was still snow on the ground, I changed up the direction I usually run in. Instead of running toward campus I went the other way and ran down South Pleasant Street. As I was jogging near Amherst College, I looked over and saw an aqueduct-like path covered in snow. Bored of running in a straight line and looking for an excuse to walk, I decided to explore this path. Given that it was patted down with snow, with tracks from cross-country skiers, it was not ideal running conditions. I didn't make it too far because of the uneven surface and fear of twisting an ankle, so I turned around. 
However, a month later, when the snow had melted I went back to this secret location. It turns out that under the path was a beautifully paved mini road that even had yellow lines in the middle to separate the two directions. I ran in one direction, then the other direction the next day, and was amazed by this perfect running path and I believed I had discovered a secret running trail. However, I began to mention it to my friends and it turns out it's pretty well known. As the weather started to warm up, many, many more runners, walkers, bikers, and even the Amherst College Track Team filled this "secret running trail" I thought I discovered. Nevertheless, it is a nice, flat, evenly shaded, and sunny path, that extends for miles in both directions, that I would recommend to anyone looking for a new route. 
As the weather is getting nicer, you may be looking for a new running or walking path to explore. I highly suggest one of these!