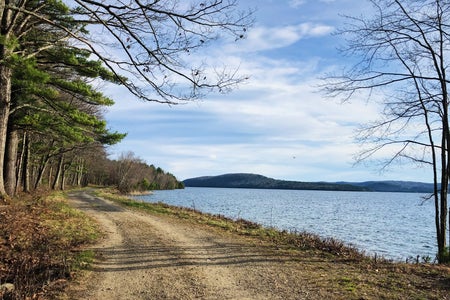 I Went to a Different Quabbin Gate Every Day for a Week. Here's How They Rank.
As a resident of western Massachusetts, I live within a short drive of several Quabbin gates. (For those who are unfamiliar with the area, the Quabbin Reservoir is one of the largest unfiltered water supplies in the United States and is one of the primary water suppliers for the city of Boston.) Throughout my life, I have had the privilege to go on walks, hikes, and bike rides on these trails with my family. These active habits have picked up again since quarantine, but I noticed that we typically gravitated towards the same paths time and time again. 
It was time to try something new. 
After finding a map that had all of the labeled gates, we decided to explore a different trail each day for a week. While I ranked these trails based on my personal preferences, (and it was difficult!) I could easily return to any one of them without any complaints. Here's what I found when I emerged from the beaten path:
Time: 1 hour 30 minutes 

Incline: Relatively flat

Best Feature: Walking alongside the water

Other Notes: This gate has some gorgeous views! When taking the left trail after parking (there was a split) I didn't have to walk for long before the body of water emerged on my right. This walk was both easy and scenic, making it one of my favorites. In the later afternoon, the sun was dazzling on the water's surface, and the mountains in the back were breathtaking. I would definitely recommend this trail for anyone looking for some stunning views!

Time: 1 hour 45 minutes

Incline: Moderate 

Best Feature: View of the water at the end of the trail

Other Notes: This trail began with a steady decline beside small streams of water. Towards the end, the path leveled out before finishing in a little beachy area. I really enjoyed this spot! I could view several of the islands in the water with their green vegetation, and some distant mountains too. The walk back up was definitely a work out, but I would say it was well worth it. 

Time: 45 minutes 

Incline: Relatively flat

Best Feature: Keystone bridge

Other Notes: Right when I got out of my car, I could hear the water rushing nearby. The keystone bridge laid right at the beginning of the trail, and it was a spectacular spot to take pictures, or to just reflect. There were also periodic clearings in the forest with grassy fields after it merged with Gate 29. Bikes are permitted on this gravel and concrete path, making it an ideal destination for a family outing. 

Time: 1 hour 10 minutes

Incline: Initial hill, but relatively flat after that

Best Feature: Stone walls

Other Notes: After crossing over rushing water, I was greeted with a gradual incline that leveled onto an even trail. Stone walls lined this path, giving it a touch of civilization in the wilderness. Instead of turning around at the end, I walked onto the main paved roads (which weren't busy at all) in order to create a loop. Here, there were a few homes, a graveyard, and the continual feeling of being immersed in the forest. 

Time: 1 hour

Incline: Moderate

Best Feature: Waterfall off of 22-3

Other Notes: Following the faded green sign that marked the start of this gate, I was brought to a little wooden bridge to begin my walk. On this path, there were vibrant plants sprouting in every direction. It also intersected with a few other trails, and so I took a detour on 22-3 to see where it would lead. I was pleasantly surprised to discover a foamy-white waterfall flowing over some sizable rocks, which was a rewarding find. 

Time: 40 minutes

Incline: Moderate

Best Feature: Budding trees

Other Notes: I was a bit crunched for time, so I didn't make it all the way down to the water. I liked how there were informational signs posted at the start of the trail that relayed some of the activities that were available on this path. Shoreline fishing was one of them! While walking, I saw some people with poles and other gear heading down to the water. Though I didn't reach the same point they did, the part of the trail that I did see was clean and clear. 

Time: 45 minutes

Incline: Relatively flat

Best Feature: Powerlines

Other Notes: This gate was located at the end of an uphill rocky route, and there was limited parking. With periodic ups and downs, this path weaved through woods. There was an opening at the powerlines that presented a far-sighted view of the area. On both sides, there were places where trees were cleared, and the brush still remains. While this wasn't the most picturesque path, and there was a bit of trouble getting there, it was still a quiet and remote location to exercise. 
There are over 50 gates in the Quabbin, and I have only ventured into a small portion of them. For more information about parking, activities, and restrictions, check out this website. Stay safe out there, and happy exploring!