It's no lie that whenever I go into Trader Joe's planning to spend $20 I end up leaving with a drained bank account and seven bags (reusable, Trader Joe's bags, of course) full of enough food to last me the next six months. Amidst the irresistible "Everything But The Bagel Greek Yogurt dip" and the "Chocolate Mousse Cakes" (which I highly recommend), I've come to craft up some fun and delicious recipes that must be passed on to fellow TJ lovers. Here are three of my go-to dishes!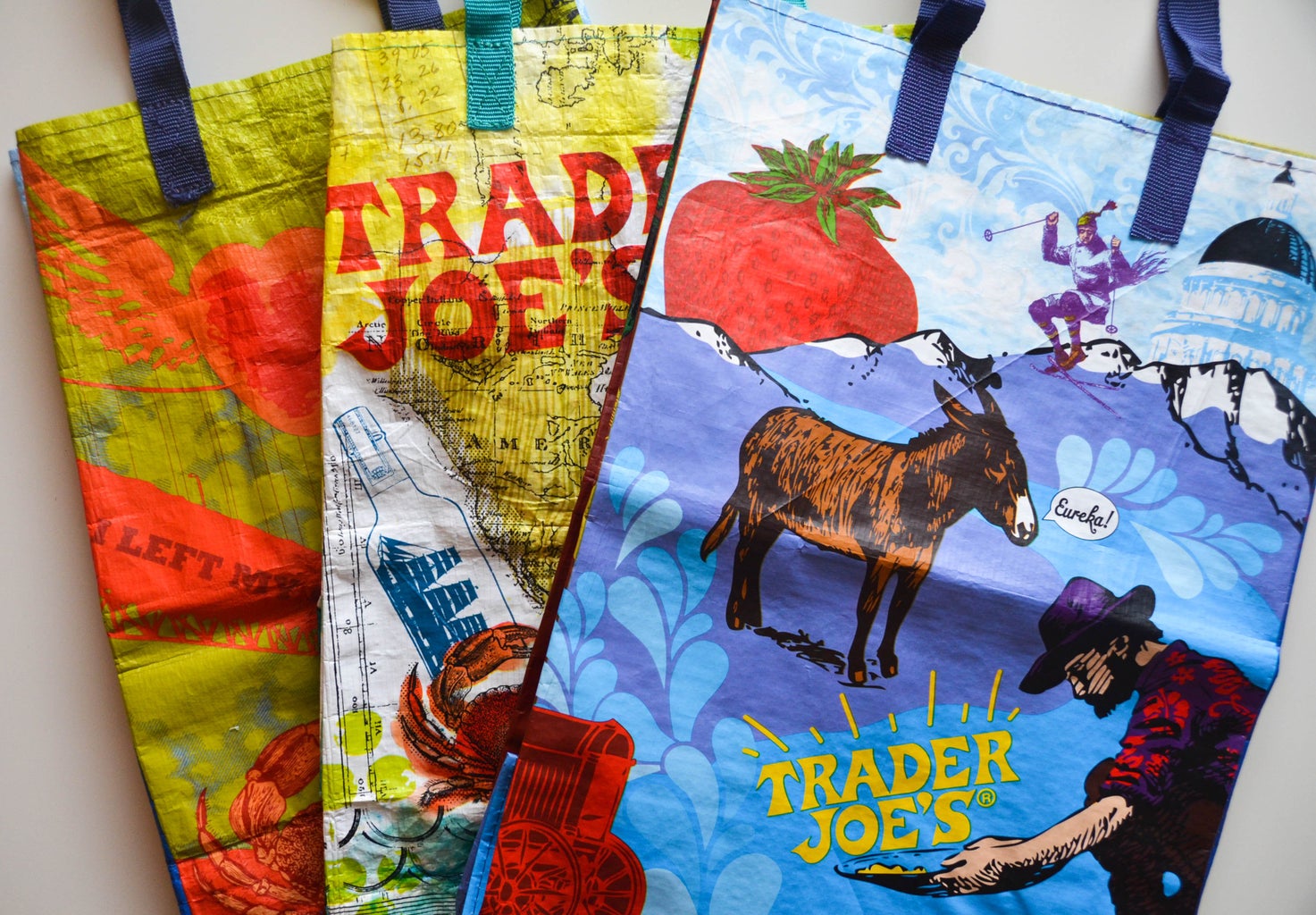 1. Spiced Sriracha Tofu & Rice
By far one of my favorite meals made with ingredients from TJ's I've tried thus far. Perfectly easy to whip up and perfectly hard to resist from devouring immediately. 
Ingredients:
1 pack sriracha flavored baked tofu
Spicy cashew butter dressing
Hot sauce/buffalo dressing
"Everything But The Bagel" Seasoning
Jasmine rice (or rice of your choice)
Oil (I use avocado oil, you're welcome to use whatever you have!)
Fresh cilantro for the chopping
Directions:
Cook ya rice! If using, wash cilantro and chop up finely. 

While rice is cooking, slice up the tofu to your liking, I usually go for very thin slices. 

Put the tofu in a pan with a small drizzle of oil. Cook until both sides are crispy, about 10 minutes total.

Turn the stovetop down to low heat, at this point I add more hot sauce/buffalo dressing for more kick, as well as Everything But The Bagel Seasoning. 

Once the rice has cooked, add the cilantro and about a tablespoon of butter if desired. Fluff with a fork and add to plate!

Next, add your tofu slices and top with spicy cashew butter dressing and more bagel seasoning! Dig in :-)
2.   Vegetarian Stuffed Peppers
Possibly the best fake beef I've ever bought comes from Trader Joe's and in my efforts to eat less red meat, this has been a lifesaver. Perhaps I'm just fantastic at seasoning these soy crumbles but they are now a staple in my apartment. 
Ingredients:
Beef-less ground beef
Assortment of peppers of your choice
Medium onion, chopped
Garlic cloves/minced garlic
Diced tomatoes
Tomato puree
Rice (also of your choice)
Shredded mozzarella cheese
Directions:
Preheat oven to 400 degrees. Cook ya rice!

In a skillet over medium-high heat, add chopped onion and garlic, and tomato puree. After about 5 minutes, add your ~beefless beef~ and break it up into small pieces. 

Once the rice is cooked and your beef is lookin' good, add the rice to the skillet alongside the diced tomatoes. Season with quite literally anything in your spice cabinet that looks like it'll add some good flavor! (not gonna lie, this is what I do every time so I don't have definitive spice mixtures to throw your way)

Wash and cut the tops off of your peppers, and place on a baking sheet covered in foil. 

Spoon your tomato-beef-rice mixture into the peppers and top with mozzarella! Cover them with foil and put in the oven for about 25 minutes/whenever the peppers are soft.

Top with more cheese if ya interested and dig in!
3. Ground Turkey Spaghetti Squash Bake
This was a recipe I found online (somewhere I cannot remember) but it's been a go-to ever since. Having grown up with my mom cooking spaghetti squash frequently, I was excited to start cooking up my own meals with a childhood favorite!
Ingredients:
Spaghetti squash
Ground turkey (or beef-less beef if ya dig!)
Pesto
Garlic cloves/minced garlic
Diced tomatoes
Mozzarella cheese
Directions:
Preheat oven to 400. Slice spaghetti squash in half, scoop out seeds, and drizzle (lightly!) with oil and salt and pepper, and place face down on a baking sheet. Cook for 40 minutes for an al dente texture, closer for an hour for softer, mushier squash.

About 20 minutes before the squash is finished baking, cook the ground turkey and garlic in a skillet over medium-high heat until browned. Once cooked, add pesto and tomatoes.

Once tomatoes soft, cover in mozzarella cheese and cover pan so cheese melts. 

Once squash is cooled, use a fork to scrape the squash out of its *shell* and add to a bowl. Season with more salt and pepper and add pesto. 

Add turkey to squash and dig in!
Here you go! My go-to college-eating-on-a-budget, flavorful-as-ever Trader Joe's dishes! Enjoy!