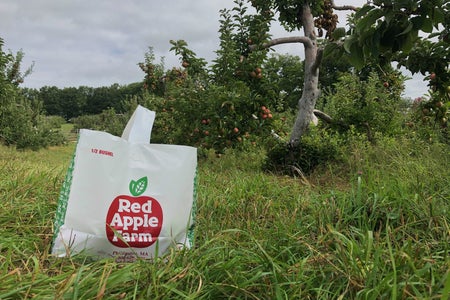 Original photo by Sophia Apteker
5 Things to Make With Your Freshly Picked Apples
Apple picking is an essential part of autumn in New England. Whether you're going to the orchard with friends or family (or both!) there's guaranteed to be some good laughs, picturesque photo opportunities, and obviously an abundance of apples. But when you're coming home with bags of fall fruit, you may be thinking to yourself, "what am I going to do with all of these?". 
Don't worry, you're not the only one. Here are five things to do with your freshly picked apples. 
Original photo by Sophia Apteker

Last year, when I would come home from school for breaks or a long weekend, my mom would always whip up a few batches of these muffins. Even though she made a couple dozen (this recipe yields two dozen), they would never last too long in our house. They were so quickly eaten up! If you make some yourself, you'll understand why. 

2.

Apple Pie Breakfast Cookies

These apple pie cookies will seal the breakfast deal. With whole grain oats, apples, and cinnamon, they could be eaten alongside the morning paper, or even later in the day as a tasty snack. If you follow this recipe online, you can select how many cookies you'd like to make, and the recipe will adjust accordingly. Just be sure that you make enough!

Original photo by Sophia Apteker

This light lunch beautifully balances sweet and savory flavors. For a while, I had just cut apple slices to put on top of my regular garden salads. This was good, but I knew that the flavor could be a bit better. For some salad inspiration, I thought back to the menus of some of my favorite lunch spots and picked some of my favorite ingredient pairings. Of these were walnut halves, cranberries, red onions, and spinach. (And now apples, of course.) I use a vinaigrette dressing, but feel free to try whatever dressings or additional toppings you enjoy!

4.

Apple Butter (for quesadillas!)

I never used apple butter in my home growing up, so I was intrigued when I saw a recipe for it. You can follow this recipe to make the apple butter, and then this one to use it in a quesadilla. According to Julie Clark in her blog "Tastes of Lizzy T," the difference between applesauce and apple butter is that, "apple butter is cooked longer than applesauce which creates a thick, smooth, intense apple flavored spread." This spread is lovely on sandwiches, and even quesadillas. 

5.

Cheddar and Apple Grilled Cheese

Original photo by Sophia Apteker

If there's one meal I feel like I could make in my sleep, it's a grilled cheese sandwich. You know the deal. Cheese. Bread. Butter. Deliciousness. And now? Apple slices only enhance the classic combo. It's so simple and so worth it. If you're really feeling it, you can even add on a few slices of bacon, too. Your tastebuds will thank you later.
No matter where your culinary expertise lies, these apple recipes make it super easy to add a little fall flavor to your diet. Did you try making one of these dishes yourself? Send us an email at [email protected] or a DM to @hcumassamherst on instagram and let us know how it turned out! Hopefully it was apple-solutely scrumptious.