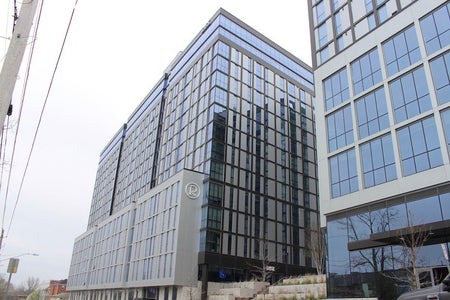 What No One Tells You About the Rental Crisis in Iowa City
Iowa City's rental housing crisis isn't news. There has been a constant, century-long struggle to find affordable and appealing living quarters for university students who wish to live off-campus - but what's currently being done to combat it?
According to the University of Iowa, the total number of undergraduate enrollment at the University of Iowa is 23,989. Of that number, 27 percent live in college-owned and operated housing while the rest, 73 percent, rely on off-campus housing. 
Iowa City is losing its small-town feel due to all these new high-rise buildings popping up. In order to make advancements in apartment-style living, the city is neglecting student populations who aren't able to make the means to afford this style of living. In response, student leaders have created resources to help you navigate the rental housing market.
As student government's City Liaison, Austin Wu was the non-voting representative to the Iowa City Council and Downtown District and previously served as UISG's spokesperson for local political affairs. He has been heavily involved in the topic of affordable student housing in Iowa City. In his term, he published the second issue of UISG's Renter's Guide. 
"[The Renter's Guide] was created to give student renters an information advantage. It provides concrete information in an easily accessible place, from an official source, and based on student information only." Wu says. "One-third of apartments don't collect recycling, which is against city law, so it informs students on items like that."
Based on information from 548 responses from a qualtrics survey conducted in April of 2019, this 33-page document covers multiple topics, such as copies of leases, overall landlord performance, and likelihood to rent again. Landlords with the top responses in this survey include Apartments Downtown, Apartments at Iowa, Apartments in Iowa City (Hodge), Apartments Near Campus, and Private Landlords. 
Rent prices, arguably the most controversial topic in the current affordable housing crisis, are listed as the very first piece of information in the document. 
This issue isn't new. The affordable housing crisis has been a problem long before these high-rise apartment buildings started popping up. 
Howard Moffitt, an eccentric man, was among the first to try and combat this issue. Moffitt built anywhere from 100-200 affordable houses in Iowa City between 1924 and 1943, five of which are still standing today and protected against demolition by the U.S. National Register of Historic Places. 
Though, because of his lack of funds, he resorted to using unjust methods to build these small cottages. He followed no blue-print and used materials that other builders deemed unusable. He used limestone from river bends, bricks salvaged from other sites, doors and staircases from damaged buildings, and chair backs for decoration, among other materials.
Tyler Fyotek, a modern-day Moffitt cottage resident said, "A railway rail is the main support of my house."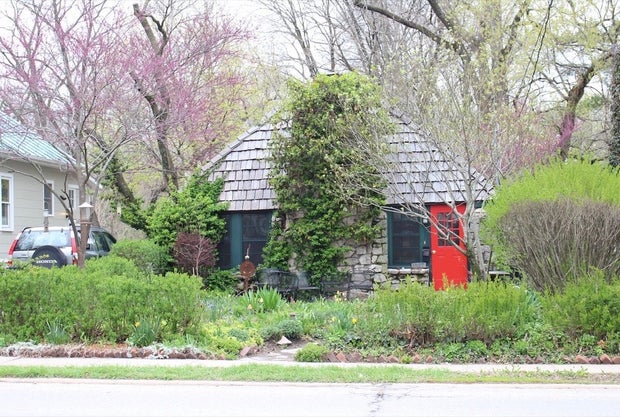 Grace Colton
However, these homes are not deemed affordable now due to the expensive upkeep. Fyotek recalls the challenges of living in a Moffitt cottage. He said that it is very difficult putting up shelves, cabinets, or working with hard plaster since there are no straight lines to work with. 
While these cottages were not built solely for undergraduate students and were geared more towards graduate students and faculty, they represent the longtime struggle of finding affordable housing. 
Fyotek said, "housing [in Iowa City] is not very affordable and there are a lot of very poorly kept units--not at all worth what they are charging."
Sarah Henry, former Vice President of University of Iowa Student Government, agrees. "Overall, students are frustrated. We all have a shared experience of living in gross apartments with no security, and pay too much for it all." 
Check out our newest episode of Hear For It to listen to the stories of two students who have searched for and lived in apartments in Iowa City: https://bit.ly/2yyyi8K 
Countless apartments in Iowa City have the same key or building door code to provide ease of entry for landlords, however, this leads students to feel extremely unsafe. Additionally, students living in Iowa City for more than one year have found difficulty in finding affordable housing with well-kept amenities like laundry or working appliances in the kitchen. 
Student Legal Services offers free legal advice to University of Iowa students and, according to Amanda Elkins, housing issues are by far the most common problems that students come to her with. Elkins is the Director of SLS and is often fully booked with meetings with students who are seeking legal advice. 
 Many new Iowa students quickly find out that the majority of the rental housing companies in Iowa City don't offer affordable prices or personal service. Students often come to SLS for help when their security deposit is wrongfully withheld or when their maintenance requests aren't being fulfilled. 
 According to Elkins, these landlords know that they can get away with this behavior, because students often don't know how to stand up for themselves and don't have other housing options to turn to.
As a result of these many issues, "faux luxury" apartments in Iowa City are becoming more and more common. For new apartment construction in Iowa City, "[Faux Luxury] is the default," City Liaison Austin Wu shares. This type of design includes additional features and amenities like granite countertops, stainless steel appliances, pools, and gyms.
"Students want better-maintained, more affordable apartments...not these types of buildings", Henry adds. The average rent for a faux-luxury apartment can run up to $1,200 per room, approximately twice as much as the reported average rent in UISG's 2019-2020 Renter's Guide. 
City Council members met with UISG at a senate meeting earlier this semester in February to discuss this issue and provide updates on the city's newest apartment complex. Student leaders expressed that they did not like this idea and are generally displeased with the upcoming construction. However, it was too late. The senate meeting brought up great conversations about the current rental crisis in Iowa City, but construction for the Pentacrest Gardens is still set to continue.
What does this mean for students in the coming years? Henry predicts that the separation of students based on socioeconomic status will increase, while also enabling a culture of preference for purely materialistic desires. Bad apartments will continue to get worse, forcing students into unsafe or far away places. 
The Pentacrest Gardens project will be the newest high-rise, luxury apartment complex to be built in Iowa City. With the promise of 900 units, 1500 bedrooms, and two 15-story buildings, this project will provide more housing to students in Iowa City.
"It's the largest development in the city's history," Wu says.
Senior Emma Thayer has lived in the current Pentacrest Gardens apartments on Burlington Street for 2 years. She believes that an update to the buildings will be good, but "they should only be doing renovations on the current spaces - like new kitchen appliances and flooring. Another luxury apartment complex is unnecessary and doesn't fit the needs for students." 
During the joint senate meeting in February, Wu shared that members of the City Council confirmed rezoning the project, the approval of a height bonus to the towers, and indicated that the building's developer had paid the city's affordable housing fee for inclusionary zoning ordinances. 
By paying this fee, of approximately $9 million, developers bypass the requirement to make 10% of their units "affordable", confirming that rent will certainly be above what students can afford. The $9 million will instead go toward funding other affordable housing projects in the district.
The current Pentacrest Gardens is still providing leases to new tenants for 2020-2021. Current residents, like Thayer, were not aware of this destruction and found out from news articles - not their landlord. 
Wu sees the positives and the negatives in this situation, however. "Density is good. By providing more spaces to live, this could possibly let the rent down in other complexes." He also knows that a lot of students do not pay for their apartments on their own. "The rental market is naturally occurring. Landlords establish the price, and parents will still pay for it."
The hunt for affordable, well-kept apartments has been a struggle for students in Iowa City. The mere existence of the Moffitt cottages provides evidence that this crisis has existed for centuries - and there's no clear proof it's going to end anytime soon. 
Interested in sharing your experience living and renting in Iowa City this past year as a student at the University of Iowa? Participate in the third edition of UISG's Renter's Guide here: https://uiowa.qualtrics.com/jfe/form/SV_5b9lAzybRQCcbqJ and visit https://legal.studentlife.uiowa.edu for access to additional resources on how you can protect your rights as a renter.