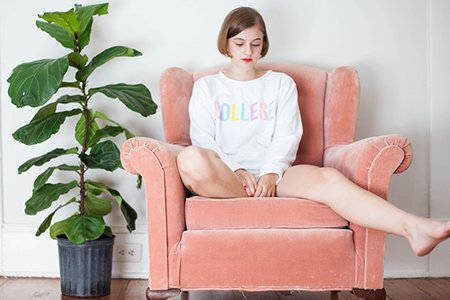 Kristen Bryant / Her Campus
In light of online classes, many students have been spending an increased amount of time 
with their families. Perhaps they are spending more time with the people they lived with, or 
maybe they have moved back home. While this is challenging in its own ways, those of us who 
are spending this strange period alone are faced with our own set of struggles. In my case, I have 
been self isolating in a 450-square-foot apartment all alone for the last two weeks. At first, this 
was lonely, strange, and even infuriating. But as time has gone on, I've realized that while 
different, social distancing alone has been--in its own strange way--a gift.  
Social distancing alone has given me a much needed break from the hustle and bustle of 
the world of work and school, but also the difficulties that some of our interpersonal 
relationships can bring as well. In staying home I have not only created a schedule that is more 
flexible and works with my personal needs, I have also gained the freedom to choose who I 
interact with, and when. Of course, this does not mean that I have closed myself off from my 
friends and colleagues who need support during this time, or that I am preventing myself from 
reaching out when I need support. Instead, this means that I have taken some much needed me 
time during this turbulent time, which as it turns out, was much overdue.  
If you're wondering why I am sharing all of this with you, it's because I want to 
encourage you to rethink your relationship with social distancing, especially if you're spending 
this time by yourself. During this time, it is more important than ever to be kind to yourself, 
which means taking time for yourself and setting boundaries. Whether that means choosing to 
study at times that are more convenient for you, or going off the grid for a few days, it is 
perfectly okay to do whatever you need to in the name of self care and love right now.  
Stay strong and safe out there everyone. I hope you're indulging in what you need most 
right now, regardless of if you are surrounded by your closest family, or by yourself.