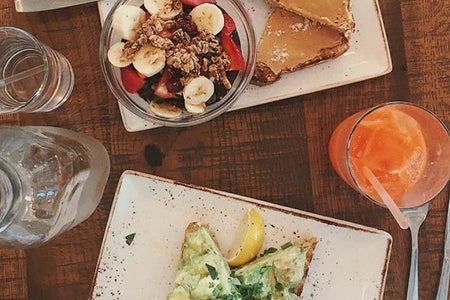 Tessa Pesicka / Her Campus
Quick Snacks To Make When In A Rush
Being a college student usually means that you're spending most of your time focusing on school, whether that be studying or completing projects and assignments. This leaves little time for meals, which is why I have compiled some of my best easy and quick snacks that will leave you fulfilled. Best of all, you can make them in only a couple of minutes. 
Peanut Butter and Honey Toast 
This is by far one of my favourite snacks to eat while studying for my exams. It's extremely simple, with only three ingredients required and the combination of peanut butter and honey makes the perfect pair. I love to use the cinnamon raisin loaf from Cobs as my base and toast it in the toaster which helps melt the peanut butter and create a delicious treat 
Cucumber Cream Cheese Sandwich 
Another three-ingredient meal, this sandwich is the perfect snack when your fridge is lacking those classic sandwich ingredients. I spread herb and garlic cream cheese over my piece of bread and then top it with cucumber and just like that the sandwich is ready to go. You could even top it with pepper or salt or any other toppings to enhance your sandwich! 
Pita Bread Pizza 
This is perfect for someone who is craving pizza but doesn't have the time to make or order a traditional pizza. Using a large piece of pita bread, you can cover it with tomato sauce and any other pizza topping you can find in your fridge. Then pop it into the oven for a few minutes and before you know it you have that pizza you have been craving right in front of you.