Why Pinterest is the Superior Social Media App
I once saw a meme that said Pinterest is like social media without the "social" part. I quickly realized that, that is exactly what I wanted. 
For those who don't know or who have never downloaded Pinterest, "Pinterest is a visual discovery engine for finding ideas like recipes, home and style inspiration, and more." "Visual discovery engine" is probably the best description I can think of for what the app is--all pictures. The more you use it, the more you seem to find exactly what you were looking for and more! 
When they say that Pinterest lacks a "social" aspect, it is meant that Pinterest is not really a platform designed for sharing one's life. There is a commenting feature but it is not widely used. The users of Pinterest themselves are de-emphasized--it's all about the content here. Users have "profiles" but the site is formatted only to show you their saved pictures, or "pins". 
For the past year, I have been curating Pinterest boards for my dream house, dream wedding, dream tattoo (that I may or may not ever get) and even one board titled "Just Some Beautiful Dresses." I have found social media platforms like Instagram to be places that make me feel chronically not enough--not rich enough, not fit enough, not pretty enough. Platforms like Twitter and Facebook can be toxic in other ways.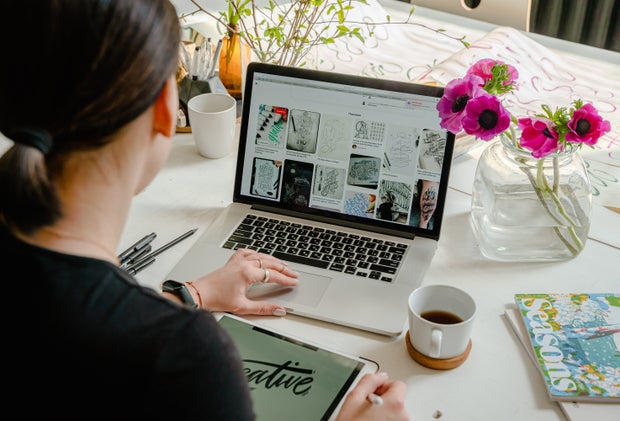 Photo by Anthony Shkraba from Pexels Pinterest gives me something to look forward to. I can safely say that it is the only social media app that doesn't leave me feeling drained, emotionally or mentally--quite the opposite actually. The tone of Pinterest is different to any other app. There's none of the pressure of having your posts seen publicly, nor the pressure of having to keep up with anyone in terms of likes and comments. 
Having a place to save all of my favorite style ideas makes me excited to have my own space one day, free of roommates or family, somewhere completely and totally mine to decorate how I like. I've been able to hone my style better and find thrifty ways to make my living spaces reflect my personality. I've even found great recipe inspiration, which I've incorporated into some of my meals. 
If you want a break from social media, or a place to just chill and save pictures of cottage-core dresses, I can't recommend Pinterest enough.