What To Check Out at Sephora's 20 Percent Off Sale
It's a great time to revamp, reload and update your products and devices.
But, if you are into beauty than this sale is a great time to get that device or that luxury product that you've been eyeing all year. However, there are tons of devices and products available, that it can become very overwhelming.  
Here are some items that you might want to check out while you can save some major money: Are you looking for a regular light device? You might want to take a look at 'Skin Inc. Trilight++.' While I haven't personally tried this device yet, it's a hand-held device that lets you combine multiple light settings, along with a slight vibration to take care of various skin issues at once, such as acne and dullness. It is portable and works with 3 AAA batteries. Another option is the 'PMD Kiss Lip Plumping System.' Whether its Angelina Jolie's lip or Kylie Jenner's lip plumping, people are constantly trying to find a way to plump their lips. This device plumps your lips for you without the use of injectable medication or chemicals in glosses and lipstick. I was told once by a cosmetics representative that the reason the makeup makes your lips plump is because many of the products contain chemicals that cause an allergic reaction. Eeek. However, I've noticed that what makes PMD's serum stands out is that it contains hyaluronic acid, a popular skin care ingredient that many use on their face. PMD uses it to help create a fuller appearance of the lips. While I haven't tried this one either, if you are looking for fuller lips you may want to skip the chemicals and try this device.
In terms of the 'Foreo UFO' device, I have tried it and I am completely in love and would highly recommend. This device can do multiple things at once. First, it can apply heat or Cryo-Therapy which feels like a cold pack that is chilled to the perfect temperature. Also, it allows you to apply a mask and use led, red, green and blue lights at the same time. The device also vibrates and Foreo has an app that lets you control the device. They even make masks that are specifically designed to be used with the UFO and its travel sized companion, the UFO mini. Each mask has a specific combination of settings that is suggested to be used with it. All you need to do is to scan the mask's barcode in the app and the settings are automatically sent to the device. I have personally used the device without scanning the masks by going to the test section of the app which allows you to adjust the temperature and the lights that you use. It is portable and runs on a charge. Masks: Glamglow Firming mask I love these masks. They come in various colors including pink. I found that after using this mask, my skin felt firmer and it was great at removing fallout glitter on your face. Dr. Jartt Water mask Straight to the point, this mask was great at rehydrating skin. In the morning my skin felt fresh, plump and smooth. UFO Foreo mask 
There are various versions of these masks and you don't need the device to put the masks on your skin. While it isn't a sheet mask you can take the pad and apply it around your skin and massage in. Face: Huda Nude Palette I love the huda nude palette. It is a nude of skin tone colors that range from light to dark as well as pinks, mauves and everyone's favorite glitter. Also, it comes with a concealer that I also use as a base, however the concealer is beige in color. What I like about this is that you have multiple options in one palette for on the go. If you want to natural and simple you can for day, you can then darken it up in the crease for a night out of add some glitter. There are also a few shimmer shadows. The colors are soft and highly blendable and buildable. The glitter colors have very little fallout. Lips:
Smashbox Liquid Lipstick
They have about every color under the sun and it dries quickly without feeling a tight or drying feeling. The colors are true to the color and they are highly pigmented. Peter Roth Lipstick Their lipsticks are smooth and creamy and there are various colors, including a red for every skin tone. Certain colors also come in a trio set. Foundation:
So there are more foundations than you can probably count in your lifetime. If you are looking for a matte foundation, I suggest 'IT Cosmetics Matte Foundation.' It is truly matte and does not leave any oily spots or dry out your skin. What I also love about this is that it has SPF in the color. 'Fenty by Rhianna' also has various colors available, so regardless of your skin tone, you will most likely be able to find a match. They are very creamy and buildable with great coverage and I found it to be non irritating. Cheeks: Nars orgasm
This is a cult favorite and now is a great time to try out their liquid version or to stock up on the classic blush. If you aren't familiar with the color it is a light glow with a touch of shimmer. In the powder version to me, it looks like a beautiful sunset color. Brows Benefit recently came out with a collection of 5 brow contour pro pens, each having a light. The dark brow colors gives a natural look to your brows as well as a highlighter and definer. It is a click pen and is very easy to use. Honestly, any of Benefit's brow products are great. Sunscreen: Supergoop! Supergoop has about every type of sunscreen you could be looking for between powder to stick to spray-on to tinted and everything in between. While I haven't tried all their products, I have found that their products in general are great for sensitive skin ans, blends well with great coverage and you won't feel like you are wearing sunscreen. Serums: Skin Inc has a great combination of serums available. They specifically address multiple skin care concerns without all the extra fillers your skin doesn't need. They have everything ftom collogen to vitamin C to CoQ10. They do suggest that you use this in conjunction with with the trilight but it isnt needed to use these products. The serums are non greasy, are absorbed by your skin quickly and my favorite part is that these serums are designed to be combined together so you can apply everything at once.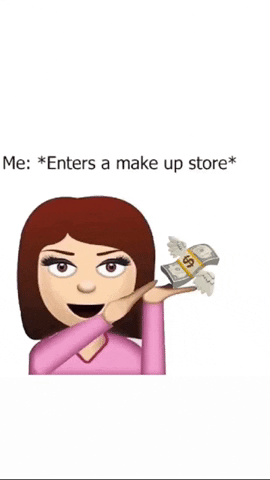 Giph courtesy of giphy.com